Silversea is committed to making your voyage unforgettable by taking you to the most beautiful destinations on the planet in the comfort and elegance that you deserve.
Silversea's small luxury ships are designed for those who delight in the thrill of discovery while indulging mind and body in the most lavish surroundings imaginable. All accommodations are spacious, ocean-view suites that include butler service, and most include private verandas. Silversea voyages and cruise expeditions sail to over 900 destinations on all seven continents, more than any other cruise line.
All-Inclusive Cruises

Whether you long to mingle in the Med, swim with the turtles of the Galapagos or embrace the glaciers of Alaska, there is something special about knowing that this cruising is all inclusive.
With Silversea cruises you enjoy free-flowing premium wines and spirits, delicious gourmet cuisine, in-suite dining, full butler service for every suite and of course all gratuities. Savour the peace of mind of knowing that there is no salient price-tag at the end of a wonderful night of entertainment. Which is also complimentary, by the way.
Butler Service in Every Suite
All guests are pampered equally aboard our ships. Silversea are the only cruise line in the world to include butler service in every suite, in every category. A staff-to-guest ratio of nearly one to one ensures that your every wish is fulfilled with earnest precision, from the concierge who can customise your voyage to the butler who serves your breakfast in suite.
Beverages in-Suite and throughout the Ship
Select wines, premium spirits, specialty coffees, as well as bottled water, juices and soft drinks are complimentary in all bars and lounges. Your suite's mini-bar is also stocked with your preferred beverages including wines and spirits. Your butler will replenish them upon request.
Gourmet Dining
Delicious meals created with thought and panache, discerningly elaborated menus with perfectly balanced wine choices and a relaxed atmosphere with erudite friends – dining aboard any Silversea ship is the ultimate experience for people who only want superlatives. It just doesn't get any better than this. Why not ask the couple you just met to join you? With Silversea's open-seating policy, arrive at your leisure and dine with whomever you please.
Gratuities
Luxury Oceanview Suites

Silversea's suites offer one of the highest space-per-guest ratios of any luxury cruise accommodations. All of their suites feature ocean views, and many with a private teak veranda.
Regardless of the ship or suite, all guests will be pampered by the personalised services of an attentive butler, sailing in style aboard the best cruise line for luxury travel. For a truly personal experience, customise your suite with an abundance of optional amenities. From toiletries and personalised stationery to a bar with your favourite wines and spirits, we offer only the finest comforts in luxury cruise accommodation. You can even enjoy dinner in-suite served by your butler, and have your choice of nine different pillow types. The ultimate in luxury cruise accommodations, Silversea's suites are your home away from home.
Personalized Service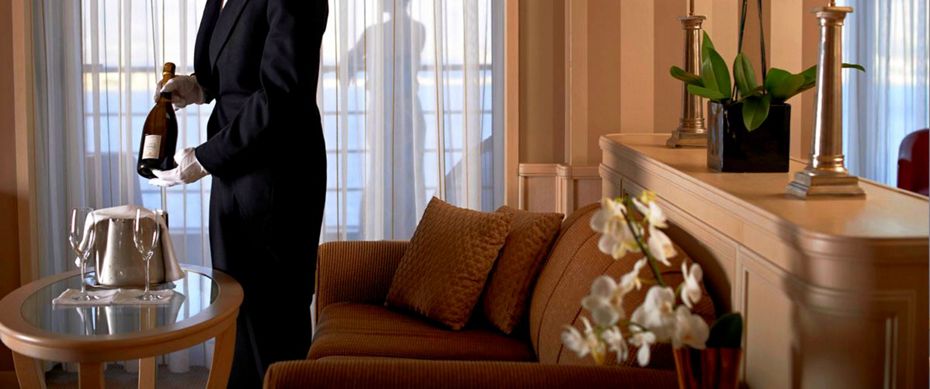 Around the world and around the clock, every suite comes with a butler to pamper you with personalised attention, and take care of every detail of your voyage. Breeze through embarkation and step into the warm welcome of white-gloved staff. Enjoy a glass of bubbly as the feeling of complete peace of mind takes over. Allow Silversea to indulge you with their undivided attention. Sounds good? That's because it is. Better than good in fact.
Fine Dining

From fine French cuisine, delicate Asian options to relaxed Italian family-style meals, Silversea's chefs' creativity knows no limits.
With the importance of food in Italian culture you would expect dining to be a high priority at Silversea. And it most assuredly is. Moreover, gastronomic excellence is a given, thanks to their recipes that reflect heritage and revamp tradition. No matter where you dine, destination influence is readily apparent in the great diversity and freshness of your selections. And every ship also features an array of dining venues. The main dining room, The Restaurant, is an open-seating venue where you can dine whenever you please, and where impromptu dinners with new-found friends is a matter of course. After all, with their worldly crowd of international travellers, socializing is one of the things people love most about Silversea luxury cruise ships. Per guest reservation fee for specialty restaurants.