Join Our Growing FirstClass Team
FirstClass.com.au is a luxury travel agency specialising in high-end and premium travel itineraries and holiday packages worldwide. We are a passionate, dedicated, fun and supportive team where you will work with some of Australia's best industry sales people, luxury suppliers and reputable trade partners. Join us in our commitment to remain the top independent agency in Australia.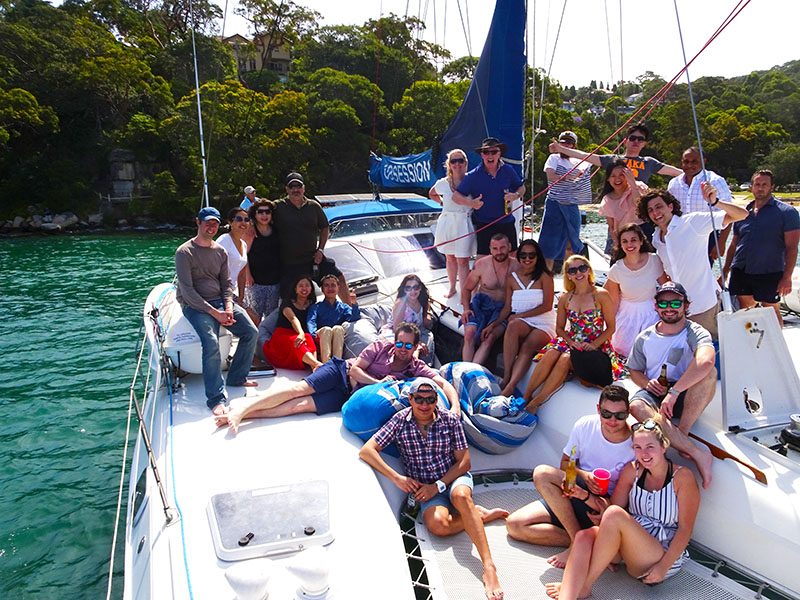 Our business is growing and we are expanding our team in the Parramatta and Sydney CBD offices and are looking for some talented travel professionals to join our award-winning team.
Who are we looking for?
What We Offer

You can expect to receive cutting-edge training to develop your skillset as a salesperson and travel specialist, with support to grow yourself personally and professionally in line with the company. We promote an inclusive, flexible and balanced workplace where evolving opportunities for our staff play an essential role in the day-to-day operation of the company. We offer a competitive salary package, with flexible work options across our offices or the opportunity to work from home after your training period, as well as performance-based bonuses. We encourage team participation in exclusive sales incentives and you'll get the opportunity to travel on luxury famil in partnership with our extended trade family. You can also expect to take part in our in-house rewards and staff-building which includes restaurant meals, sales bonuses, team cruises and more.

City Branch Manager

Looking for a new challenge in leading a successful travel team? Join Australia's First Class Travel Specialists; work with some of the best sales people, suppliers, and trade partners in Australia, and join in our commitment to remain the top independent agency in the country.

We are looking for experienced travel professional who is:

passionate about travel and enjoy providing first class services to luxury travellers
highly motivated, result-driven individuals
well-organised, efficient, and with meticulous attention to details
excellent in retail travel consulting for minimum 12 months
Proficient in the English language both written and oral
experienced in luxury travel and dealing with business and first class travellers an advantage, but willingness to learn and strive to master what is required is paramount
proven record of excellent sales skills and working towards targets/KPIs

The initial 3-6 months training will be at our Parramatta location in Sydney.

We Provide:

support and guidance from senior management
training in managing a sales team to achieve sales targets
training in luxury travel products you will be selling
a dynamic, technologically advanced company that embraces new challenges and is constantly aligned with the latest innovations

Your rewards:

Excellent salary and bonus package with unlimited earning capacity
Be Part of a Dedicated, Fun, Caring and Passionate Workplace
Educational trips to events or destinations IN STYLE!
Excellent opportunities for career advancement

To be considered for this amazing opportunity to be part of the FirstClass group, please forward your CV and cover letter stating BRIEFLY:

Two reasons why you are interested in this position
Three reasons why you should be hired for that position
Your experience in retail travel (up to 50 words)
Three of your highest achievements

We look forward to hearing from you!

Travel Specialist

Job Description
As part of FirstClass.com.au's award winning sales team, the Travel Specialist will provide our clients with first class service of their luxury travel needs.

Responsibilities
Organising first/business class flights and amazing holidays for discerning clientele from first point of contact through to travel and beyond Maintain and manage the travel arrangements of returning clients with a focus on building an ongoing relationship

Qualifications
You are a results driven sales person with great customer service skills, passionate about travel and familiar with a variety of luxury air, cruise and land products. Dedicated, flexible and willing to take initiative, you are a great team player who can easily communicate and interact with your customers and colleagues.

Skills and Experience

2 years experience in travel sales, retail preferred
Excellent English, both written and oral
Solid organisational skill
Strong attention to detail

To be considered for this amazing opportunity to be part of the FirstClass group,  please forward your cover letter (outlining experience working in the retail travel environment and any experience working towards targets/KPIs) and resume now via the link below.

Cruise Specialist

Job Description
As part of FirstClass.com.au's award winning sales team, the Cruise Specialist will provide our clients with first class service of their luxury travel needs.

Responsibilities Organising amazing luxury cruise holidays for discerning clientele from first point of contact through to travel and beyond Maintain and manage the travel arrangements of returning clients with a focus on building an ongoing relationship

Qualifications You are a results driven sales person with great customer service skills, passionate about cruising and familiar with a variety of luxury air and land products. Dedicated, flexible and willing to take initiative, you are a great team player who can easily communicate and interact with your customers and colleagues.

Skills and Experience

2 years experience in cruise sales, retail preferred
Excellent English, both written and oral
Solid organisational skill
Strong attention to detail

To be considered for this amazing opportunity to be part of the FirstClass group, please forward your cover letter (outlining experience working in the retail travel environment and any experience working towards targets/KPIs) and resume now via the link below.

Reward Travel Team Manager

FirstClass.com.au is establishing a new brand PointsAdvisor to help our clients using reward points for predominantly first and business class flights.

The Role
We are seeking a Travel Team Manager to lead a new brand of First Class Travel Team to assist our first and business class clients to book redemption flights with airlines or other luxury travel partners.

Benefits

Be part of a dedicated, fun, caring and passionate team in building a startup venture
Excellent salary and bonus package with unlimited earning capacity
Excellent opportunities for career advancement
Ongoing training and professional development opportunities
A dynamic, technologically advanced company that embraces new challenges and is constantly aligned with the latest innovations

Skills and Experience

Minimum of 12 months experience managing a travel team
Strong time management and deadline prioritisation ability
Demonstrated experience in sales and working towards targets/KPIs
Experience with airline loyalty programs and redeeming flights
Strong numerical and analytical skills
Exceptional written, verbal and interpersonal communication skills

To be considered for this amazing opportunity to be part of the First Class Group, please forward your CV and cover letter stating:

Three reasons why you are interested in this role
Three reasons why you should be hired
Three of your highest achievements
 Your experience in retail travel or redemption flights (up to 50 words)

Apprentice Travel Consultant

Job Description
This role is ideal for a recent school-leaver and the Apprentice Travel Consultant will provide support to our FirstClass.com.au's award winning sales team, while training to become a fully qualified travel specialist.

Responsibilities

Being the first point of contact for all walk in and phone enquiries
Managing a busy phone board
Responsible for ordering stock
Sending out travel documentation
Assisting consultants with arranging travel requirements like car hire and travel insurance
General office maintenance
General filing duties


Qualifications

Recent school leaver with Year 10 School Certificate or higher education


Skills

Good communication skills
Embrace new challenges
Motivated and results driven
Dedicated, flexible and willing to take initiative

To be considered for this amazing opportunity to be part of the FirstClass group, please forward your cover letter (including an overview of recent school results) and resume now via the link below.

Personal Assistant 

Job Description

An accomplished travel consultant looking for a new challenge? We need a motivated, dynamic and dedicated PA to assist the Managing Director and her retail operations team, and web development team.

You Have:

Proficiency in retail travel bookings, including flights
Dedication to work and desire to constantly improve yourself
High work quality standard, excellence being your benchmark
Well developed organisational and time management skills
Excellent listening skills with attention to detail and accuracy
High efficiency which requires clarity and creativity
Ability to cope with pressures and a mature, calm constructive problem-solving style
The highest standards of integrity and confidentiality
A flair of building excellent rapport with VIP clients, operational team, supplier and all walks of life
Excellent written and verbal skills, good analytical skills and sound judgment, confidence in dealing with all aspects of correspondence
Proficiency in Microsoft Office including Excel, Word, Outlook, and internet


Desirable Qualities:

Experience on Amadeus
Experience in web admin, web development
Experience in web marketing

Enthusiasm and going the extra mile will be highly prized as you take full ownership of tasks and operate in our dynamic environment.

We Offer:

Training on travel consulting for first class travellers
Training on web project management
A dynamic technologically advanced environment which embraces new challenges and constant innovation
Opportunity to work with a group of motivated, result driven, fun loving high achievers
Lots of opportunities to explore the world in style
Large scope for career advancement in various fields of your choice

To be considered for this amazing opportunity to be part of the FirstClass group, please forward your cv and cover letter stating BRIEFLY

Three reasons why you are interested in this position
Three reasons why we should hire you
Your experience in retail travel or web development if any (up to 50 words)
Three of your highest achievements; together with your resume.

Internship or Work Experience

Job Description
We offer internship or work experience in Accounting, Travel Consulting, Web Content Management, Web Design, Web Marketing, Social Media Marketing. We could offer a position in a relevant field after completion with satisfactory performance.

You Will

Get training in chosen field
Have open communication with the travel team and management
Work at a dynamic technologically advanced company which embraces new challenges and constant innovation
Learn from a group of motivated, result driven, fun loving high achievers
Have large scope for career advancement in various fields of your choice

We have an office in Darling Harbour and one in Parramatta. You may be required to participate in either of the locations. To be considered for this amazing opportunity, please forward your cover letter stating BRIEFLY

Which role you need work experience or completing internship in
Two reasons why you are interested in this position
Two reasons why we should offer this to you
Two of your highest achievements, together with your resume

Full Stack Web Developer

Job Description

We have on going maintenance and development on FirstClass.com.au and FirstClass.Travel, as well as few startup projects which require an experienced proficient web developer using word-press and themes, some using woo commerce. We are looking for an excellent word press developer, who meet the following Technical Requirement:

PHP, NodeJS
MySQL, MongoDB
HTML and CSS SASS
Javascript JQuery
Bootstrap, CSS Grid, etc.
Experience with GitHub
AWS
REST APIs
WordPress Theme Plugin Development WooCommerce
Bespoke WordPress Themes and Plugins
Custom Fields and Taxonomies
Experience with basic on-page SEO
Experience with email software like Mailchimp and Sendy
Experience with mockup software and designing websites
Experience with Configuring Google Analytics and Tag Manager

Other  Requirements:

Proven work experience as an accomplished WordPress developer
Fluent English speaker
Excellent communication skills
Support for performance improvement initiatives
Full Australian working rights

You will be working with a part-time project manager based in the US. Our office is based in Sydney CBD.

Your rewards:

Excellent salary and bonus package with unlimited earning capacity
Be Part of a Dedicated, Fun, Caring and Passionate Workplace
Excellent opportunities for career advancement

To be considered for this amazing opportunity to be part of the FirstClass group, please forward your CV and cover letter stating BRIEFLY:

Your general IT experience
Your latest word press or woo-commerce projects (the part you are in charge of)
Three reasons why we should hire you
Three of your highest achievements

We look forward to hearing from you!

Digital Marketing Assistant

Job Description
We are seeking a motivated, dynamic and responsible digital marketer and social media specialist to support our marketing goals, promote multiple businesses and establish our influence on social media. Initially, the role would be part-time 10-15 hours per week with a view to increasing  to full time if desirable You will work with our CEO on initiatives and the implementation of our marketing plans. you will be responsible for some of the following areas:

Build online presence across websites, landing pages, forms and other online content
Create and execute integrated campaign activities including, but not limited to, direct marketing, copywriting, advertising and digital asset management
Identify and implement improvements to digital platforms, based on data-driven analysis and business needs, to optimise functionality, engagement and conversion performance


Ideally, you will have high-level proficiency required in:

Google products including Analytics, Search Console, Adwords, Tag Manager
Facebook, Instagram, YouTube, LinkedIn
Curating new audiences & building on existing


Skills and Qualifications

Dedication to work and desire to constantly improve yourself
High work quality standard, excellence being your benchmark
Well developed organisational and time management skills
Excellent listening skills with attention to detail and accuracy
High efficiency which requires clarity and creativity
The highest standards of integrity and confidentiality
Excellent written and verbal skills, good analytical skills
Proficiency in Microsoft Office including Excel, Word


Desirable Qualities:

Experience in WordPress admin
Experience in SEO
Experience in creating newsletters in Sendy
Basic HTML & CSS, Adobe InDesign, Photoshop

Enthusiasm and going the extra mile will be highly prized as you take full ownership of tasks and operate in our dynamic environment.


Perks & Pay

A dynamic technologically advanced environment which embraces new challenges and constant innovation
Opportunity to work with a group of motivated, result-driven, fun-loving high achievers
Flexible working hours and locations
Lots of opportunities to explore the world in style
Large scope for career advancement in various fields of your choice

To be considered for this amazing opportunity to be part of the FirstClass group, please forward your cv and cover letter stating BRIEFLY

Three reasons why you are interested in this position
Three reasons why we should hire you
Your experience and result in digital and social media marketing (up to 50 words)
Three of your highest achievements; together with your resume.