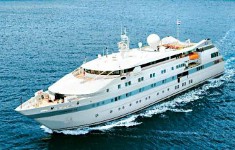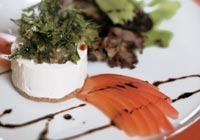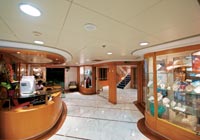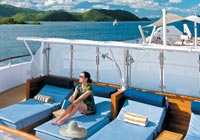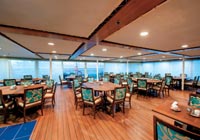 Tere Moana
MV Tere Moana is a sophisticated and intimate vessel accommodating 90 guests, this newly renovated vessel features spacious staterooms, two restaurants – L'Etoile and La Veranda and a spa among other attributes. Onboard you can enjoy the ultimate in personal service, with one crew member for every 1.5 guests.
Your Cabin
Onboard there are 45 spacious and well designed cabins with passenger accommodation arranged over three of the five decks. Private balconies have been added to eight of the ship's 45 staterooms, all of which have ocean views. Balcony Staterooms measure 298 square feet including the balcony. Window Staterooms in categories B and C are 194 square feet and feature a picture window. All staterooms feature an ocean view, temperature control, king-size bed (all have twin bed configuration), bathroom with full size shower and bath products, bathrobes and slippers, desk/vanity area with stool and 110V and 220V outlets, closet with draws, TV, CD/DVD player, complimentary in room movie channels, Bose sound docking station, direct dial satellite telephone, personal safe and refrigerator.
Your Space
The spacious and finely decorated public rooms are spread across all decks. On deck 6, the sun deck offers a chance to relax and unwind in the whirlpool, or just soak up the sun on a Balinese bed or a chaise lounge. The pool on deck 5 invites you to take a dip or perhaps relax in a comfortable deck chair with a good book. Early risers can enjoy a light breakfast at the Pool Bar. The fitness centre is also on deck 5 and is fully equipped with a wide range of equipment as is the Deep Nature Spa where an expert therapist offers an extensive menu of massage, skin care and facial treatments. On deck 4 there is a book and DVD library which is open 24 hours a day and La Veranda is where breakfast and lunch can be enjoyed in the sophisticated relaxed setting of the restaurant or al fresco (limited number of al fresco tables). On deck 3 you will find La Boutique which offers a selection of clothing items and duty free gifts from around the world. A limited selection of sundry items and other travel necessities is also available for purchase. There is also Le Salon, a comfortable area with inviting seating areas accented by illuminated Tahitian custom artwork and sparkling, crystal table lamps. After a day of exploration, it is the perfect place to enjoy cocktails, conviviality and live piano music. L'Etoile is the principal restaurant on board on deck 2 featuring contemporary cuisine.
Your Dining
Throughout your voyage, enjoy sumptuous meals prepared from fresh ingredients and inspired by the local cuisine of your destination. Complimentary wine is perfectly paired with dinner. You will enjoy the culinary delights of Jean-Pierre Vigato, Chef Proprietaire of the world renowned two Michelin starred Restaurant Apicius in Paris. His signature menu is featured at L'Etoile. The elegant main dining room, L'Etoile is open for dinner daily and has an open seating policy. Featuring perfectly appointed decor, crisp linens and an array of tempting specialties, expertly prepared. The principal restaurant on board, it features contemporary cuisine, various vegetarian dishes, local specialties representing the cruise destination, and any special dietary requests guests may have (with advance notice). Dinner is served a la carte, with various entree selections that change daily, including one featured menu item per day inspired by Chef Vigato. For lunch, dine a la carte, or enjoy the buffet, often featuring an international theme. Breakfast is also served buffet style. A limited menu for 24 hour room service is also available.
For your comfort, safety and security
The Medical Centre is designed to provide medical care for temporary illnesses and accidents. The ship's licensed and registered doctor is on 24 hour call for professional and emergency services, which are available at customary charges. The vessel fully complies with all national and international regulations with respect to safety at sea and is in compliance with SOLAS (convention of Safety Life at Sea). The MV Tere Moana has a state of the art stabilizer system that keeps rocking to a minimum.
Life Onboard
If large resort style vessels accommodating many thousands of passengers are your ideal, then the MV Tere Moana is not for you as you will not find endless entertainment, round the clock buffets and the people management which is so much a part of today's big ship onboard style. However, if you like us you prefer a more peaceful life at sea you will find this the ideal vessel. The atmosphere onboard is informal; a little live piano music in the lounge or bar after dinner, talks from our guest speaker and informative port briefings and of course good food, all contribute to make any voyage aboard this wonderful vessel a memorable and joyful experience. After a day ashore you will return to the comfort and peace of an exceedingly comfortable ship. The dress code is smart casual, jacket and tie are optional.