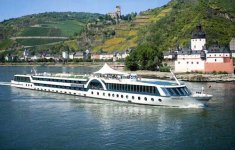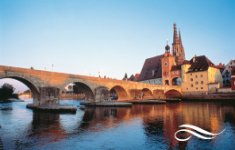 Symphony
IT'S A SPECIAL SHIP

Built in 2003, the Symphony is one of the finest ships cruising the waters of Europe. She visits all of Europe's memorable sights, from the great Dutch trading cities of Amsterdam and Rotterdam all the way to the Black Sea, via the Rhine, Moselle and Danube Rivers and a great linking canal. All along the way, her guests enjoy historic cities, castles, cathedrals and monasteries, and all the rich cultural traditions that thrive today.
NO BETTER WAY TO EXPLORE
The Symphony provides a complete break from the pressures of every day. The public rooms are elegant, and the dining room is extra-spacious. The cuisine is delicious, the wines included with dinners are superb, the service expert and friendly.
Pampered by our English-speaking crew, the Symphony's 146 guests will enjoy the casual camaraderie that river cruising creates. There are 69 deluxe staterooms, each measuring 161 square feet. All rooms are outside with large windows and unobstructed views. Forty-five of the cabins feature extra large windows that can open. Plus, there is an on board camera which displays the outstanding scenery on your cabin TV. Unpack only once, then enjoy life by relaxing on the Sun Deck as timeless landscapes pass by, or explore museums and monuments in the historic cities and villages along the riverbanks.
A UNIQUE TOUCH
At Amadeus, we believe that to get a true feel for distant lands, you must connect with the local experts. Our resident guides, and our own years of travel experience, allow us to create shore excursions that show you both the famous highlights and well-kept secrets that only the locals can share. Best of all, shore excursions are included in the price, as are your transfers (for air inclusive bookings), taxes, and fees. There are no surprises. Tipping cruise and shore excursion staff is up to you.
Dining
Entertainment
Panorama Bar

Amadeus Club

Lido Bar
Onboard Activities
Ship facts
Ship Details
Gross Tonnage
Star Rating
4 Star
Size/Style of Ship
Small/River Cruising
Entered Service
2003
Registry
Former Name
N/A
Length
110 metres
Beam
Draft
Propulsion/Propellers
Maximum Cruising Speed (knots)
Passenger Capacity (twin)
146
Crew
1,163
Nationality of Officers
British/European
Nationality of Crew
International
Total Cabins
73
Total Inside cabins
Total Outside cabins
73
Cabin/Suites with Balcony
0
Wheelchair Accessible Cabins
0
Passenger Decks
4
Cabin Electricity
110v
Elevators
Self-Service Laundry
No
Onboard Currency (subject to change)
Euro