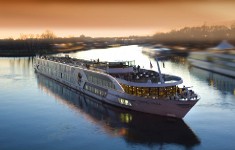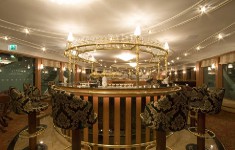 Swiss Tiara
The five star Swiss Tiara built in 2006 utilising the most modern design techniques and latest in safety features, as its names suggests, is Swiss managed – and one of the finest such vessels adorning any European river!
Your first experience is the strikingly luxurious lobby, with beautiful polished marble decks, adorned with rich hardwoods, tasteful brass fittings and classic wrought iron staircases, recalling five star hotels from the golden age of travel. Blend this with the ship's low passenger complement, just 140 guests (many similar size vessels carry nearly 200), with 35 crew, the ratio to passengers at less than 4 to 1 is very high, guaranteeing an excellent level of service and a more personal touch. The superb Swiss Tiara has three air-conditioned decks, Diamond (upper), Ruby (middle) and Emerald (lower). The Diamond and Ruby decks are connected by a standard lift. The Emerald deck and the large sun deck are accessible by staircase, and there is a tasteful boutique stocking essentials.
There are two lounges in which to relax, the Forward Observation Lounge, richly carpeted and furnished with comfortable leather chairs, settees and tables, whilst panoramic windows allow you to enjoy the passing scenery to great effect. With a full bar service, this is the place to relax after a wonderful day's cruising. During the evening, a pianist plays in the background to complement the genteel atmosphere. To the rear of the ship is the small and intimate Lido Lounge with a bar, a small library and outside armchairs where again you can quietly soak up the scenery.
The main restaurant, where the art of haute-cuisine is alive and well, makes superb use of deep wool carpets, wood, glass and marble, whilst atmospheric lighting and tables, seating just four and six, combine to create a lovely ambience. Cuisine and service levels are of a similar standard to an onshore top-class restaurant. Unusually on river cruisers, both ships feature a sauna, steamroom and solarium.
At Riviera Travel we try our utmost to think of absolutely everything to make your holiday as perfect as humanly possible, which is why we operate our cruise programme when the weather should be at its best. Therefore you are likely to spend some considerable time on the sun deck, which boasts plenty of deckchairs and sun loungers from where you can enjoy a drink as picturesque towns and vine-clad hillsides, in all their wondrous beauty, glide by. Catch up on some reading or perhaps relax in the small 'whirlpool' splash pool. Just forward of the wheelhouse is the front sundeck, a quite panoramic spot with an almost yacht like ambience. Here you can observe life on the river, relax over a drink, chat with like minded people and simply reflect on how pleasant life can be.
The cabins are some of the largest, best appointed and most luxuriously furnished of any river cruiser anywhere in the world. Tastefully carpeted, they are spacious, 15 square metres (161 square feet) making them amongst the largest of such accommodation and most importantly, beds are hotel standard, not bunks or berths and a turn down service operates during dinner. The beds have the best mattresses whilst the linen is of the finest cotton with high quality down pillows (hypoallergenic alternatives are available, please advise on booking) and are adjustable to find the perfect sleeping position, so you experiencea real home from home. The well appointed bathroom features a glazed shower cubicle not a curtain, plus of course toilet and quality bathroom cosmetics. There is a safe, mini bar, tea and coffee making facilities, telephone, individual air conditioning, hairdryer, seating area with two chairs and plenty of storage space. The flat screen TV features satellite channels so you can keep in contact with the world, for added interest has a GPS system enabling you to plot the ship's exact position should you so wish, whilst bow and aft cameras enable you to enjoy the view without even leaving your cabin!
On the Diamond (upper) and Ruby (middle) deck, all cabins feature floor to ceiling sliding patio-style 'French balcony' windows, whilst those on the Emerald (lower) deck have smaller fixed windows.
On the Emerald (lower) deck, standard double cabins are available for sole occupancy at no extra cost. Single supplements apply for other cabins and decks, all subject to availability.
Suites
This is where both ships really show their true pedigree, with a limited number of suites of 18 square metres (193 square feet), giving the extra room for added comfort. They feature the window style relative to the deck on which they are located plus added space and more luxurious seating. In short your comfort is assured.
Dining
As you enter the restaurant the mouth watering aroma of roasting Provencal Lamb drifts tantalisingly from the galley. Smartly uniformed, friendly and intuitive waiting staff professionally guide you to your classically set table with its crisp white linen, premium quality European china, polished fine glassware and gleaming cutlery whilst freshly baked bread is immediately placed before you with effortless style.
Welcome – you're at home. Quality dining is an integral part of your river cruise experience – and our ships take this to the highest five star levels with superb cuisine prepared by a dedicated and highly professional brigade of chefs. Take a stroll on the Sun Deck as the river gradually awakes, and enjoy Early Risers' tea or coffee and freshly baked pastries. The full breakfast buffet is a sumptuous affair with innumberable hot and cold options, plus a popular omlette station prepares dishes to order.
Or if you prefer, why not enjoy continental breakfast in your cabin, breakfast in bed as enchanting scenery and riverside like drift gently by – priceless! Naturally complimentary tea and coffee are available throughout the day and a very comprehensive lunch buffet allows selection of as little or as much as you wish from an extensive and tempting selection. Don't forget to leave some room for afternoon tea and the chef's special patisserie – it's just too tempting to ignore!
The day's culinary highlight is the splendid four course dinner – entree, soup, main course and dessert plus a salad buffet is always available – all within the ambience of a high quality restaurant. Our carefully designed menus include international classics together with dishes reflecting the regions we pass through, with careful selections from local markets. In addition, the "Welcome Dinner" enjoys an extended menu and towards the end of your cruise, the Captain proudly hosts this excellent 'Gala Dinner' featuring specialities of the countries and regions through which you've travelled.
Our clients constantly tell us they love our informal free seating and smaller tables policy, quite unlike the inevitable regimentation or many cruise ships which is exactly the atmosphere wer are trying to achieve. Then there's the wine list. We take great pride in its excellent quality and style, including not only the classic choices but also an extensive range of local wines. Many of these are extremely well priced, delightful hidden gems and rarely marketed outside their production area.