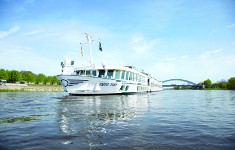 Swiss Ruby – Riviera Travel
Like its sister ship the Swiss Corrona and the Lord Byron, the luxurious Swiss Ruby is Swiss owned and managed and is one of Europe's top class vessels specifically designed to operate on the continent's smaller, more intimate rivers like the Elbe. Maintained and managed to the most exacting standards as befits its flag, the highly trained crew do their utmost to ensure that your river cruise experience is as relaxing and enjoyable as possible. Originally launched in 2002 the interior has been completely rebuilt specifically for the luxury sector, featuring the very latest equipment for the luxury sector, featuring the very latest equipment and the Swiss Ruby is much loved by her regular passengers for the warm friendly atmosphere, excellent design and exquisite public areas, superbly appointed cabins, high-class fittings and outstanding cusine. With less than 4 guests to every crew member – a very high ratio for a river cruise vessel – care and personal attention is assured. Plus with a passenger complement of just 88, you never feel crowded. Luxury, spaciousness and ambience are very much in evidence as you board through the beautifully panelled entrance lobby. The high quality brass and wrought iron fittings sparkle and reflect in the warm coloured, highly polished marble floors – this is classic cruising of a very high standard. You find yourself in the tasteful reception and a small boutique will happily attend to your everyday requirements. This is the hub of the vessel and a staircase leads down to the Emerald Deck which, like the entire ship, is air conditioned. Forward is the elegant, carpeted lounge with extensive panoramic windows so you can fully appreciate the wonders of the magnificent passing scenery. The ship's designers have managed to create a really lovely, genteel atmosphere of understated elegance and taste, using leather armchairs, different sized settees and deep pile carpets in superbly harmonious colours. With a real 'professional' behind the fully stocked bar, this is the perfect spot to while away the evenings with the gentle melodies of the resident pianist in the background, while you enjoy a glass of wine. The ship's restaurant has a pleasantly intimate feel; with elegant wood panelling, tasteful lighting and top quality service, this is every inch the classy dining experience to match that of first class establishments onshore. To promote a relaxed dining experience, as on all our river cruises, you can sit with whoever and wherever you wish, with tables ranging in size from four to six so you can be as private or sociable as you wish. The outer Sun Deck is a great place to read, relax or watch the rugged valley sides, rolling vineyards and picturesque villages quietly slip by, with drink in hand.
Cabins
Cabins on the Ruby (top) deck have french balconies with full floor to ceiling sliding glass doors whilst on the Emerald (lower) deck cabins have large panoramic windows and as you would expect of a four star superior vessel, they are extremely well appointed, being 12 square metres (129 square feet) in area, all are outward facing with high quality fittings. Most importantly they feature hotel style beds and a turn down service operates during dinner. This, combined with high quality bed linen, ensures a comfortable night's sleep. A safe, hairdryer and flat screen satellite TV are standard throughout. The well equipped bathroom is extremely practical with a marble wash basin, fully glazed shower – not curtains, plus quality bathroom cosmetics, and of course, everything is air conditioned. The ship's Swiss owners pride themselves on having one of the world's finest fleet of river cruisers and the Swiss Ruby is no exception to the four star superior experience.
Dining
As you enter the restaurant the mouth watering aroma of roasting Provencal Lamb drifts tantalisingly from the galley. Smartly uniformed, friendly and intuitive waiting staff professionally guide you to your classically set table with its crisp white linen, premium quality European china, polished fine glassware and gleaming cutlery whilst freshly baked bread is immediately placed before you with effortless style. Welcome – you are at home. Quality dining is an integral part of your river cruise experience – and our ships take this to the highest five star levels with superb cuisine prepared by a dedicated and highly professional brigade of chefs. Take a stroll on the Sun Deck as the river gradually awakes, and enjoy Early Risers' tea or coffee and freshly baked pastries. The full breakfast buffet is a sumptuous affair with innumerable hot and cold options, plus a popular omelette station prepares dishes to order. Or if you prefer, why not enjoy continental breakfast in your cabin; breakfast in bed as enchanting scenery and riverside life drift gently by – priceless! Naturally complimentary tea and coffee are available throughout the day and a very comprehensive lunch buffet allows selection of as little or as much as you wish from an extensive and tempting selection. Don't forget to leave some room for afternoon tea and the chef's special patisserie – it's just too tempting to ignore! The day's culinary highlight is the splendid four course dinner; entree, soup, main course and dessert plus a salad buffet is always available – all within the ambience of a high quality restaurant. Our carefully designed menus include international classics together with dishes reflecting the regions we pass through, with careful selections from local markets. In addition, the 'Welcome Dinner' enjoys an extended menu and towards the end of your cruise, the Captain proudly hosts his excellent 'Gala Dinner' featuring specialities of the countries and regions through which you have travelled. In addition to the main restaurant, we are proud to unveil the unique new 'Chefs Restaurant', open for dinner only on the Lord Byron with huge panoramic windows and seating for just 24 diners. Here the chef presents his personal favourite signature dishes with a fixed menu using the finest seasonal produce. This superb dining experience must be reserved on board.