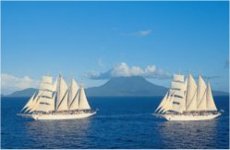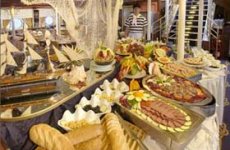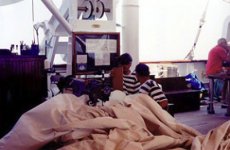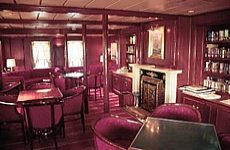 Star Flyer
Star Clipper and her sister ship Star Flyer are as fleet as the wind and as graceful as swans. These are true clipper ships, reflecting their proud heritage in every inch of polished brass and gleaming brightwork.
Step aboard these unique vessels and discover a new age of sail, where the traditions of the past are happily married to the comforts and amenities of the present. Star Clipper and Star Flyer are modern cruise ships in every way, created for comfort-loving passengers who also love the traditions and romance of the legendary era of sailing ships.
The décor of Star Clipper and Star Flyer is reminiscent of the grand age of sail. Antique prints and paintings of famous sailing ships please the eye, while teak and gleaming mahogany rails are richly reminiscent of Star Clippers' proud nautical heritage.
Dining
Main Dining Room
Continental breakfast
Buffet lunch
Entertainment
Tropical Bar
Piano Bar
Musicians
Various free classes
Onboard Activities
2 Pools
Fitness area
Library
Shops
Water Marina Platform
Offshore activities
Ship facts
Ship Details
Gross Tonnage
2,298 tonnes
Star Rating
4 Star
Size/Style of Ship
Entered Service
1992
Registry
Luxembourg
Former Name
Length
110 metres
Beam
14 metres
Draft
5 metres
Propulsion/Propellers
sail/1,030kW diesel
Maximum Cruising Speed (knots)
20
Passenger Capacity (twin)
170
Crew
72
Nationality of Officers
European
Nationality of Crew
International
Total Cabins
85
Total Inside cabins
6
Total Outside cabins
79
Cabin/Suites with Balcony
0
Wheelchair Accessible Cabins
0
Passenger Decks
4
Cabin Electricity
110v
Elevators
0
Self-Service Laundry
No
Onboard Currency (subject to change)
Euro