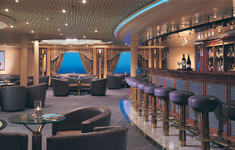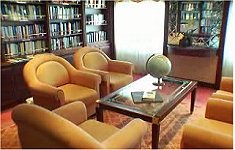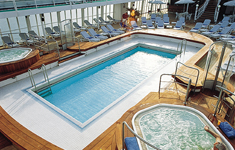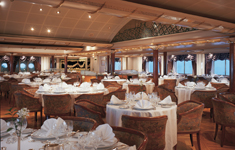 Second in the Silversea fleet, Silver Wind is much like Silver Cloud and a shining example of intimate, elegant cruising. As spacious as a grand hotel, as gracious as a best friends' home, the lifestyle on board Silver Wind is one of fewer guests, more space and features Silversea's renowned personalised service.
A major upgrade in December 2018 saw Silver Wind looking better than ever. A second refurbishment in November 2021 will see her benefitting from a strengthened to ice-class hull and will make her one of the most adaptable ships in our fleet. Still timelessly elegant, still luxuriously relaxed, her improved cruising versatility means she is able to whizz from the Polar Regions at the ends of the earth to the iconic ports of the Mediterranean with fluid ease.
Dining
Italians are famous for the bounty of their tables and the sheer delight in sitting down to a meal with good company. Here are dishes to intrigue both the palate and the spirit. Created from the freshest ingredients. Substantial and delightful. Traditional and imaginative. Perfectly paired with superb wines, and finished with desserts that bring a contented murmur of satisfaction.
With never more than 274 like-minded international travellers (254 to the Poles), and an open-seating policy of dining when, where and with whom you desire, you can be as private or congenial as you desire.
Silversea features 4 restaurants on board including The Restaurant (the main dining room), La Dame, La Terrazza (indoor/outdoor café), The Grill, plus 24-hour in-suite dining.
The Restaurant
Breakfast, lunch and dinner are served with an open-seating arrangement. You may dine when, where and with whom you wish. On select nights, an orchestra provides music for dancing. The menu features classical and modern French cuisine with international flair, complemented by La Collection du Monde, signature dishes created exclusively for Silversea in partnership with Relais & Châteaux – Relais Gourmands. On designated Culinary Arts Voyages, internationally recognised guest chefs, including Relais & Châteaux member chefs, will be aboard to share their culinary artistry. A CruiseLite and low carb menu is also available from The Restaurant.
La Dame
La Dame can be found aboard the Silversea luxury cruise ships. Indulge in an evening where fine wines are complemented by a set bespoke menu of regionally-inspired dishes in an intimate, elegant setting. An extraordinary six-course experience celebrating the world's most distinguished wine regions aboard your luxury cruise ship.
LA TERRAZZA
Panoramic ocean view. Terrace dining al fresco. For breakfast, lunch or by reservation for dinner at which a divine selection of Italy's best cuisine is served à la carte. Authentic recipes and the freshest ingredients come together with flair and passion – a flavourful expression of Silversea's distinctive heritage.
24-HOUR IN-SUITE DINING
You may order from our in-suite service menu 24 hours a day. Items from The Restaurant menu can also be served in your suite during regular dining hours at your request, and course-by-course, if you desire.
The Grill
Soft breezes and ocean views beckon at the Grill, especially as the sun goes down when cruise guests gather for cocktails at the outdoor bar and talk about the day's events.
SPECIAL DIETARY REQUIREMENTS
If you have special dietary requirements, Silversea will make every attempt to accommodate your requests. Please advise us of your needs on the Guest Information Form at least 75 days prior to sailing. Notification should be sent to Silversea's Special Services Department.
SPA
Rejuvenate. Luxuriate. Exfoliate. Relax your body and mind with a wide range of invigorating therapies.
Entertainment
Aboard the Silver Wind, guests will find a wide selection of stellar entertainment ranging from energetic production shows to classical music concerts in The Show Lounge; intimate piano recitals, jazz and cabaret in The Bar; and local performers and folkloric shows that truly complement the wines, cuisine and cultures experienced on your voyage. Every evening, The Bar and The Panorama Lounge offer dancing to a range of live musical styles for every taste, from ballroom and dinner dancing to rock and roll favourites and club mixes. The Champagne Room offers the perfect venue to enjoy a selection of cigars, exceptional cognacs, fine armagnac, exquisite grappa, rare vintage ports and more. Moonlight Movies on deck are also offered on select evenings.
Most Silversea voyages present regionally specific lectures by noted historians, ambassadors, state leaders, authors and/or geographers — all experts and each sharing special insights into areas of the world they know intimately. Guest chefs and wine experts also join special Culinary Arts and Wine Series Voyages.
Onboard Activites
Onboard choice reigns — the freedom to do everything or nothing. Pamper yourself at our beauty salon. Find the perfect bauble in our boutique. Test your luck in our casino. Enjoy an invigorating workout. Curl up with a good book in our library. Or simply soak up the sun on the pool deck. At Silversea, the choice is always yours.
BEAUTY SALON/HAIR STYLING SERVICES
Beauty salon and hair styling services are available, including manicures and pedicures. Appointments for these chargeable services may be made onboard the ship, or in advance online via the My Voyage feature at Silversea.com.
BOUTIQUES
The Boutiques on all ships in the fleet feature a selection of designer jewellery, fashions, perfumes and Silversea logo items. Shops are closed while in port and on occasion due to local government regulations. Toiletries and convenience items are also available for purchase.
FITNESS CENTRE AND WELLNESS PROGRAMME
Each ship features a swimming pool, two whirlpools, a fitness centre with state-of-the-art equipment, men's and women's saunas and steam rooms. Aerobics, yoga, Pilates and circuit training are available through the onboard fitness trainer. Special classes, private fitness instruction and personalised fitness sessions are also available at an additional cost.
LIBRARY AND MOVIE CENTRE
Each ship features an onboard library with an extensive selection of books and movies which can be viewed on your in-suite DVD player. Silver Shadow and Silver Whisper also feature TV/VCR combinations in all suites.
POOL DECK
Soak up the sun's warmth while lounging poolside. Bask in whirlpools with a refreshing drink. Do laps or join a spirited game of water volleyball in the heated pool.