Silversea's smallest ship at just 100 guests, Silver Galapagos fuses seamless shore excursions, quality lectures and multiple Zodiac landings with excellent dining and plush all-suite accommodation.
A Galápagos expedition cruise, enjoyed aboard Silver Galapagos, brings you to one of the most isolated places in the world to encounter an abundant variety of wildlife species that is incredibly unique and found nowhere else on earth. Lying just off the western coast of South America, the Galápagos archipelago is inaccessible to most, yet this isolation has allowed nature to develop in ways exclusive to the islands. Experience it all with complimentary exploration activities including Zodiac tours, snorkeling, kayaking and nature hikes led by our highly experienced guides certified by the National Park of the Galápagos.
Guests 100 | Crew 75 | Last Refurbishment 2017 | Tonnage 4,077
Public Areas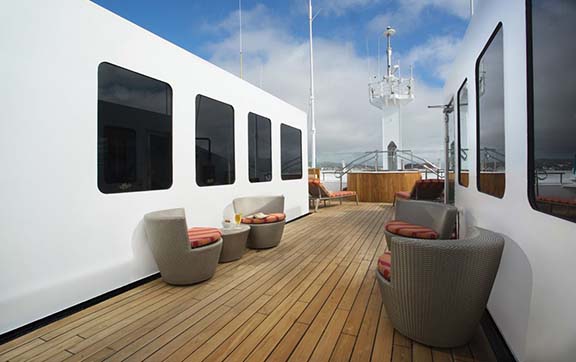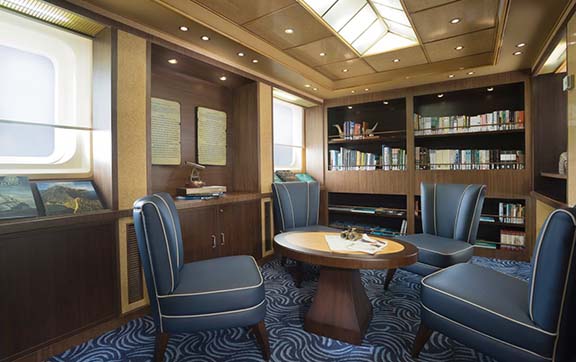 Jacuzzi
What better way to cool off in the tropics than with a dip in the Jacuzzi, waiting for you up top on the sun deck of your luxury cruise ship
Library
Relaxing in the ship's library, you can read books about the natural sciences, human history and conservation of the islands, and find maps and charts of this remarkable archipelago that sprawls over 36,000 square miles around the Equator. Here you can also find a choice of contemporary literature and an extensive collection of the classics, test your knowledge with daily quizzes and crosswords, or challenge someone to a game of chess or a board game.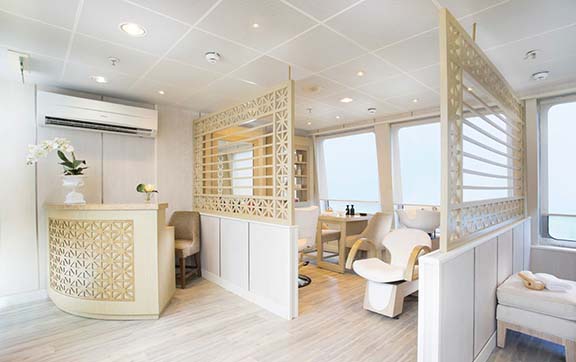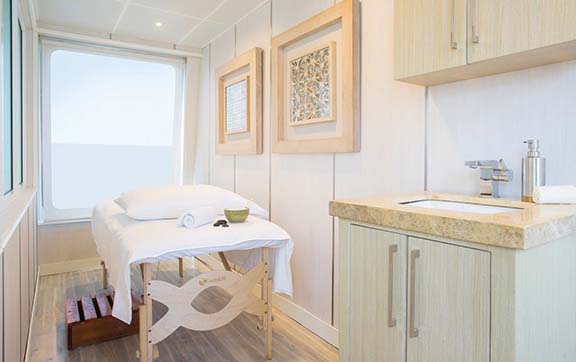 Spa
A full range of salon services is available for both men and women including hairstyling, manicures and pedicures. Appointments for these chargeable services at the beauty salon may be made on board the ship, or in advance via My Silversea.
Beauty Salon
After an energetic day ashore, a soothing ministration may be the perfect accompaniment to the spiritual and physical renewal of travel.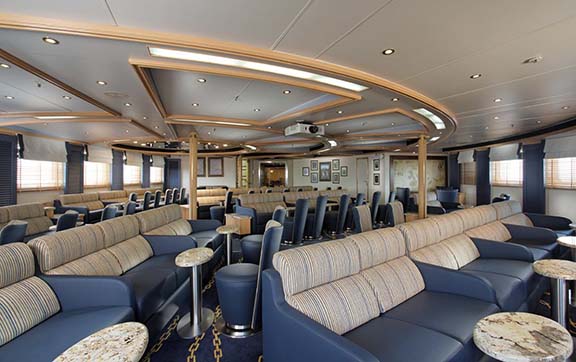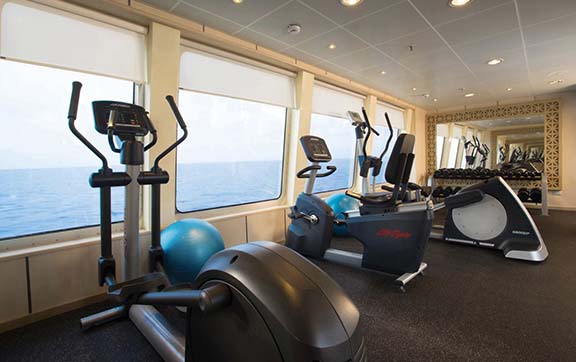 Explorer Lounge
Attend informative lectures, recaps and briefings, and enjoy views of the islands in the Explorer Lounge on Deck 3. Along with a sophisticated AV system, there's also a small photography station with an IMac where guests can download and edit their photographs during their time on board.
Fitness Centre
Eye-opening panoramas inspire you ever onward in the Fitness Centre with its elliptical trainer, stationery bike, dumbbells and a weight machine.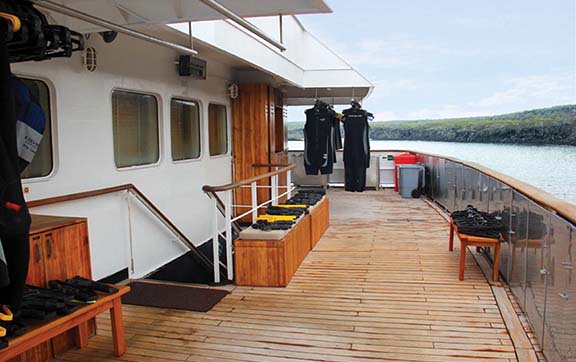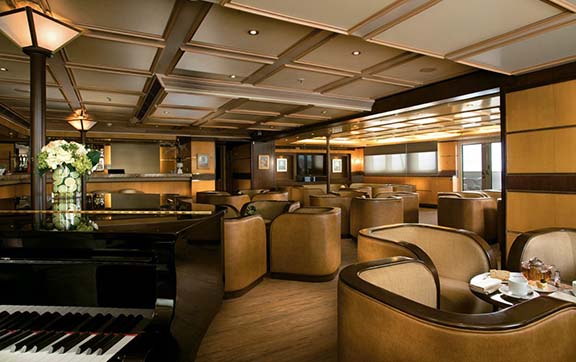 Snorkel Area
Snorkelling equipment for guests is stowed and cleaned in this outdoor area on Deck 3. Guests who bring their own equipment can also stow their gear here to dry after our water activities.
Piano Bar
Meet and mingle with fellow travellers and your expedition leaders in the Piano Bar, where cocktails are served and views of blue seas and lava-rock landscapes are always on display. Your bartender will quickly learn your favourite drink, but do try one of the local concoctions — a Blue Footed Boobie perhaps. Accompanied by the music of our resident pianist, you can take your afternoon tea here, and enjoy pre-dinner cocktails before an impromptu dinner with new-found friends.
Dining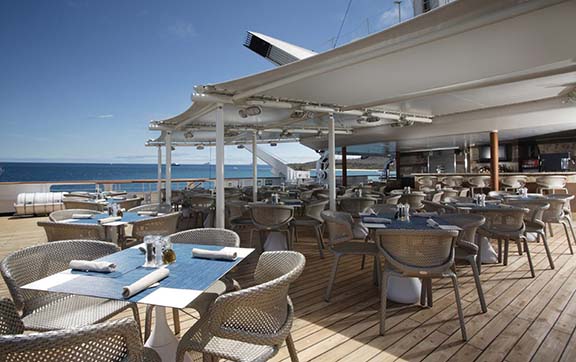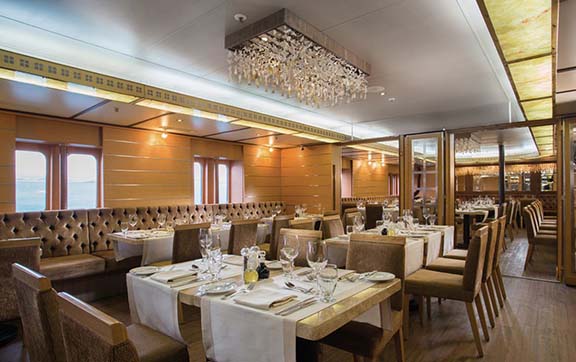 The Grill
One of the healthiest cuisines to exist, The Grill features lava stone cooking at its finest. Sourced from volcanic rock and placed in an oven to reach an optimum temperature of 400˚C, The Grill invites guests to cook their food directly at their table. Place your meat, fish or vegetables on top of the grill stone or inside the soup bowl, and then simply cook to your very own taste. Every bite is cooked to perfection, time after time. With the stone cooking available in the evenings only, The Grill becomes a daytime rotisserie and gourmet salad and burger bar, offering build your own burgers from the best selections of meat.
Dress code: Casual
Casual wear consists of pants, blouses or casual dresses for women; open-neck shirts and slacks for men are appropriate.
The Restaurant
The menu in The Restaurant includes a wide range of international selections to accommodate the global palate of our guests. Our chefs always include a choice of local Ecuadorean specialities to enrich your culinary journey, as well, but whether you choose Galapagos Lobster à la Galapaguera or filet mignon with truffles, your selections will be artfully presented and served. The Restaurant offers open-seating dining, which means there are no assigned times, no assigned tables. You are free to dine when, where and with whom you please.