With all-inclusive dining, service and shore excursions, Silver Explorer is expedition cruising at its very best. Award-winning itineraries make this ship the perfect combination of adventure and comfort.
Silversea's purpose-built luxury Silver Explorer expedition cruise ship has been designed specifically for navigating waters in some of the world's most remote destinations, including both of earth's polar regions. A strengthened hull with a Lloyd's Register ice-class notation (1A) for passenger vessels enables the Silver Explorer Expedition Cruise Ship to safely push through ice floes with ease. A fleet of 12 Zodiac boats allows Silversea Expedition guests to visit even the most off-the-beaten path locations and an expert Expedition Team provides insight and understanding to each unforgettable Silver Explorer luxury cruise adventure.
Guests 144 | Crew 118 | Last Refurbishment 2017 | Tonnage 6,072
Public Areas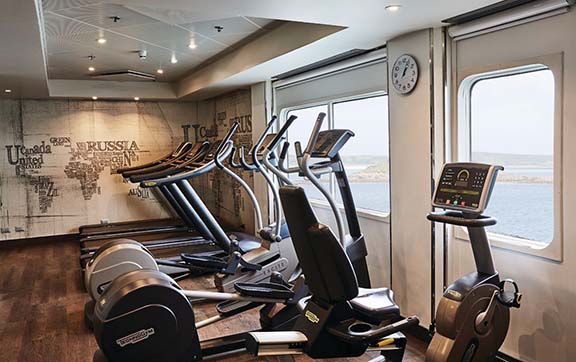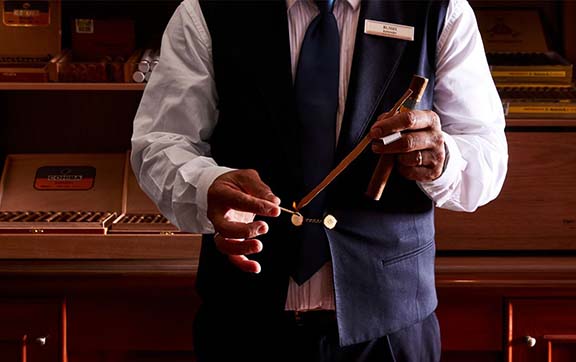 Fitness Centre
The Fitness Centre is open daily and offers a treadmill, elliptical trainer, stationery bike and a weight machine.
Connoisseur's Corner
The Connoisseur's Corner offers exceptional cognacs along with a premium selection of cigars for purchase.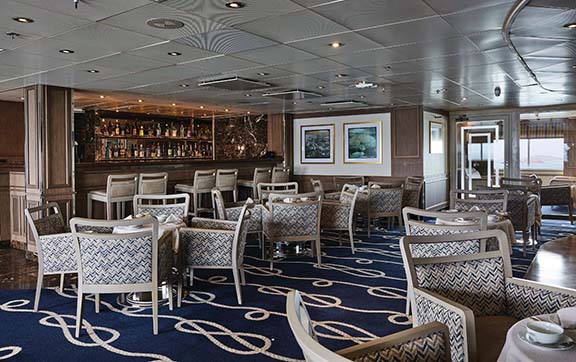 Tor's Observation Library
Located on Deck 6 high atop the ship, the Tor's Observation Library offers panoramic views. Here you will find comfortable seats to enjoy a beverage and watch the ever-changing view throughout your cruise.
Panorama Lounge
The Panorama Lounge is specially designed to provide an uninterrupted view of the day's destination from the comfort of the cruise ship's interior. This is an ideal place to unwind, listen to the pianist and enjoy a nightcap with new friends.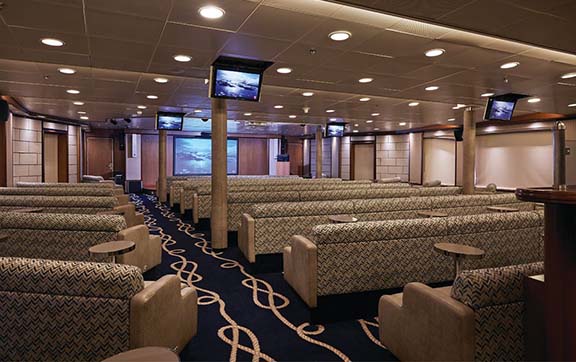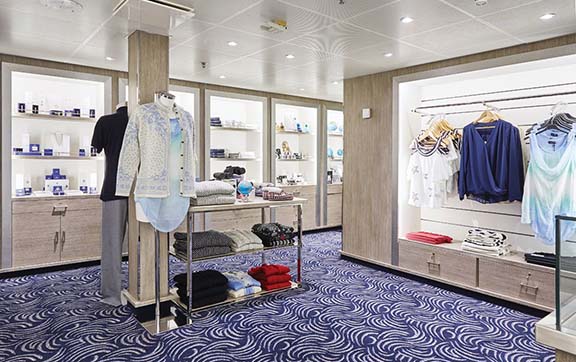 Explorer Lounge
Gather in The Explorer Lounge to hear fascinating tales of adventure or to learn about the region's endemic wildlife and remarkable nature. Lectures and seminars are presented by knowledgeable experts in a variety of scientific fields throughout the cruise.
Boutique
An exceptional shopping experience begins onboard Silver Explorer's brand-new boutique. Silversea's striking new and bigger shipboard boutique has been reimagined and redesigned to offer guests a carefully curated selection of products. Expect everything from cutting edge fashion, jewelry, accessories, fine perfumes and cosmetics to postcards, books and pictures from the Royal Geographical Society. Discover new brands renowned for blending tradition, innovation and exceptional quality while curious window shoppers can browse the stunning live vitrine from the corridor.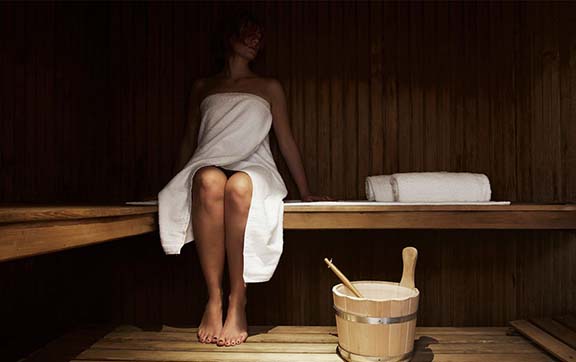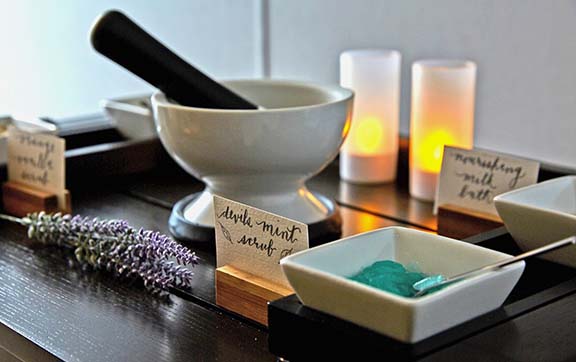 Zagara Beauty Spa
Relax your body and mind with a wide range of soothing spa therapies including facials, body wraps and massages. Sauna and steam rooms are perfect for relaxing before your spa treatment or after a long nature hike. Appointments for spa services may be made on board the ship.
Zagara Beauty Salon
A full range of Zagara Beauty Salon services is available for both men and women including hairstyling, manicures and pedicures. Appointments for these chargeable services may be made on board the ship.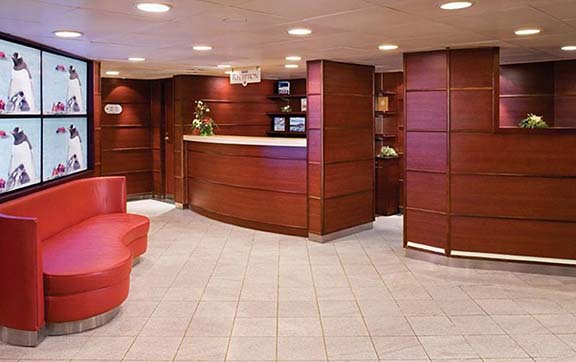 Reception
This reception area welcomes guests to speak with a staff member should they have a question or require any service during the cruise. Assistance is available 24 hours a day.
Dining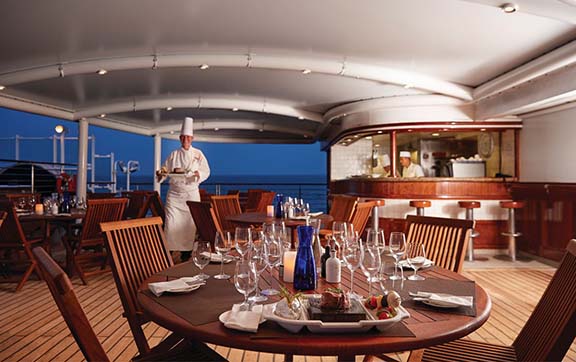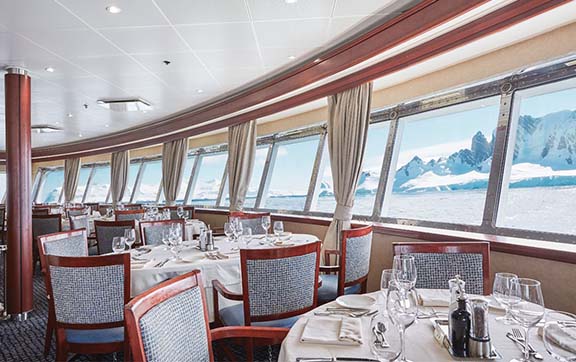 The Grill
One of the healthiest cuisines to exist, The Grill features lava stone cooking at its finest. Sourced from volcanic rock and placed in an oven to reach an optimum temperature of 400˚C, The Grill invites guests to cook their food directly at their table. Place your meat, fish or vegetables on top of the grill stone or inside the soup bowl, and then simply cook to your very own taste. Every bite is cooked to perfection, time after time. With the stone cooking available in the evenings only, The Grill becomes a daytime rotisserie and gourmet salad and burger bar, offering build your own burgers from the best selections of meat.
Dress code: Casual
Casual wear consists of pants, blouses or casual dresses for women; open-neck shirts and slacks for men are appropriate.
The Restaurant
Sparkling with silver, crystal and candlelight, this luxury cruise ship's main dining room serves contemporary, international cuisine with sophisticated elegance and impeccable service. Menus feature regional specialities unique to the voyage destination, for example, Roasted Chilean Sea Bass while cruising the Chilean fjords and Indian Chicken Korma en route to Mumbai. The Restaurant on board this luxury cruise ship offers open-seating dining, which means there are no assigned times, no assigned tables. You are free to dine when, where and with whom you please.