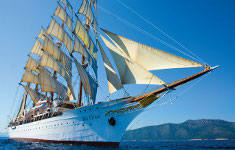 Sea Cloud – Lindblad Expeditions
Experience something many people don't know exists in the 21st century—the thrill of life under sail—in the region of the world where sailing is best. With the reliable trade winds filling Sea Cloud's sails, you'll have ample opportunities to stand on deck and watch the orchestrated frenzy of 16 of the crew members going aloft in the web of riggings to handset 30 sails.
Sea Cloud is a ship with a soul, imbued by the original owners, Marjorie Merriweather Post and her husband E.F. Hutton in the 1930's. The ship has played host to royalty, known service in wartime, and sailed the world over. She is a vessel of incomparable grace that harks back to the golden age of ship travel. Once you've been on Sea Cloud under full sail, you'll begin your own love affair.
Ship facts
Ship Details
Gross Tonnage

2,532 tonnes
Entered Service
1931
Former Name
Hussar
Length
110 metres

Passenger Capacity (twin)

58