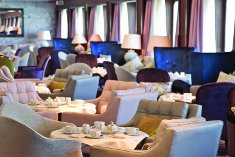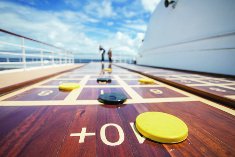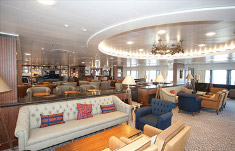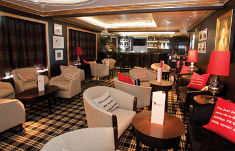 Saga Sapphire
After months of hard work and a multi-million pound makeover, Saga Sapphire is wowing passengers with her fabulous public rooms, choice of world class restaurants and spacious new cabins.
The Pier
With crazy golf on Deck 12, and a pool, hot tubs and outdoor 'View from the Top' cinema on Deck 11, this part of the ship promises to be a hive of activity. To keep your energy levels up, The Pier by the pool will serve gourmet fish and chips, traditional sweets and ice cream. And if you fancy a little exercise after all those treats, you can take a walk around the promenade deck – do six circuits and you'll have gone a mile!
The Drawing Room
We predict the Drawing Room will be one of the most popular places on board, both in the evening and during the day. Incorporating the library, a bar and even a walk-in larder, the informal setting will be the perfect place for catching up on some reading, surfing the internet on one of the ship's iPads, or perhaps enjoying some light entertainment in the evening.
The Grill
An informal venue serving lighter, healthier grilled meals, where you can watch your food being cooked to order in a state-of-the-art show kitchen or dine alfresco in fine weather.
With its specialised menu, it will be a great place to pop in for a leisurely breakfast, light lunch or relaxed dinner.
East to West
For something a little different, you'll be able to book a table for dinner at East to West, our 64-seat restaurant that specialises in Indian, Sri Lankan and Thai cuisine. Decorated with traditional carvings, the restaurant will deliver mouth-watering food in a setting that reflects the mood of the East.
Pole to Pole
Our main restaurant will seat 620 passengers, yet still have an intimate feel thanks to the different areas styled to the theme of different continents: Africa, Asia, Europe and the Americas.
You will be able to take all your meals here including breakfast, where you can choose from the buffet or enjoy a full waiter-served meal.
There will be flexible seating, so you can sit wherever you choose, plus at dinner a number of tables can be reserved for fixed seating at the time of booking.
Britannia Lounge
This versatile venue will be a great place for morning coffees and afternoon teas. You'll also find various activities taking place – perhaps a lecture or ballroom dance lesson.
Then in the evening it's show time! The Britannia Lounge will really come alive as singers, instrumentalists, cabaret artistes and more grace the stage for some dazzling performances.
Ship facts
Ship Details
Gross Tonnage
37,301 Tonnes
Star Rating
4 Star
Size/Style of Ship
Small/Intimate/Classic
Entered Service
May 2012 – built 1981
Registry
Former Name
Bleu de France
Length
658 ft
Beam
95 ft
Draft
27.6 ft
Propulsion/Propellers
Maximum Cruising Speed (knots)
17 knots
Passenger Capacity (twin)
752
Crew
415
Nationality of Officers
British
Nationality of Crew
International
Total Cabins
374
Total Inside cabins
65
Total Outside cabins
309
Cabin/Suites with Balcony
65
Wheelchair Accessible Cabins
Passenger Decks
12
Cabin Electricity
Elevators
4
Self-Service Laundry
Yes
Onboard Currency (subject to change)
Pound Sterling