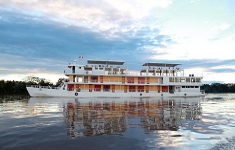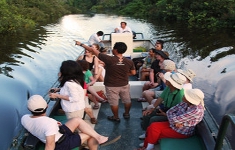 Queen Violet
Exclusively designed for life on the Amazon, the Queen Violet offers travellers a comfortable floating-home-away-from-home. Blessed with great sightlines, spacious dining facilities, a roomy observation deck and river views in each cabin, she'll get you where you need to go swiftly and smoothly. The 32-passenger Queen Violet offers travellers the ability to explore the Amazon in freedom and comfort. Great sightlines, air-conditioned cabins (all with river views) and a pair of skiffs for shore excursions ensure you never miss a thing.The crew of the Queen Violet is handpicked for their knowledge of the Amazon River system and personal understanding of the region's people and wildlife. Formal lectures and briefings give you the daily illumination, while informal chats open up the conversation about the amazingly diverse and fragile ecosystem that surrounds you.
Ship facts
Capacity: 32 passengers.
Cabins: 10 comfortable main deck cabins with side-by-side twin beds; river-facing with private facilities and A/C. 6 spacious second-deck cabins with queen size beds; river-facing with private facilities and A/C
Crew: 10 crew plus 1 bilingual local naturalist guide certified by the Galapagos National Park Authority.
Boat Layout: Large open upper deck with bar area for briefings and lounging with deck chairs and hammocks. Aft dining room on the second deck accommodates all passengers in one sitting.
Special amenities: Best-in-field naturalist guides ready to share with you the wildlife, people and history of the Amazon. Equipped with an open skiff to explore smaller tributaries and remote arteries; skiffs feature ecologically-friendly four-stroke engines and safety equipment. Regional and international flavours prepared from the freshest locally sourced ingredients offering another window into local culture.