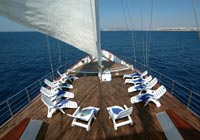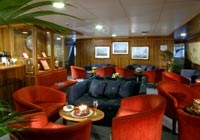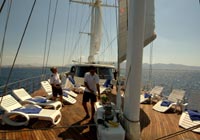 Panorama
Panorama was launched in 1993 and renovated 2009. This state of the art, three masted sail cruiser has performed several Atlantic Ocean crossings, has sailed from the Seychelles to Monte Carlo and from the Black Sea to Tunis and offers the highest standard of accommodation, comfort and safety. The vessel accommodates 49 passengers in 25 well-appointed cabins.
Life on Board
During the day, life on board centres around the outdoor areas including the two bars and the sun deck. In the evening you can relax in the library or enjoy a drink in one of the ship's two lounges. The swimming platform on the stern enables you to swim when weather and anchorage conditions permit. The spacious, single sitting dining room features large windows.
The Cabins
Cabins are located over three decks and are finished with wooden furniture and light fabrics. Cabins on the upper and main decks are equipped with windows while cabins on the lower deck have portholes. The fully equipped bathrooms are finished with marble. All cabins are air-conditioned and fitted with TV, telephone, hairdryers, mini-fridge, central music, public address system and safe boxes.