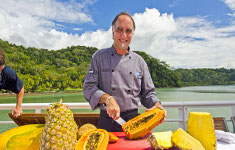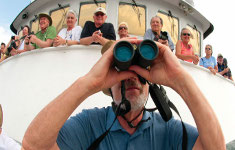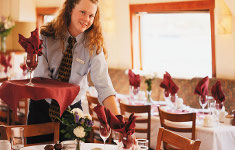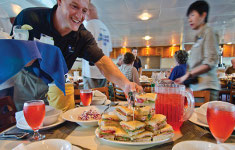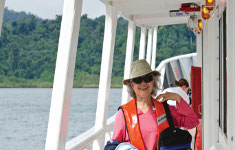 National Geographic Sea Lion
National Geographic Sea Lion, is a tried and true expedition ship that plies the waters from Alaska, to the Columbia and Snake Rivers, to Baja California and the Sea of Cortez and to Costa Rica and Panama. With a shallow draft and small size, she can easily reach places inaccessible to larger ships. She can venture into fast moving channels where whales come to feed, transit a series of locks in the Pacific Northwest, nose up to waterfalls in secluded coves, and sail into protected anchorages in small bays perfect for snorkelling and kayaking.
Sea Lion accommodates 62 guests in 31 outside cabins. Her inviting public spaces foster a sense of shipboard life where everyone is integral to the adventure, engendering a sense of expedition community. National Geographic writer Andrew Evans called the vessel the "closest thing to Cousteau's Calypso" he's ever had the pleasure to be on. She is equipped with tools for exploration that guarantee us an indepth experience in all the places we explore, and her open bow is a natural gathering place that accommodates the entire community at once for shared wildlife viewing experiences. Our expedition style is active, casual and engaged. There is no need for formal clothing, and the services offered aboard ensure travel is effortless. Learn more about life aboard, including dining, or see our cabins. After a day of exploring, you are invited to relax in Sea Lion's open spaces on deck or recharge with a wellness treatment.