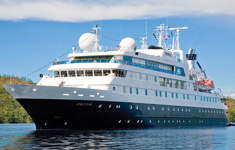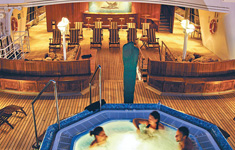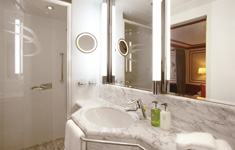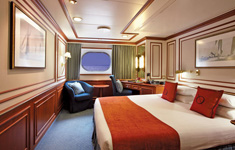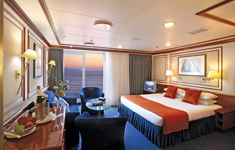 National Geographic Orion
The state-of-the-art National Geographic Orion, the newest addition to our fleet, serves as a luxurious base camp for voyages to the far-flung corners of the planet. A fully stabilized, ice-class vessel, the Orion is at home navigating polar ice as well the small harbors of the South Pacific. The ship accommodates 102 guests in 53 spacious cabins.
Public areas include an outdoor café and bar, a lounge and bar, a sun deck, a state-of-the-art lecture theater, a library, a boutique, a mud room with lockers for expedition gear, a sauna, a fitness room, spa treatment rooms, a hot tub/plunge pool, and a centrally located elevator. The restaurant features international cuisine inspired by our ports of call and all meals are served in a single seating with unassigned tables.
The ship carries kayaks and a fleet of Zodiac motorized landing craft, as well as a remotely operated vehicle and sophisticated video equipment that allows access to the underwater world. The Orion is also equipped with snorkeling and diving gear. Our "open bridge" policy provides guests the opportunity to meet the captain and officers and learn about navigation. A full-time doctor, a video chronicler, an undersea specialist, and a photography instructor are part of every expedition team.
Each cabin features with windows facing the ocean, private facilities, climate controls, internet access, and a flat-screen TV with DVD/CD player. Some cabins also have balconies. Single cabins in Category 1 and Category 3 include #301, 322, 323 and 512 and are highlighted in bright pink or bright blue on the deck plan.