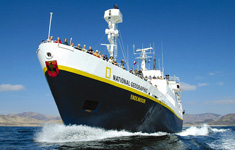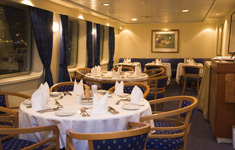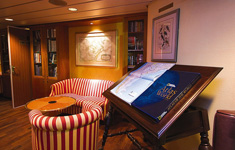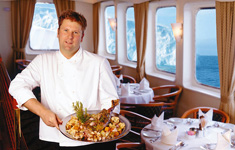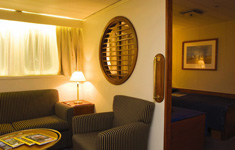 National Geographic Endeavour
The National Geographic Endeavour is a classic expedition ship, fully stabilized to allow for smooth passage from one island to the next. This comfortable vessel accommodates 96 guests in 56 outside cabins and is ideally suited for Galápagos expeditions, carrying snorkeling gear, wet suits, kayaks, a fleet of Zodiacs, underwater cameras and a glass-bottom boat.
The ship includes a covered deck with chairs and tables, a sun deck, a lounge with a full-service bar and facilities for films, slide shows, and presentations. Public areas also include a library, a gift shop, a fitness center, a spa, a sauna, and a small swimming pool. A full-time doctor, an undersea specialist, a photo instructor, a video chronicler, and a wellness specialist accompany every voyage; and Internet access and laundry service are available on board.
Meals are served in a single seating with unassigned tables for an informal atmosphere and easy mingling. The menu is international with an Ecuadorian flair. Our Ecuadorian captain and officers welcome guests to the bridge in accordance with our "Open Bridge" policy.
All cabins face outside with windows or portholes, private facilities, and climate controls. Single cabins in Category 1 are highlighted in bright blue on the deck plan below and include cabins 219, 222, 309-312, 314-312, and 318. Single cabins in Category 2 are highlighted in bright pink and include cabins 124, 126, 127, and 205.