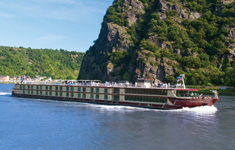 MV Serenade 2
Overview
Launched in 2007, this ship really is at the cutting edge of design, guaranteeing the most comfortable possible surroundings for her 134 passengers. Extensive use of wood and glass creates a luxuriously modern and spacious atmosphere.
Built to the highest standards and meeting the most recent and most stringent safety regulations introduced in January of that year, she comprises three main decks, the Chopin (upper), Mozart (middle) and Beethoven (lower), all air conditioned throughout, topped by a very spacious Sun Deck. All three main decks are connected by a standard lift (rarely found on river ships), plus splendid wide staircases with the enormous sun deck being reached by stairs.
Public areas are superbly designed, and at the centre of the ship on the Mozart Deck is a spacious lobby, just like a luxury four-star hotel, plus a small boutique stocking those useful items you might have forgotten, alongside a range of tasteful goods and souvenirs.
The chic Mendelssohn Restaurant is more than capable of comfortably seating the full ship's complement and is furnished in exceptional taste. Downstairs from the lobby on the Beethoven Deck is, most unusually for a river cruiser, the fitness suite complete with gym equipment, sauna and massage chairs, plus the table tennis room. Ascending the staircase from the lobby, the Chopin Deck features the luxurious Vivaldi Lounge Bar, tastefully furnished with deep carpets, comfortable armchairs and settees. Here the attentive staff will be delighted to serve you a selection of hot and cold drinks from the fully licensed bar. The Captain's Club, as the ship's library is called, is ideal for both reading, or perhaps a game of Bridge with your fellow passengers. Large panoramic tinted windows reveal the passing scenery in all its magnificence as you relax with a drink.
A real highlight of the Serenade 2 is the superbly designed Forward Observation Lounge where you relax in your armchair, indoors or out and imagine that you, yourself, are steering this great vessel skillfully along the river or into that impossibly narrow looking lock ahead of you!
The Sun Deck, one of the largest on this type of vessel, incorporates covered shaded areas, and affords ample space to relax in the sun in one of the plentiful deck chairs and enjoy the fresh breeze as the vine-clad slopes and historic towns slip by. If you're really missing the fairways or even if you've never given it a go before, why not try your hand on the putting green, perhaps enjoy a game of chess on the giant chessboard or take a look at how the captain steers his mighty vessel along the winding rivers from the Bridge, towards the bow of this delightful ship.
Cabins
The cabins on board the Serenade 2 are amongst the very best and the largest, 16 square metres (172 square feet) available on any European river cruiser. They feature hotel standard beds (not berths or bunks) and a well-appointed bathroom with WC, bath and separate shower. All cabins feature individually controlled air conditioning, twin beds* with tempur mattresses, a seating area, dressing table and mirror, good wardrobe and drawer space, a minibar fridge, coffee and tea making facilities (another rarity on European waters), safe, hairdryer and direct dial telephone.
These exceptional standard facilities are only available on the finest vessels. Because the cabins are more spacious than on most river cruise vessels there is plenty of storage space by comparison. For those moments when you just want to relax in private, there's a flat screen satellite TV with a range of channels plus live transmissions from the ship's fore and aft viewing cameras so you can enjoy the cruising without even having to leave the cosy comfort of your own bed!
All cabins on Mozart and Chopin decks (upper and middle) feature floor to ceiling sliding patio 'French balcony' windows, whilst those on the Beethoven deck have smaller fixed windows. Two cabins on the Chopin deck are designed for guests with limited mobility.
Stern cabins on the Chopin deck are 1 square metre smaller than the standard cabins, they feature all the same amenities as the standard cabins, but due to the slightly different size and layout there is only one armchair. *A limited number of single cabins are available at a supplement.
Dining
As you enter the restaurant the mouth-watering aroma of roasting Provençal Lamb drifts tantalisingly from the galley. Smartly uniformed, friendly and intuitive waiting staff professionally guide you to your classically set table with its crisp white linen, premium quality European china, polished fine glassware and gleaming cutlery whilst freshly baked bread is immediately placed before you with effortless style.
Welcome – you're at home. Quality dining is an integral part of your river cruise experience – and our ships take this to the highest five-star levels with superb cuisine prepared by a dedicated and highly professional brigade of chefs. Take a stroll on the Sun Deck as the river gradually awakes, and enjoy Early Risers' tea or coffee and freshly baked pastries. The full breakfast buffet is a sumptuous affair with innumerable hot and cold options, plus a popular omelette station prepares dishes to order.
Or if you prefer new for 2013, why not enjoy continental breakfast in your cabin: breakfast in bed as enchanting scenery and riverside life drift gently by – priceless! Naturally complimentary tea and coffee are available throughout the day and a very comprehensive lunch buffet allows selection of as little or as much as you wish from an extensive and tempting selection. Don't forget to leave some room for afternoon tea and the chef's special patisserie – it's just too tempting to ignore!
The day's culinary highlight is the splendid four-course dinner: entrée, soup, main course and dessert plus a salad buffet is always available – all within the ambience of a high quality restaurant. Our carefully designed menus include international classics together with dishes reflecting the regions we pass through, with careful selections from local markets. In addition, the 'Welcome Dinner' enjoys an extended menu and towards the end of your cruise, the Captain proudly hosts his excellent 'Gala Dinner' featuring specialities of the countries and regions through which you've travelled.
Our clients constantly tell us they love our informal free seating and smaller tables policy, quite unlike the inevitable regimentation of many cruise ships which is exactly the atmosphere we are trying to achieve. Then there's the wine list. We take great pride in its excellent quality and style, including not only the classic choices but also an extensive range of local wines. Many of these are extremely well-priced, delightful hidden gems and rarely marketed outside their production area.
In addition to the main restaurant, we are proud to unveil the unique new 'Chef's Restaurant', open for dinner only on the Lord Byron with huge panoramic windows and seating for just 24 diners. Here the chef presents his personal favourite signature dishes with a fixed menu using the finest of seasonal produce. This superb dining experience must be reserved on board.
CLICK HERE to view video