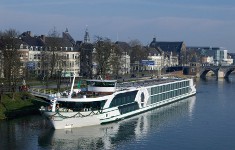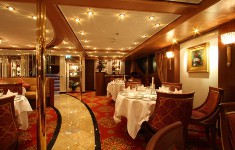 MS Swiss Sapphire
Launched in 2008, one of Europe's finest vessels the five star Swiss Sapphire is another of our Swiss managed ships, a true embodiment of luxurious river cruising of the highest standards as befits its flag. Accommodating just 120 guests in stylish surroundings befitting a top quality hotel, and in contrast many similar ships carrying up to 200 people, you are assured the personal touch and a very spacious atmosphere in cabins and public areas alike. The ship's talented designers have brought to bear their decades of experience, incorporating a range of outstanding design features in superbly appointed cabins, gracious lounges and restaurants to your river cruise is one to treasure for years to come. Boarding through the elegant lobby, the decor's luxurious quality, the spacious feel of the public areas and a five star ambience are immediately apparent. Superior quality fittings, subdued, atmospheric lighting, warm colours, highly poised pink and black marble floors and splendid wrought ironwork and gold banisters ensure that a gentle wander around the vessel promises classic cruising of a very high standard. There is a small boutique for your everyday requirements and forward on Diamond (upper) Deck is the elegant, deep-carpeted lounge and bar with a variety of leather and soft armchairs plus settees so whatever your mood or time of day, you have the ideal space in which to relax. Surrounded by extensive panoramic windows you can fully appreciate the passing scenery's splendours and the true fascination of everyday river life. All our ships' lounges offer guests an elegant space to relax in the most genteel of surroundings, a theme that is perfectly evoked here in subtle use of contrasting colour, lighting and decor; the results of using superbly talented interior designers are very well evidenced. Quality also extends to the 'professional' behind the bar, happy to prepare simple yet perfectly prepared fruit juices or a sophisticated cocktail – the perfect spot to while away the evenings with the gentle melodies of the ship's pianist in the background. Or perhaps join your friends for a twirl on the purpose designed dance floor. Aft on Diamond Deck is the Lido bar, probably one of the ship's most intimate areas, ideal to catch up on some reading, play chess or perhaps have a coffee whilst taking in the view through the panoramic floor to ceiling sliding windows. Descending the regal, wrought iron staircase, also served by a lift, brings you to the Ruby (middle) Deck where the ship's main restaurant has the pleasantly wonderful feel of a top culinary establishment – which is exactly what it is! Exceptional tableware and high quality service compliment local and international creations presented at their very best. This is a truly superior fine dining experience matching first class restaurants ashore. Our very well received open dining arrangements mean you can sit with whomever and wherever you wish, at tables ranging in size from four to six so you can be as private or sociable as you like. A staircase leads to the Emerald (lower) Deck featuring a small yet well appointed fitness centre to help keep you trim after all those sumptuous meals plus a treatment room for massages if you feel like pampering yourself (small additional fee). Crowning the entire ship is the Sun Deck, the perfect place to relax and wonder at the passing scenery. Here you can practice your swing on the 'putting green', enjoy a game of giant chess, reflect on life from the perspective of the whirlpool Jacuzzi, unobtrusively watch the wildlife or marvel at the masterful way in which the Captain and crew effortlessly ease the vessel along the river's course. Just forward of the wheelhouse is the Forward Sun Deck, a quiet spot where you can enjoy a yacht-like ambience and reflect on just how pleasant life can be. The Swiss Sapphire, where the Swiss service is alive and well, and a really special and intimate cruise awaits you.
Cabins
The Swiss Sapphire's cabins are river facing, superbly appointed with the highest quality fittings and most importantly all cabins on the Diamond and Ruby (upper and middle) Decks feature French Balconies with full floor to ceiling sliding glass doors. With hotel style beds throughout, as soon as you enter your luxurious cabin, stylish elegance and intuitive design are immediately apparent. At 15 square metres in area, they are amongst the most spacious on any European river cruise vessel, reflecting the same first class comfort levels found throughout the ship. The sense of a luxury hotel is enhanced with a turn down service operating during dinner and this, combined with the finest soft cotton bed linen, ensures a comfortable night's sleep (hypoallergenic pillows are available-please advise on booking). Clever design based on the constructers 40 years of experience in commissioning river cruisers allows for ample storage space and a seating area with desk and 2 chairs, whilst a safe, hairdryer, minibar, flat screen plasma satellite TV and individually controlled air conditioning are standard throughout. The well equipped bathrooms are unsurpassed on any river cruiser and feature a chic marble wash basin, thick towels a fully glazed shower with 'power' setting plus high quality bathroom cosmetics, bathrobe and slippers.
Suites
This is where the Swiss Sapphire really shows its world class pedigree, with a limited number of suites of 19 square metres (204 square feet) on each deck, giving you that extra room for added comfort. The Diamond (upper) Deck features deluxe suites, probably some of the largest and most luxurious cabins available in Europe at a staggering 30 square metres (322 square feet)! They are huge, twice the size of standard cabins but when you consider the extra space is almost entirely devoted to the living area, this really propels river cruising to the highest level. They feature large marble bathrooms with separate bath and shower cubicle, a large bed, bureau, two huge sliding, floor to ceiling panoramic windows and extensive seating area with settee and coffee table. In short your complete comfort is assured.
Dining
As you enter the restaurant the mouth watering aroma of roasting Provencal Lamb drifts tantalisingly from the galley. Smartly uniformed, friendly and intuitive waiting staff professionally guide you to your classically set table with its crisp white linen, premium quality European china, polished fine glassware and gleaming cutlery whilst freshly baked bread is immediately placed before you with effortless style.
Welcome – you're at home. Quality dining is an integral part of your river cruise experience – and our ships take this to the highest five star levels with superb cuisine prepared by a dedicated and highly professional brigade of chefs. Take a stroll on the Sun Deck as the river gradually awakes, and enjoy early risers' tea or coffee and freshly baked pastires. The full breakfast buffet is a sumptuous affair with innumerable hot and cold options, plus a popular omlette station preparing dishes to order. Or if you prefer, why not enjoy continental breakfast in your cabin; breakfast in bed as enchanting scenery and riverside life drift gently by – priceless! Naturally complimentary tea and coffee are available throughout the day and a very comprehensive lunch buffet allows selection of as little or as much as you wish from an extensive and tempting selection. Don't forget to leave some room for afternoon tea and the chef's special patifferie – it's just too tempting to ignore!
The day's culinary highlight is the splendid four course dinner; entree, soup, main course and dessert plus a salad buffet is always available – all within the ambience of a high quality restaurant. Our carefully designed menus include international classics together with dishes reflecting the regions we pass through, with careful selections from local markets. In addition, the "Welcome Dinner" enjoys an extended menu and towards the end of your cruise, the Captain proudly hosts his excellent 'Gala Dinner' featuring specialities of the countires and regions through which you have travelled.