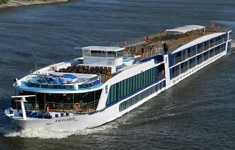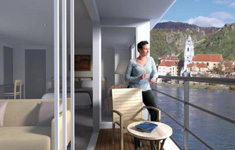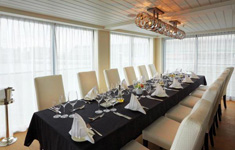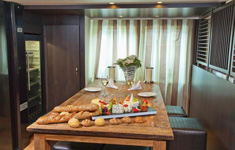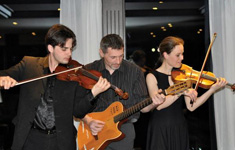 MS Amaverde
The MS Amaverde offers the ultimate in custom-designed luxury. This 162-passenger vessel features a combination of amenities and design details never before seen on the great waterways of Europe. Featuring an impressive range of stateroom categories, dining options and public lounges, MS Amaverde will transport you on the river cruise of a lifetime.
Perhaps the most distinctive feature aboard the MS Amaverde is the revolutionary "Twin Balcony" stateroom concept found on the majority of staterooms. The Twin Balconies consist of French Balconies, for unimpeded views and fresh air, plus a separate Outside Balcony, allowing for private, al fresco enjoyment of your river cruise experience.
Staterooms on board the Amaverde include spacious French Balcony Suites at 170 square feet, Twin Balcony Suites at 210 or 235 square feet and Twin Balcony Owner's Suites at 255 square feet. The most deluxe category, the 350-square foot Owner's Suite "plus" category, features a sitting area and couch, large bathroom with separate bathtub, as well as both an Outside and a French balcony. All Twin Balcony stateroom categories feature a mini-bar. Every stateroom aboard the Amaverde features an Infotainment system, which includes complimentary Internet access and first-run Hollywood movies, plus complimentary Wi-Fi throughout the vessel.
Public areas aboard include a spacious Main Lounge, a relaxing fireside library and Observation Lounge at the forward section of the vessels. You'll also find an elevator, 24-hour specialty coffee and tea station; Fitness Center and Sauna, plus a Massage, Hair and Beauty salon.
Dining on board the MS Amaverde presents an array of dining options unequaled in the industry. You'll find no less than seven unique dining experiences on board. Choose Verde Fine Dining Restaurant, the ships' main restaurant, offering gourmet cuisine. Bella Cucina Restaurant, the second stylish onboard restaurant, offers classic Italian fare at dinner. At Erlebnis Chef's Table Restaurant, passengers can watch as a private chef prepares a special tasting menu in this unique and exclusive 24-seat venue. Additionally, passengers can enjoy casual light lunch menus in the Main Lounge, as well as private dining in the Wine Room, a dining area seating up to six guests that's perfect for celebrating a special occasion. On select days, enjoy a lunch outdoors on the Sun Deck and room service dining for breakfast and dinner is also available in select suite categories.
Ship facts
Ship Details
Gross Tonnage
Star Rating
Size/Style of Ship
River
Entered Service
2009
Registry
Basel
Former Name
Length
135 metres
Beam
11.4 metres
Draft
1.2 metre
Propulsion/Propellers
Maximum Cruising Speed (knots)
Passenger Capacity (twin)
161
Crew
49
Nationality of Officers
European
Nationality of Crew
European
Total Staterooms
75
Cabin/Suites with Balcony
62
Wheelchair Accessible Cabins
Passenger Decks
4
Cabin Electricity
120v/240v
Elevators
1
Self-Service Laundry
No
Onboard Currency (subject to change)
EUR