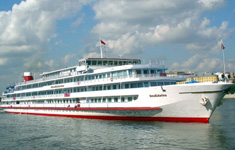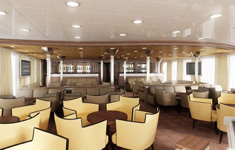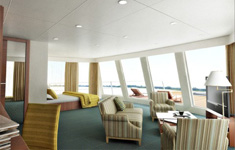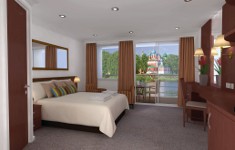 MS Amakatarina
Exclusive to APT in 2011, the ms Amakatarina is Russia's most modern, comfortable and spacious river ship.
Thanks to a full $14 million reconstruction in 2010, it boasts the most spacious accommodation on Russia's waterways and is the first of its kind to introduce Outside Balconies, which are a feature of over 70% of staterooms.
A Wealth of Public Areas On Board
Between your time exploring the attractions of Russia's waterways, you'll find plenty to keep you entertained on board.
Atop the Sun Deck, fresh air and superb views await. On the Boat Deck, the elegant Panorama Lounge, with its fully stocked bar, is a superb area in which to relax and take in the approaching sights. The Conference Hall, meanwhile, hosts a range of fascinating lectures and presentations as well as a variety of concerts, light entertainment and movies – all of which offer guests an insight into the history and culture of the region.
For your cruising convenience, a lift accesses all four decks, the reception area is staffed 24 hours a day and a gift shop is stocked with souvenirs and items you might find helpful.
Amazing Cuisine, Spectacular Views
The dining experiences you'll enjoy aboard the ms Amakatarina are, quite simply, outstanding. Because both of the ship's restaurants are located well above water level, they offer diners lovely riverside views during each meal. And with each gourmet meal, as well as wine with dinner, included, you're sure to savour the delightful mix of Russian specialities and international cuisine.
High Staff-to-guest Ratio, Outstanding Service
With nearly one crew member to every three guests, service on the ms Amakatarina is far superior to that of any other Russian river ship. The hospitality staff are intuitive, friendly and helpful, a doctor is present at all times and six guides travel with you to answer any questions and provide commentary on the passing sights.
Facilities
Main Restaurant
Panorama Lounge
Sauna
Solarium
Conference Hall
Elevator
Gift Shop
Infirmiry
Alternative Restaurant
Bar / Nightclub
Ship facts
Ship Details
Gross Tonnage
Star Rating
14
Size/Style of Ship
River
Entered Service
2010
Registry
Former Name
Length
135.7 metres
Beam
16.8 metres
Draft
Propulsion/Propellers
Maximum Cruising Speed (knots)
Passenger Capacity (twin)
212
Crew
78
Nationality of Officers
European
Nationality of Crew
European
Total Cabins
106
Total Inside cabins
Total Outside cabins
Cabin/Suites with Balcony
Wheelchair Accessible Cabins
Passenger Decks
4
Cabin Electricity
120v/240v
Elevators
Self-Service Laundry
Onboard Currency (subject to change)
EUR