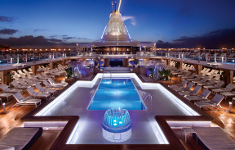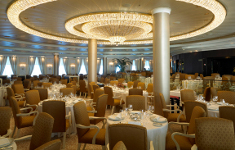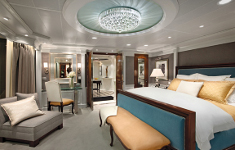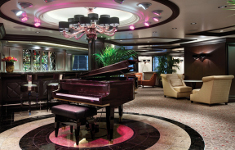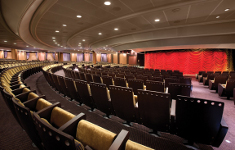 Marina
Oceania Cruises' Marina has been named one of the top 10 mid-size ships in the world in the 2012 Berlitz Complete Guide to Cruising & Cruise Ships. With a total score of more than 1,700 points, which translates to a 5-star rating, Marina has joined an elite group of vessels that belong to the Berlitz "Five-Star Club," representing the highest rated ships in the world.
The Oceania-Class Marina represents an evolution of the line's extremely popular Regatta-Class ships. Since the inception of Oceania Cruises, our ships have delivered an unparalleled onboard experience. So many of the indulgences are a direct result of our ships' ideal mid-size, a tradition that Marina will proudly continue, but in an even more refined incarnation. She personifies the Oceania experience and then some.
Oceania's magnificient sister ships Marina and Riviera are the most beautiful, elegant and sophisticated ships to debut in the past 50 years. Designer touches are everywhere, from the magnificent Lalique Grand Staircase and stunning Owner's Suites furnished in Ralph Lauren Home, they are showcases of the finest residential design and furnishings. More than anything, Marina and Riviera personify the Oceania Cruises experience.

While larger than her consorts Regatta, Insignia and Nautica, Marina remains comfortably mid-size, adroitly utilizing the additional space for even greater amenities. She rewards guests with our signature "finest cuisine at sea" in six restaurants, including two new gourmet venues — Jacques and Red Ginger. Her new La Reserve holds enlightening wine and food pairings. For special coffees and snacks, there is Baristas Coffee Bar. The new Bon Appétit Culinary Center offers hands-on cooking instruction under the guidance of master chefs. Similarly, artists-in-residence teach fine arts in Artist Loft, a new enrichment center. Intimate lounges abound. Accommodations in every category are incredibly spacious, especially with regard to the lavish bathrooms.

Yet remarkably, with so many additions, the onboard ambiance and experience remains comfortably familiar. We have retained everything guests adore about our ships and raised the bar ever higher.
Dining
This ship has 9 restaurants:
Grand Dining Room
Jacques (French)
Red Ginger (Asian)
Polo Grill (Steakhouse)
Toscana (Italian)
Terrace Cafe
Waves (Casual open air)
Privee (exclusive Degustation)
La Reserve (exclusive menu pairing wine & food)
Room Service

Bars & Lounges


Martinis
Baristas
Grand Bar
Marina Lounge
Horizons
Casino Bar
La Reserve
Waves Bar

Entertainment


Afternoon Tea
Premium Tastings of food & wine
Casino
Martini Tasting
Boutiques
Headline Entertainers

Onboard Activities


Canyon Ranch Spa Club
Salon
Fitness & Wellness Services
Bon Appetit Culinary Centre
Artist Loft Enrichment Centre
Library
Internet Centre
Gymnasium and Fitness Area
Library
Pool & Jacuzzis

Ship facts
Ship Details
Gross Tonnage
66,084
Size/Style of Ship
Mid/Luxury
Entered Service
2011
Registry
Marshall Islands
Former Name
None
Length
235.9 metres
Beam
32 metres
Draft
7.3 metres
Propulsion/Propellers
Stabilizers
Maximum Cruising Speed (knots)
20
Passenger Capacity (twin)
1,250
Crew
800
Nationality of Officers
European
Nationality of Crew
International
Total Cabins
629
Total Inside cabins
18
Total Outside cabins
20
Cabin/Suites with Balcony
591
Wheelchair Accessible Cabins
6
Passenger Decks
11
Cabin Electricity
110,220v
Elevators
TBA
Self-Service Laundry
No
Onboard Currency (subject to change)
US Dollar