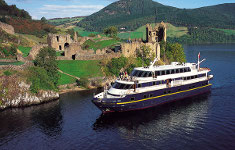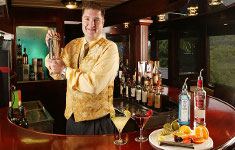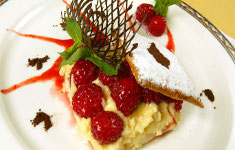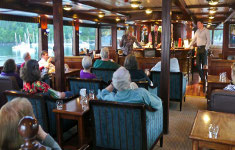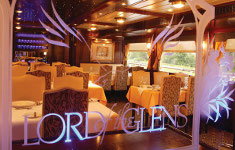 Lord of the Glens
The 48 guest Lord of the Glens feels like a cross between relaxing in a stately country manor and taking a voyage aboard a private yacht with friends. It is the perfect way to explore the Scottish countryside. She is paneled in polished wood, teak decks, offering gourmet cuisine, and exceptional personal service.
Lord of the Glens accommodates 48 guests in 26 outside cabins. At 150 feet, she is uniquely sized to fit through the network of locks and canals that cut through the heart of the Scottish highlands – the Caledonian Canal, which connects the North Sea to the Atlantic. And, she can also navigate the coastline and venture to the islands of the Inner Hebrides, making her the only vessel that can cut across the country and explore islands in the Atlantic in such grand style.
Lord of the Glen is outfitted with bikes for exploring the Scottish countryside, and there's an opportunity to kayak on Loch Ness. We will sail through the intricate series of locks known as Neptune's Staircase, where Lord of the Glens is raised or towered 64 feet in eight locks in the space of 500 yards and herself becomes an attraction as people gather to watch.