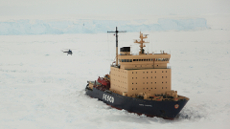 Kapitan Khlebnikov
The Kapitan Khlebnikov is a polar-class icebreaker combining power and technology with comfort. No passenger ship has transited the Northwest Passage more often than the renowned Kapitan Khlebnikov. Originally designed to take on the rigors of northern Siberia, the 24,000 horsepower engine and advanced ice-breaking technology take you places no other ship can.
Deck Plan
Kapitan Khlebnikov deck plan
Ship facts
The ship offers 51 outside cabins and suites, all featuring private facilities, large windows, desk, hair dryer, robes and large closets.
Ship Specifications
Staff and Crew: 70
Guests: 110
Length: 122.50m
Breadth: 26.50m
Draft: 8.50m
Propulsion: Diesel-electric engines – 24,000 total horsepower
Ice Class: LL3
Cruising Speed: 15 knots