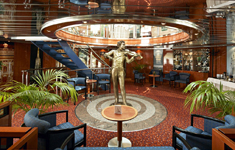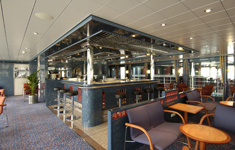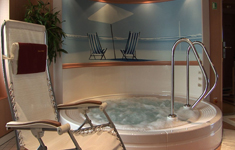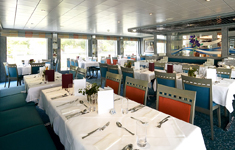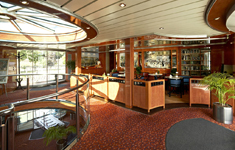 Johann Strauss
Built in 2004, the four star MS Johann Strauss is a 90 cabin vessel built to the highest specifications. One of her many fine features are the number of French balcony cabins. There are over 60 such cabins with a sliding glass door and a glass wall. From these cabins, which are located on the Opera and Waltz decks, the views are spectacular and for many the opportunity to open the door to fresh air is a great bonus. All cabins are large, being 170 square feet of space, comparing favourably with hotel rooms or the better cabins on large ships. They are well planned and smartly furnished in light woods and restful colours. Facilities include a king sized bed, individually controlled heating and air conditioning, television, telephone, minibar, safe, hairdryer, radio and a well appointed bathroom with shower and toilet.
Another well designed feature of the vessel is the positioning of the restaurant, lounge, bar and cafe on the top deck. These public areas also have floor to ceiling windows, affording excellent views as you dine or relax. On board you will also find a fitness centre with a sauna, whirlpool and gymnasium equipment. There is also a small shop for convenience items.
Dining
All cruises include full board in the single sitting restaurant. Breakfast is provided buffet style, a splendid choice of breads, pastries, cereals, yoghurts together with the Full English selection. For early risers, tea, coffee, breads and pastries are available from 07.00 hours. Lunch is a four course menu with a mix of buffet and served dishes. Afternoon tea is also provided daily with a choice of cakes. Dinner is a four course affair with a varied selection of starters, main dishes, cheese board and desserts. Coffee and tea are provided after lunch and dinner. To finish the day, snacks are available in the bar in the late evening.
Guest Speakers
Each cruise will be accompanied by a knowledgeable guest speaker, providing an insight into the culture and history of the places you are visiting.