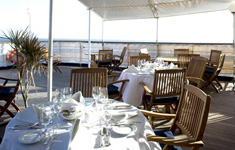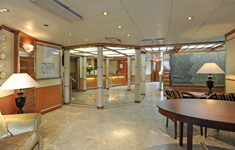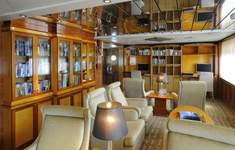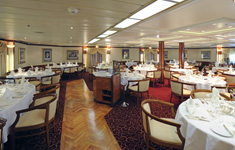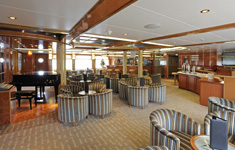 Island Sky
Our much loved MS Island Sky underwent a significant multi-million pound refurbishment in May 2010 to make her one of the finest small ships in the world. With a maximum passenger capacity of only 116, a vessel of her size is capable of carrying many more but instead the MS Island Sky has the benefit of unusually large suites, luxuriously appointed public areas and spacious outside decks.
On board there is a high ratio of crew to passengers. Our friendly crew of 75 are mainly Filipino and Eastern European and our Scandinavian captains are experienced mariners, having been in service aboard large 2000 plus passenger vessels and who now prefer a less frantic life aboard a small ship. If, like them and us, you prefer a more peaceful life at sea, you will find the MS Island Sky the perfect ship. When choosing the vessel for your next voyage of discovery, you can select a ship with endless entertainment and impersonal service or come with us where peace, high quality service and attention to detail are the order of the day. We promise there will be no organised entertainment, fancy dress, deck games or any of the usual big ship experiences. The atmosphere on board is more akin to a private yacht or country hotel. A little music in the lounge or bar after dinner, guest speakers, informative port briefings from our cruise director and of course good food which may be enjoyed leisurely in the attractive dining room. After a day ashore you will return to the comfort and peace of a well run and exceedingly comfortable ship.
Your Suite
Onboard there are 57 exceptionally spacious and well designed suites. All feature a sitting room area and some have private balconies. The feeling of luxury is enhanced by the wood panelling and brass, which predominates throughout the vessel conveying the atmosphere of a private yacht. The passenger accommodation is arranged over five decks and all suites have outside views. Each affords considerable comfort with en-suite bathroom featuring marble-topped vanity unit with sink and walk-in shower, large wardrobes, dressing table with large mirror and stool and excellent storage. There is a mini-fridge, flat screen television with inbuilt DVD player which can also play CDs and a telephone in each suite. Bottled water, towelling dressing gowns and slippers are also provided for your comfort. Other facilities include a programmable electronic safe, hairdryer, assorted toiletries and individually controlled air-conditioning and heating. The suites on each deck have their own colour theme. Soft hues and blended tones enhance the traditional maritime style making the passenger accommodation an inviting and relaxing place to be.
Your Space
The spacious and finely decorated public rooms include a large lounge where daily briefings and talks will be provided throughout the voyage and an elegant bar where a pianist plays periodically throughout the day. The bar also features a 24-hour tea and coffee station. The onboard library is the perfect place to relax with a book and is stocked with reference books pertaining to the places the vessel is visiting along with a selection of games and two computers with internet access. Daily newspapers and magazines are also placed in the library depending on local availability. There is also WI-FI access throughout the vessel. Outside there is a rear sun deck where meals are served in warm weather under shade, a bar and comfortable deck furniture for sun bathing or relaxing with a book. On the top deck there is a Jacuzzi and further observation and sun deck. There is also a small hairdressers on board with appointments made on request.
Your Dining
Another benefit of a small ship is the quality of the cuisine. With only one sitting and a maximum of just over 100 passengers, the galley is able to provide delicious meals. Where possible and when it meets his high standards, the chef will obtain local produce in markets or buy the catch of the day from a passing fishing boat. Such purchases enhance the well stocked larders and bring a local touch to the varied menus. In the main elegant dining room, breakfast is served buffet-style, with certain items cooked to order and lunch and dinner is à la carte. When weather permits, breakfast and a buffet-style lunch are also served on deck. To enhance your dining experience even further a selection of wines are included with lunch and dinner. Afternoon tea is served in the lounge and tea and coffee are available 24 hours. With sufficient notice, most diets can be catered for on board.
Exploring Ashore & Expedition Cruising
Our inclusive pricing policy for the MS Island Sky means that the majority of shore excursions are included in the price of your cruise. Due to her size the MS Island Sky has the freedom of the seas and can come alongside in small docks or drop anchor in any suitable spot. In remote, undeveloped areas or places with restricted access, we will use the vessel's tender to go ashore and when the vessel is operating expedition cruises in areas such as the British Isles, we will employ the vessel's Zodiacs. These inflatable craft offer marvellous manoeuverability allowing us access to otherwise impossible landing places. There is snorkelling equipment onboard and when weather and location permits, the expedition team will set up a snorkelling platform. One of the joys of expedition cruising aboard a small vessel is the flexibility it allows. We have twenty years experience of designing trips to some of the most remote places in the world and although we set sail with a set itinerary it is the unscheduled events that often become the highlight of the journey. It is our belief that you do not go on holiday to be part of the all engulfing masses which descend on a town when a number of large ships dock at the same time. Arriving at a port for the first time should be an invigorating experience and can certainly be so when the right place is chosen and your arrival is on a small ship. With only 116 passengers, there is no queuing to disembark or embark the MS Island Sky for an excursion and when required there will only be three coaches waiting on the quayside to transport you to the day's attraction as opposed to a whole fleet waiting for the passengers travelling on the big ships.
For Your Comfort & Security & Safety
Our vessel is equipped with the latest safety, navigation and communications equipment along with roll stabilizers to minimize the ship's motion. The captain and officers operate an open-bridge policy that allows passengers onto the bridge at most times with the exception of arrival and departure from port and during times of complicated navigation. Here you can check the ship's progress by charts and learn more from the officers about your journey. There is also a dedicated channel on your television in your suite showing the routing of the vessel along with technical information and estimated times of arrival and departure from port. On board you will also find a clinic and doctor and a lift that serves all decks. Smoking on board is restricted to outside decks only.