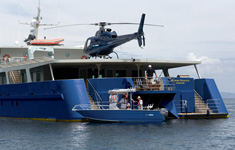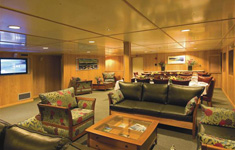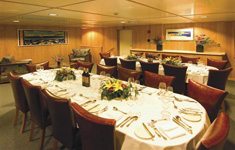 Island Passage
The 42 metre (140 feet) 'Island Passage' is unique in that other vessels of her size carry more than double the 20 passengers that she can accommodate.
This gives our passengers much more room to relax. She is also licensed for 200-day passengers.
We want to make your stay as comfortable as possible onboard the 'Island Passage'. So if you have any special request for an item or service that is not immediately available, we will do everything within our means to get it for you.
Amenities
Island Passage has all the amenities that you would expect of a much larger cruise ship, including:
Main Dining Room
Large Saloon Lounge
Sundeck and BBQ
Helicopter carried onboard
Expedition boats carried on-board
Phone and Fax facilities
Satellite TV
Security safe
Fully stocked cocktail bar and Wine cellar
Air Conditioning
Library including videos and books
We carry three expedition boats onboard. Designed for expedition work, these large and heavy-duty craft are extremely safe. The design permits these crafts to land directly onto the beaches.  We also carry 3 smaller tenders for use by passengers to explore areas away from the ship. There are also kayaks carried on board.
Crew
The 'Island Passage' operates with a crew of up to 8 and is registered as a New Zealand vessel under NZ Safe Ship Management. She has a tonnage of 496 GRT.
Ship facts
Ship Details
Gross Tonnage
496 Tonnes
Star Rating
Yet to be rated
Size/Style of Ship
Small
Entered Service
2004
Registry
New Zealand
Former Name
None
Length
42.0 metres
Beam
12.8 metres
Draft
2 metres
Propulsion/Propellers
Diesel / 2 propellers
Maximum Cruising Speed (knots)
12 knots
Passenger Capacity (twin)
24
Crew
8
Nationality of Officers
TBA
Nationality of Crew
TBA
Total Cabins
10
Total Inside cabins
0
Total Outside cabins
10
Cabin/Suites with Balcony
TBA
Wheelchair Accessible Cabins
TBA
Passenger Decks
3
Cabin Electricity
230v
Elevators
0
Self-Service Laundry
No
Onboard Currency (subject to change)
TBA