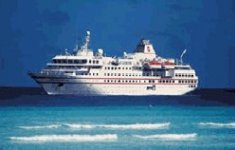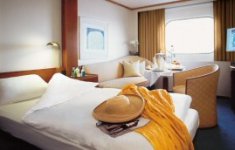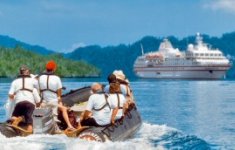 Hanseatic
MS HANSEATIC
Just like the legendary discoverer, the HANSEATIC also has a passion to explore new territories and hidden places. We anchor where other ship's only sail by, take course for those destinations that are untouched and fascinatingly foreign. Such as the Arctic, Antarctic, as well as the Gambia River, the Amazons or the Orinoco. But we also cruise South America, Mediterranean or the West European Coast: on our "Expedition of Knowledge" you will be acquainted with and understand a multiple of new experiences. As on all HANSEATIC voyages, well travelled Lecturers will also guide you here, bringing you closer to the exciting unknown and point out new interesting sights to be seen – onboard and on land.
With a discreet 5 star rating onboard, we set sail every day into new worlds. How can the beauty which nature already provides and cultural treasures from an ancient civilisation be kept alive, the HANSEATIC will bring you close up to all of these. She has a very low draught, is small and agile, reaches very flat beaches and steers safely through intricate rivers. Thanks to her 14 Zodiacs, special robust rubber dinghy's developed for such expeditions, the HANSEATIC casually brings you to all places, where there is either something exciting, extraordinary or rare to be seen.
Welcome onboard the HANSEATIC!

Dining
This ship has 2 restaurants
Main Dining Room

 

Columbus Lounge
Entertainment
Onboard Activities
Gymnasium

Sauna

Massage Facilities

 

Solarium

 

Hot tub

 
Ship facts
Ship Details
Gross Tonnage
 
8,378 Tonnes
Star Rating
 
5 Star
Size/Style of Ship
 
Small/Expedition
Entered Service
 
1993
Registry
 
The Bahamas
Former Name
 
Society Adventurer
Length
 
122.80 metres
Beam
 
18 metres
Draft
 
4.71 Metres
Propulsion/Propellers
 
diesel (5,880kW)/2
Maximum Cruising Speed (knots)
 
16
Passenger Capacity (twin)
 
184
Crew
 
125
Nationality of Officers
 
German
Nationality of Crew
 
German
Total Cabins
 
92
Total Inside cabins
 
0
Total Outside cabins
 
92
Cabin/Suites with Balcony
 
0
Wheelchair Accessible Cabins
 
2
Passenger Decks
 
7
Cabin Electricity
 
220v
Elevators
 
2
Self-Service Laundry
 
No 
Onboard Currency (subject to change)
 
Euro