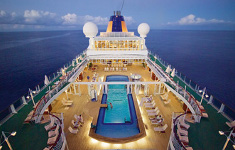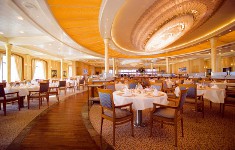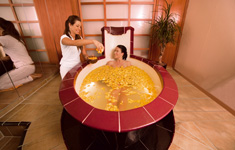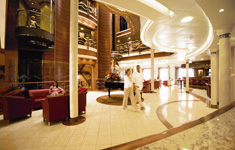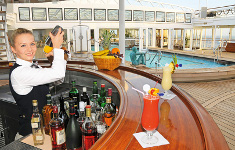 Europa
Enjoy the highest standards in terms of service and catering during a very exclusive cruise experience that has received a number of awards. A voyage aboard the EUROPA, the flagship of Hapag-Lloyd Cruises, awaits you – the most beautiful way of discovering faraway destinations.
Experience a ship that sets standards on an international scale – for no less than the fourteenth consecutive time, the EUROPA is the only cruise ship worldwide to have been awarded the coveted distinction "5 stars plus" by the Berlitz Cruise Guide 2014. Never before has there been so much space per passenger nor so much privacy to feel comfortable and at ease.
Aboard MS EUROPA, the at the most 408 guests are exclusively awaited by suites in a sophisticated ambiance and with generous space at the disposal of each guest. Suites have separate living and sleeping areas, walk-in wardrobes, and almost all of them have a private veranda. One small detail: every passenger on board is given his/her own e-mail address. The limited number of passengers and the superior ratio of crew members to guests with a German- and English-speaking hotel crew ensure that you feel comfortable on board in every respect from the very first minute. This applies both at sea and ashore. Because independently of where you are travelling with the EUROPA, you can be assured of first-class competence at all times – the captain, the crew and experts on board as well as tourism, tour guide and shore activity experts respectively provide the greatest possible degree of individuality with regards to service and cruise programmes.
Besides the perfect service, a genuine culinary highlight also awaits you on a cruise with the EUROPA. Our master chefs will treat you to mouth-watering adventures, new passions for the palate and surprising interpretations of classics. In particular, you may look forward to the "Restaurant Dieter Müller" of the renowned Michelin starred chef.
International show stars appear on the stage of the Europa Lounge, our concert hall and ballroom. Various bars and lounges, the library with Internet access and an auditorium for talks and seminars guarantee relaxation in sophisticated surroundings.
Time out for body and soul: Our golf area, the OCEAN SPA, the fitness room, our pool with Magrodome as well as the outstanding cultural and entertainment programme offer plenty of diversity and ensure your well-being. In addition, the exclusive boutique and Wempe, the jeweller's, on the Promenade invite you to take an extended shopping trip.
*All images Hapag-Lloyd Cruises

Dining
This ship has 4 restaurants
The Europa Restaurant
Restaurant Dieter Muller

Lido Cafe

 

Venezia Restaurant

Entertainment/Bars/Lounges

Europa Lounge

Clipper Lounge/Bar (Jazz Bar)

 

Atrium Piano Bar

Havana Bar cigar lounge
Sansibar
Club Belvedere
Pool Bar
Cinema/meeting/function Room 
Onboard Activities

Main Pool

Magrodrome

Hairdresser

Beauty Salon

 

Fitness Studio incl. classes, personal training

 
OCEAN SPA 

Shopping Boutique

24 Hour Internet

Library

Indoor Golf course with golf simulator
Ship facts
Ship Details
Gross Tonnage
 
28,600 Tonnes
Star Rating
 
5 Star Plus 
Size/Style of Ship
 
Small/Luxury
Entered Service
 
1999
Registry
 
The Bahamas
Former Name
 
N/A
Length
 
198.6 metres
Beam
 
24 metres
Draft
 
6 Metres
Propulsion/Propellers
 
diesel-electric (21,600kW)/2
Maximum Cruising Speed (knots)
 
21
Passenger Capacity (twin)
 
408
Crew
 
264
Nationality of Officers
 
German
Nationality of Crew
 
German
Total Cabins
 
204
Total Inside cabins
 
0
Total Outside cabins
 
204
Cabin/Suites with Balcony
 
168
Wheelchair Accessible Cabins
 
2
Passenger Decks
 
7
Cabin Electricity
 
110/220v
Elevators
 
4
Self-Service Laundry
 
Yes
Onboard Currency (subject to change)
 
Euro