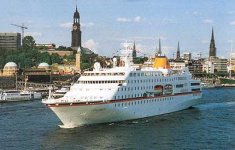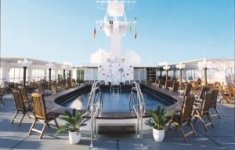 Columbus
A cruise on board the
COLUMBUS
is primarily a journey for your senses. Colorful and diverse is every new site that you visit and every new culture you get to know. The life aboard the ship is filled with variety: Whether you are searching for some rest by the pool, looking forward to our show-cooking or are an active user of our personal fitness program – on board the COLUMBUS boredom is a foreign word. At night you can end the exciting day by chilling out with music and good entertainment.
Our qualified experts get you ready for all the sightings. Well-prepared, every harbour becomes a new adventure. Naturally our onboard tour guide team comes along on all the perfectly organized tours. If you are visiting far destinations on our journey around the world, if you are cruising the Great Lakes of North America or if you are targeting for the coasts of Europe – onboard the COLUMBUS you always have the choice between unforgettable experiences, every day.
Welcome to the World of the COLUMBUS.
Dining
Entertainment
Caberet Acts

Live Music
Onboard Activities
Ship facts
Ship Details
Gross Tonnage
14,903 Tonnes
Star Rating
3 Star
Size/Style of Ship
Small/Expedition
Entered Service
July 1997
Registry
The Bahamas
Former Name
N/A
Length
144.13 metres
Beam
21.50 metres
Draft
5.15 Metres
Propulsion/Propellers
diesel (10,560kW)/2
Maximum Cruising Speed (knots)
18.5
Passenger Capacity (twin)
420
Crew
170
Nationality of Officers
German
Nationality of Crew
German
Total Cabins
205
Total Inside cabins
47
Total Outside cabins
158
Cabin/Suites with Balcony
2
Wheelchair Accessible Cabins
0
Passenger Decks
6
Cabin Electricity
110v
Elevators
3
Self-Service Laundry
No
Onboard Currency (subject to change)
Euro