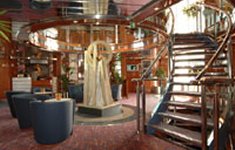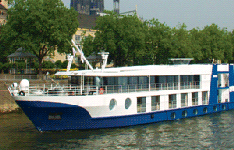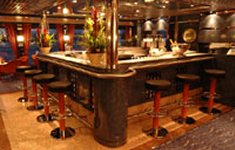 Avalon Poetry
From the minute you step on board you know these vessels are different. The gleaming two-story lobby, lit by a central glass skylight, is a preview of the light, airy feel and the spectacular views you'll enjoy. Built to the highest standards and equipped with state of the art technology, these modern and spacious ships will make river cruising a delight! Add the friendliness and unsurpassed personal service of the English-speaking staff on board, and you'll immediately feel welcome and at home.
The interiors are designed by the well-known interior architect, Hans Sabert. There are four junior suites on the Avalon Poetry and two on the Avalon Artistry (258 square feet) and the vessels boast some of the largest staterooms (at 172 square feet) of any river cruiser; they are all outside staterooms. Some have picture windows, while 70% have a floor to ceiling sliding glass door from which to enjoy the passing scenery. The Avalon Poetry accommodates 176 passengers in 84 staterooms and four junior suites; the Avalon Artistry 178 passengers in 87 staterooms and two junior suites.
The dining room, lounge and other recreation areas are spacious and airy with both the dining room and lounge offering floor to ceiling windows so passengers can enjoy panoramic views. Unique to these two vessels is the glazed lobby that is open through to the Sky Deck with a central glass cupola-a sparkling welcome to passengers. Each vessel has an exercise room outfitted with fitness equipment and a whirlpool that can accommodate six people. There is also a hair salon on board.
Dining
Entertainment
Onboard Activities
Sky Deck

with Deck Chairs

Fitness Room

Whirlpool

Massage

Haidresser

Galley

Navigating Bridge
Ship facts
Ship Details
Gross Tonnage
N/A
Star Rating
4 Star
Size/Style of Ship
Small/River Cruise
Entered Service
2004
Registry

N/A

Former Name
N/A
Length
129 metres
Beam
N/A
Draft
N/A
Propulsion/Propellers
N/A
Maximum Cruising Speed (knots)
N/A
Passenger Capacity (twin)
178
Crew
43
Nationality of Officers
European
Nationality of Crew
International
Total Cabins
89
Total Inside cabins
0
Total Outside cabins
89
Cabin/Suites with Balcony
0
Wheelchair Accessible Cabins
0
Passenger Decks
5
Cabin Electricity
220v
Elevators
0
Self-Service Laundry
No
Onboard Currency (subject to change)
Euro