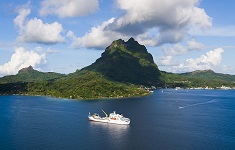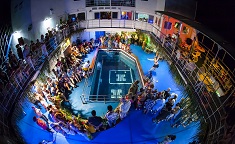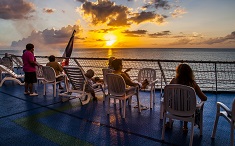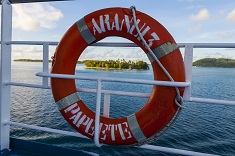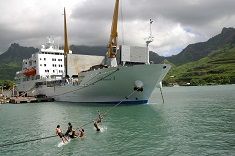 Aranui 3
The Aranui 3 is a totally unique vessel, like none you've ever sailed before. Designed and purpose-built for the dual tasks of efficient freight delivery and comfortable pleasure cruising. Her stern portion is totally devoted to passenger duty and resembles many modern cruise vessels in terms of facilities and comfort.
Cabins and suites cater for all budgets, ranging from 16-berth dormitory style accommodation with shared facilities, through to spacious Suites, 12 with private balcony ideal for honeymooners or second honeymooners. Additionally there are 9 Deluxe and 63 Standard cabins offering twinshare facilities.
Medical facilities,as you would expect, are provided throughout the voyage. A doctor travels with each journey and the onboard infirmary is equipped to deal with most first-aid requests and emergencies. Stay in touch if you want with Internet facilities in the ship's library or use your own laptop to connect via Wi-Fi when the ship is in or near port. Satellite calls can also be made through the radio room if needed.
Combat the calories in the gym, complete with modern exercise machines, plus guests can also use the laundry facilities provided. A boutique aboard carries souvenirs, toiletries, simple medicines as well as sweets and snacks.
When visiting ports and going ashore, sturdy tender barges ferry passengers when a gangway cannot be lowered. In either case, expert crew is at hand to assist ensuring passenger safety and comfort is maintained at all times.
Dining
Entertainment
Onboard Activities
Pool
Boutique
Sunbathing space
Ship facts
Ship Details
Gross Tonnage
3,800 Tonnes
Star Rating
3 Star
Size/Style of Ship
Small
Entered Service
Registry
French
Former Name
Length
117 metres
Beam
17.6 metres
Draft
Propulsion/Propellers
Maximum Cruising Speed (knots)
15
Passenger Capacity (twin)
200
Crew
Nationality of Officers
Marquesan
Nationality of Crew
Marquesan
Total Cabins
74
Total Inside cabins
0
Total Outside cabins
74
Cabin/Suites with Balcony
10
Wheelchair Accessible Cabins
0
Passenger Decks
7
Cabin Electricity
220v
Elevators
1
Self-Service Laundry
Yes
Onboard Currency (subject to change)
Pacific Francs (XPF)