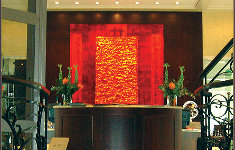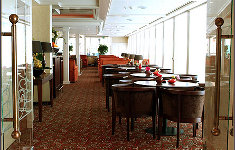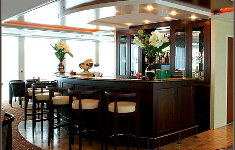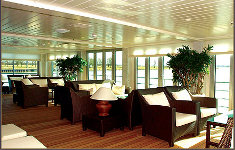 APT – Europe River Cruises
APT has chartered the finest vessels on Europe's waterways the majority of which are from Amadeus Waterways. They have also added some additional ships to maximise the number of departure dates available. The additional ships include the ms Sound of Music and ms Excellence.
Each was hand-chosen for its unique charm, comfort and luxury as well as its wide range of facilities and its similarity to the APT Amadeus Waterways vessels. These are the ms Amabella, ms Amacello, ms Amadagio, ms Amadante, ms Amadolce, ms Amadouro, ms Amakatarina, ms Amalegro and the ms Amalyra.
For details about these ships including deck plans and cabin information specific to each vessel, click on the name of the vessel above.
General outline for APT Amadeus Waterways vessels.
Unique Public Areas – Relaxation Awaits
Enjoy a choice of outdoor areas – the expansive Sun Deck, a second Lower Sun Deck and a third Teak Front Deck. Inside, as well as the Main Lounge, there is an intimate Rear Lounge with French Balconies and superb views, as well as a Library, Fitness Centre, Massage & Beauty Salon, Boutique Shop, 24-hour Reception Area, complimentary bicycles for on-shore exploration and an elevator for easy movement between levels.
Innovative Suites – Providing a Peaceful Sleep
Most Suites feature French Balconies and all of them contain a deluxe queen size bed, full ensuite bathroom, sitting area, safe, modern Infotainment System, a spacious cupboard and personally-controlled air-conditioning. And tranquillity is guaranteed, as no Suite is located directly over the engine.
Dine in Style
The cuisine on board is wonderful, the service intuitive and the riverside views are easily accessible thanks to floor-to-ceiling panoramic windows.
Public Areas

Large sun deck, lower sun deck, and a third teak front deck
Modern Fitness Centre
Massage and Beauty Salon
Complimentary bicycles on board
Entertainment and lecture lounge
Rear French Balcony Lounge
Stylish panaorama restaurant
Shop and peaceful library
Elevator to most suites
24-hour front desk
In-Suite Facilities

French Balconies in 82% of suites
Deluxe Queen-size beds
Flat-screen infotainment system wityh internet, TV, movies and music
Full ensuite bathroom
Ample cupboard space, a safe and individual climate control
Room service to Cat. A and Owner's Suites, laundry service to all suites
Our River Ship Fleet's Details
Because we know the journey is as important as the destination.
All spacious French Balconies on Cello and Violin Decks
ms Amadolce – launch 2009
ms Amalyra – launch 2009
ms Amadante – launch 2008
ms Amacello – launched 2008
ms Amalegro – launched 2007
ms Amadagio – launched 2006

Technical Data
Length: 110 m
Width: 11.6 m
Cabins: 75
Passengers: 150
Crew: 43
Home Port: Basel
Note: Deck plans for ships vary slightly.
General outline for ms Sound of Music
The ms Sound of Music coasts Europe's waters in the same refined style as APT's fleet. With its French Balconies and a superb interior, it's part of the family.
Launched in 2006, the ms Sound of Music offers a world-class cruising experience. Though the ship could accommodate up to 160 passengers, APT opted for comfort and superior space, settling on 32 less people than possible, giving you greater floorspace per passenger.
Public Areas
Spacious Panorama Lounge
Elegant Budapest Restaurant
Huge Wellness and Spa Area
Turkish Bath and Solarium
Massage and Beauty Parlour
Fitness Centre
A Peaceful Library
Four Outside Deck Areas
Internet Access
High Staff to Passenger Ratio
Complimentary Bikes On Board for On-Shore Exploration
Nightly Entertainment Onboard
In-Suite Facilities
Private All-Weather French Balcony Suites on Violin Deck
Full Ensuite Bathrooms
Plush Cosy Bedding
In-Suite Television and Movies
Laundry Service Available
Room Service to Cat. A Suites
Stylish Public Areas
Over a drink, enjoy sweeping views in the Panorama Lounge, take a book from the library to the Sun Deck or indulge at the spacious Spa, with Turkish baths, steam room and a range of massage and beauty treatments.
Luxurious Suites
All suites on the ms Sound of Music are beautifully appointed and offer world-class facilities. In many suites are innovative French Balconies, while plush bedding, a closet, fully-equipped ensuite bathroom and a separate desk area round out your lavish home-away-from home.
Passenger accommodation is located over three decks and cabin sizes vary from 123 square feet on the lowest deck to 161- 193 square feet on the two higher decks. They are beautifully appointed and offer every facility you would expect from a first class hotel. The lower deck (Mosel) cabins are double-bedded and have a large window. The middle deck (Rhine) cabins have twin beds and an extra large window, some of which can be opened. The top deck (Danube) cabins have twin or double beds and offer French balconies. Cabins on this deck are also offered as suites that occupy two inter-connecting cabins, consisting of a bedroom and sitting room.
Elegant On-Board Dining
Created with fresh local produce, breakfast consists of a buffet, while lunch comprises a three-course meal and a buffet. Dinner is a four-course affair with local wine included. Room service is available on Violin Deck.
Technical Data
Launched: 2006
Passengers: 128
Cabins: 64
Crew: 42
General outline for ms Excellence

Designed to meet the exacting demands of today's modern traveller, the ms Excellence exudes a level of comfort and class that superbly complements the beauty of Europe's famed landscapes.
Public Areas
Outdoor sun deck with cosy lounge chairs and 360o views
Verdi's Bar and Lounge – open late
Fine dining and riverside views in bellini's restaurant
Complimentary bikes on board
Spacious entertainment lounge
A peaceful library
Elevator to upper and middle decks
Boutique on-board shop
24-hour reception
In-Suite Facilities
All-weather private French Balcony in over 90% of suites
Big ensuite bathrooms with ample storage space and hairdryer
Safe, minibar, phone and flat-screen tv
Comfortable beds and sitting area
Laundry service available
Bathtub, private balconies and room service in Owners' Suites
Room service to Cat. A suites
Living up to its Name – the ms Excellence
2006 saw the inaugural voyage of the ms Excellence, a thoughtfully designed ship taking you through the heart of Europe in sophistication and style. A high staff to guest ratio means all your on-board needs are met, while the ship's boutique size ensures an intimate environment and allows it to dock closer to Europe's attractions than was once thought possible.
Impeccably Presented Public Areas
Lose yourself in the ever-changing landscapes outside the floor to ceiling windows of the opulent Verdi's Bar and Lounge. Feel the river breeze and the warmth of the sun atop the Sun Deck or, when the weather isn't ideal, unwind in the Library or the Sun Deck's unique, glassed-in Sky Lounge.
Immerse Yourself in a Luxurious Suite
Each Suite contains an unusually large ensuite bathroom and over 90% of them boast an all-weather French Balcony. Plush bedding, a flat-screen TV, sitting area, minibar and safe complete the luxury river cruising experience.
Elegant On-Board Dining
All meals are created from fresh local ingredients and served in the ship's spacious yet intimate Bellini's Restaurant. Dinner is a five-course á la carte indulgence accompanied by fine local wine and gracious service.
Technical Data

Launched 2006
Length: 110 m
Width: 11.4 m
Suite Size: 12 sq m – 8 sq m
Max. Passengers: 142
Crew: 31
Cabins: 71
Home Country: Holland