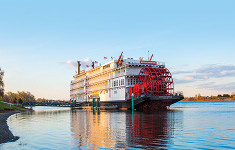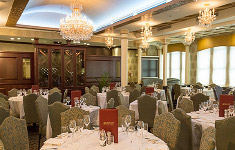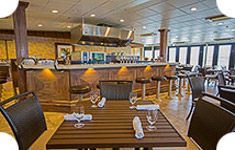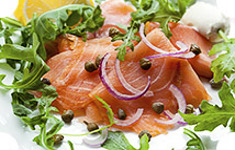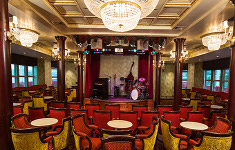 American Empress
The mighty rivers of the United States of America once served as the great highways of early exploration and inspired dreams of discovery. Today, the American Empress follows in the footsteps of Lewis and Clark, the intrepid explorers who have come to define the historical context of our Pacific Northwest voyages. The soaring mountains and dramatic landscapes remain majestic, unspoiled and inimaginably glorious with an abundant wildlife and fascinating frontier spirit. Each American Empress voyage offers unique perspectives on the region's history, culture and landscape that you can't get anywhere else: up-close, in-depth and unforgettable.
Remarkable shore excursions are provided in each port of call and include the cultural and historical landmarks that signify the living legacy of the region's first settlers. Guests with specific interests are encouraged to enjoy the variety of Premium Shore Excursions such as the Walla Walla Wine Trail or a journey to the volcanic crater of Mount St. Helens.
As history plays such a large part of your cruise experience, our Riverlorian is onboard for each voyage to impart the history and legends of the Columbia and Snake Rivers. In addition, we often feature a diverse lineup of guest historians who take to the stage and transport you to another era. You will enjoy hearing from these noted speakers who offer astounding insights on the culture and heritage of the Pacific Northwest destinations you will visit.
Proudly serving as the largest overnight riverboat west of the Mississippi River, the American Empress delivers classic elegance and modern luxury on a grand scale. One step onboard and you will quickly discover that there is far more to this vessel than her welcoming appearance and signature red paddlewheel.
Boasting a vast collection of some of the finest historical artifacts and artwork of the Native Alaska, Russian, Gold Rush and sternwheeler eras, the corridors of the American Empress hold nearly as much beauty and intrigue as the dramatic scenery unfolding on the river outside. You needn't be an art enthusiast to appreciate the captivating display of Pacific Northwest heritage that this unique collection represents.
The American Empress incites moments of sheet perfection with her seamless blend of stunning backdrops, exceptional dining venues, dynamic public spaces and stunning decor. We invite you to step aboard and delight in the luxurious modern amenities, gracious service and endless authentic experiences that await you.
Highlights
• The largest and most elegant Riverboat in the Pacific Northwest
• Included shore excursions in every port of call
• Included deluxe hotel stay before your voyage – includes breakfast, taxes, porterage and
transfers to American Empress
• Complimentary wine and beer with dinner
• Complimentary cappuccino, espresso, bottled water and soft drinks throughout your voyage
• Regional Pacific Northwest cuisine utilizing fresh ingredients creatively combined with a
contemporary flair
• Gracious service from a friendly, all American staff
• Country Club casual ambience, no formal wear required
• Daily lectures by the Riverlorian, our onboard history and culture expert
• All staterooms feature a balcony or picture window with dramatic scenery unfolding before
your eyes
• Our own dedicated fleet of luxury motorcoaches