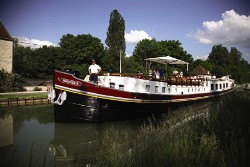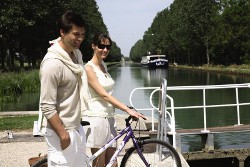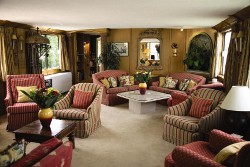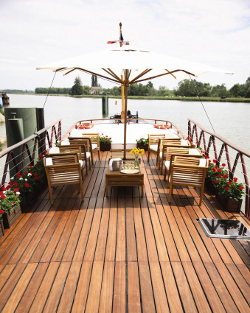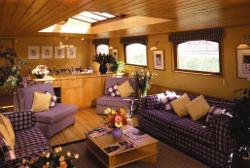 Afloat in France – Hirondelle
Hirondelle was constructed as a 27 metre cargo barge at Hoogerand in the Netherlands in 1928 and was originally named Vios. She was later lengthened to 38.50 metres, in order to increase her tonnage and hence her cargo capacity. This, combined with her 5.05 beam, now makes her the largest size of barge able to fit to the canal locks. She was bought to France and was converted to welcome passengers in 1992-1993, when her name was changed to Hirondelle.
Decorated in soft country shades, The Hirondelle's relaxed atmosphere is perfectly in tune with the gentle scenery outside. Large picture windows and skylights flood the airy lounge with natural sunlight, making it the ideal spot to relax and watch rural France pass by.
Spend leisurely hours on the sun deck and sip Champagne as day fades into night. Enjoy a gourmet supper in the dining room, and then return outside to gazeat stars sparkling in the navy sky above.
Your day draws to a close in one of four spacious cabins, each with an ensuite shower. This spacious barge can comfortably welcome eight people on board. It is the perfect place to reconnect with family and friends in true Orient-Express style.
The Hirondelle may be booked on a per cabin basis as a luxurious peniche-hotel.
Even on trips where unrelated people travel, there is ample opportunity for privacy. Whether in the spacious private cabins or relaxing on sun lounges beneath striped umbrellas on deck, beauty and tranquility will embrace you.
However, the champagne reception is the perfect way to meet your fellow travellers and break the ice at tge start of a delightful week together.
What's Included:
Accommodation on board
Breakfast, lunch and candlelit dinner each day
Refreshments on board after excursions
Wine with meals, liqueurs and bar drinks on board
Sightseeing excursions, including entrance fees
Use of bicycles
Air-conditioned vehichle with guide for sightseeing
All transfers as described in the itinerary
Return TGV between Paris and The Hirondelle