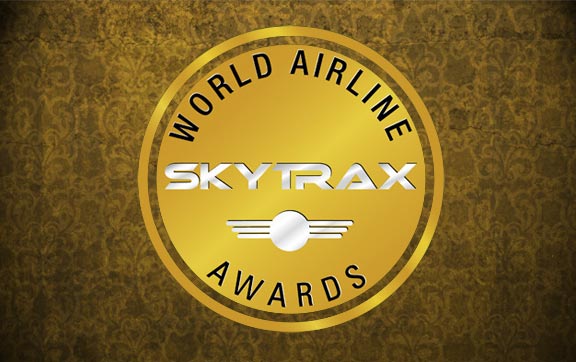 The world's top airlines have been revealed in what has come to be known as the 'Oscar's of the aviation industry'. The SKYTRAX 2017 World Airline Awards, voted via a comprehensive passenger survey, saw Qatar Airways, Singapore Airlines, ANA All Nippon Airways, Emirates, and Cathay Pacific round out the top five places with Qatar Airways seizing the number one spot.
At the pointy end of the plane, here's how the airlines fared…
World's Best First Class
1.Etihad Airways
Setting the industry benchmark for its First Apartments on the A380, Etihad won not only 'World's Best First Class', but also 'Best First Class Onboard Catering', and 'Best First Class Airline Seat'. The national airline of the UAE has won all three accolades in First Class award categories three years in a row. With seats that fold out to 80.5-inch beds that come with a separate ottoman all clad in Poltrona Frau leather, as well as a shower room for the exclusive use of First Class passengers, it's no wonder Etihad has nabbed numerous awards for its First Class service and design.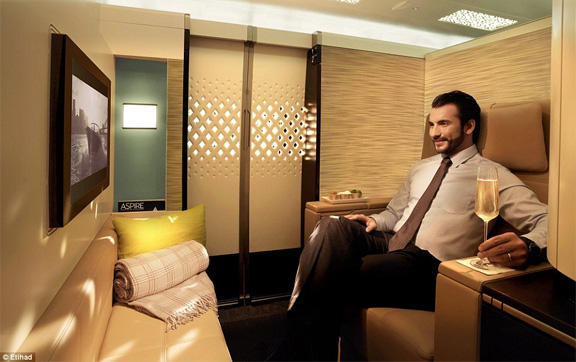 2.Emirates
Also hailing from the UAE, Emirates is no stranger to being honoured for its products. This year at the SKYTRAX World Airline Awards, Emirates took backseat to Etihad in the First Class stakes, but took out first place for 'World's Best Inflight Entertainment' for a record 13 consecutive years. The airline's ice system features over 2,500 channels of entertainment including the latest blockbuster films and award-winning television box sets. Emirates also clinched 'Best First Class Comfort Amenities' following its recent luxury product overhaul which introduced a spa range from award-winning Irish brand VOYA. And let's not forget that Emirates came up third overall in the 'World's Best Airline' category. Emirates will unveil its new First Class product in November.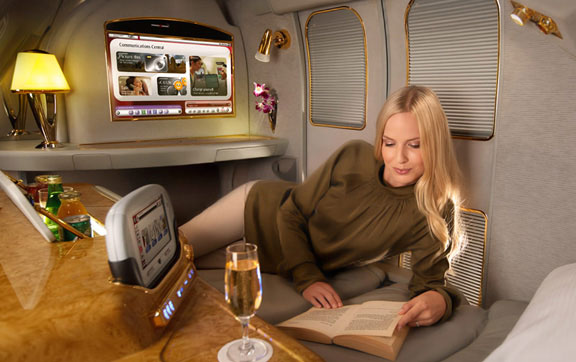 3.Lufthansa
Rounding out the top 3 is Lufthansa, who also won the 'Best Airline in Europe' gong. Chairman of the Executive Board and CEO at Deutsche Lufthansa AG, Carsten Spohr, accorded the win to the service the Lufthansa crew provide both on board and on the ground, as well as to the upgrades of Lufthansa cabins and lounges in recent years. The German airline also won 'Best First Class Lounge Dining' and 'Best Airline in Western Europe'. But the one thing that sets the carrier apart from many leading outfits is the company's digital advances, where the Innovation Hub of Lufthansa has just been awarded the 'Best Innovation Lab' in Germany.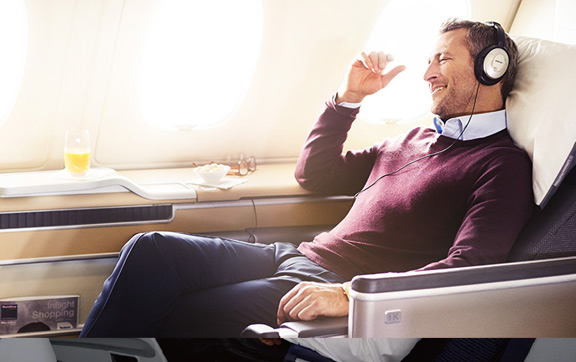 4.Air France
Coming in at a very respectable fourth place is Air France with its offering of personalised service and exclusive access for its La Premiere guests. It seems customers can't get enough of the private jet service where passengers are personally accompanied from arrival at origin and destination airports. There are only four first class suites on board where you can get a luxury hotel-quality sleep on the two-metre bed atop a memory foam mattress that comes with a lush duvet and pillow.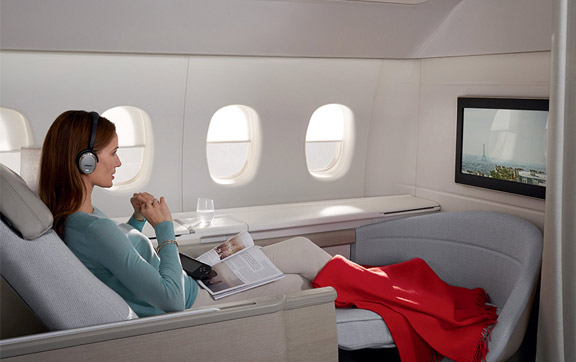 5.Singapore Airlines
Singapore Airlines pretty much always gets honoured with some accolade or other. It's not hard to see why, with sliding doors to your own private suite that leads to a standalone bed that's completely separate from your seat, there's not much to love about Singapore Airlines' First Class product. Your spacious Suite also includes a chaise lounge with the capability for adjacent Suites to be converted into a double room. Singapore Airlines is legendary for its onboard service and is decorated for the work of its exceptional cabin crew. At the World Airline Awards, Singapore Airlines also took out 'Best Airline in Asia' and 'Best Premium Economy Onboard Catering'.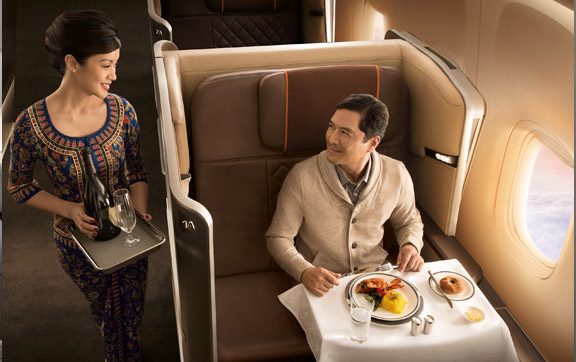 World's Best Business Class
1.Qatar Airways
As if winning 'World's Best Airline' for the fourth year in a row wasn't enough, Qatar Airways also had to go on and swipe the 'World's Business Class' prize too. Amid troubles for the Qatari national airline, where other Middle Eastern states are cutting ties with the country, Group Chief Executive, Mr Akbar Al Baker made a bold statement, "This week has been a significant signal of Qatar Airways' ongoing role not just as a leader in the aviation industry, but as a connector in people's day-to-day lives. At a time of judgement, prejudice and illegal actions, Qatar Airways has triumphed through a simple yet central belief in bringing people together beyond borders in the sky, whether it be work colleagues, leisure passengers, or of course family members and friends. Our new commercial states our core values of travel as an independent human right against the backdrop of a changing and dynamic landscape, because, quite simply, we believe the world is all of ours to explore, and it is a strange thing for people to be apart."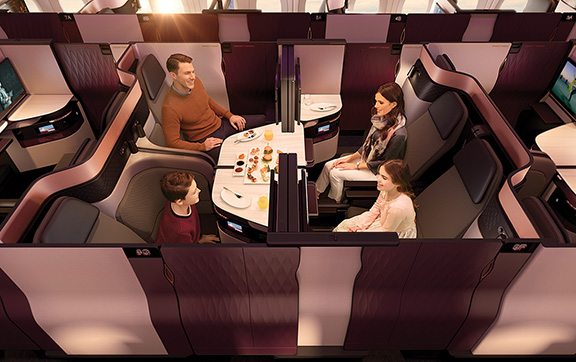 2.ANA All Nippon Airways
Japan's only five-star airline is not new to being awarded at the SKYTRAX World Airline Awards. Its business class offers fully flat beds that offer direct aisle access at each seat, fine dining in the sky, and excellent lounge facilities. ANA took home two awards including 'World's Airport Services' and 'Best Airline Staff in Asia'. SKYTRAX attributed these awards to the airline's customer service both in the air and on the ground. At Narita airport, ANA offers a 'Chef Service' where customers are served nigiri-sushi and other dishes by the chefs themselves. The airline also holds contests for cabin crew to test their customer service skills and Japanese hospitality skills.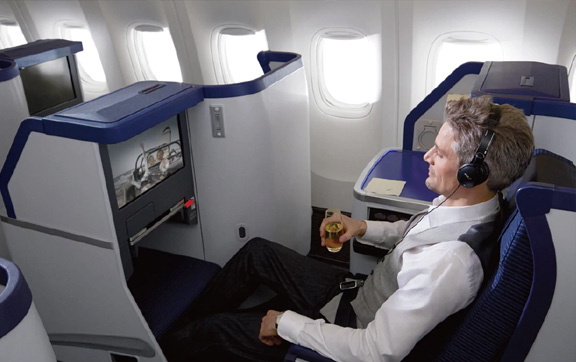 3.Singapore Airlines
'Best Business Class Airline Seat' is just one of three awards won by Singapore Airlines, but its Business Class as a whole is a frequent favourite with travellers. Singapore Airlines' Business Class product has often been likened to First Class products on other airlines. Upholstered in hand-crafted Scottish leather, the fully-flat 78-inch beds are extremely spacious and offers one of the largest seat pitch in the skies.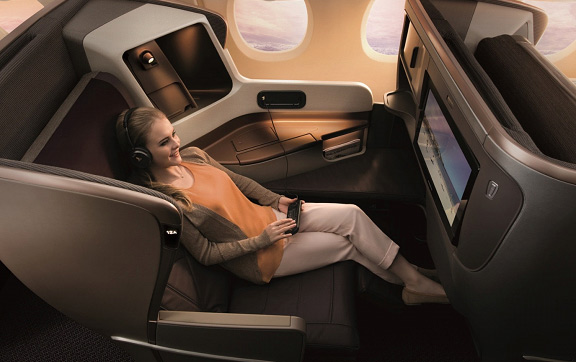 4.Etihad Airways
Etihad may have won a hat-trick in the First Class categories, but its Business Class also deserve a spot in the top five. With its unique dovetail design that sees the seats arranged in forward and rear-facing system, space is certainly not lacking at each Business Studio. Guests can socialise and stretch their legs with a visit to The Lobby – a boutique hotel-like bar, as well as enjoy a snack and watch a live sporting event on the widescreen TV. Speaking of its success at the awards, Vice President Guest Experience Delivery, Linda Celestino, said, "This is a great honour for us – particularly as these awards mark the culmination of a global consumer satisfaction survey of millions of travellers around the world.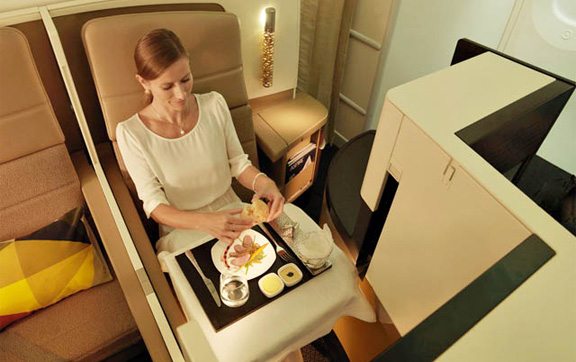 5.Lufthansa
Lufthansa has heavily invested in its cabins and lounges over the past few years so it's good to see them in the top half of both the Business Class and First Class categories. Lufthansa offers fully-flat beds in business class as the new Business Class Restaurant Service where each passenger has their own personal flight attendant to cater to your every flying whim. Of its success at the World Airline Awards, Carsten Spohr, Chairman of the Executive Board and CEO at Deutsche Lufthansa AG, commented, "The service offered by our crews on board and on the ground as well as our investments over the past few years in the fitting of our cabins and lounges, in addition to the service and digitalization, have paid off. The Skytrax Award is evidence that Lufthansa passengers appreciate our quality. The combination of premium service and excellent facilities has impressed passengers worldwide and made us Europe's number one. Our offer has never been better."