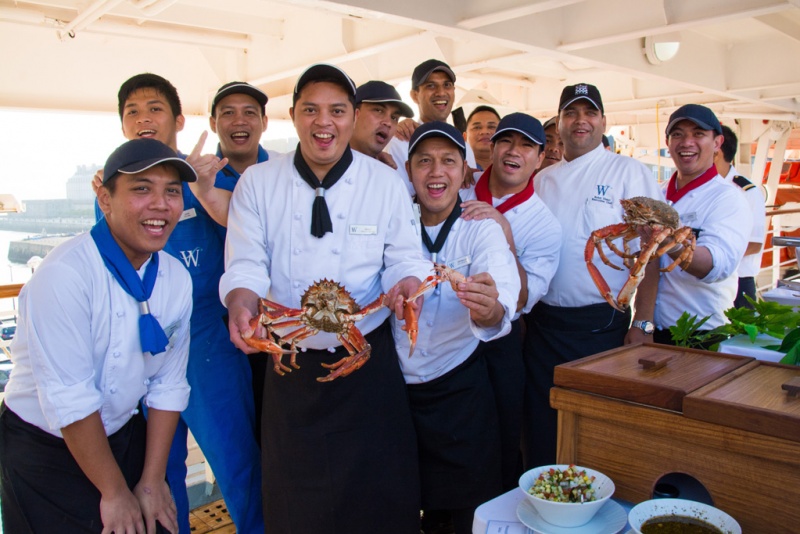 Windstar Cruises and the James Beard Foundation announced an exclusive partnership that "will result in scrumptious bites at sea for cruise guests and raise awareness of the epicurean delights to be discovered in ports around the world where the leading small ship line sails," according to the company. 
"Our partnership as the official cruise line of the James Beard Foundation solidifies our goal to support culinary excellence and innovation, and be the world's best small ship cruise line in everything that we do. We're thrilled to offer our guests exclusive access to the Foundation's diverse roster of award-winning chefs and cross-cultural culinary leaders who will help chart a course for extraordinary new menu offerings and dining experiences featured daily across our fleet wherever we sail in the world," said Windstar President John Delaney.
Throughout 2017, the two organizations are expanding the relationship.
Windstar will be involved as a sponsor of the 2017 James Beard Awards in Chicago; JBF's Taste America events – a two-day affair in 10 different cities around the country including fundraising dinners and complimentary culinary tastings; the JBF Celebrity Chef Tour – a dinner series in more than 20 cities around the country; and Chefs & Champagne — the James Beard Foundation's annual summer tasting party in the Hamptons.
"The James Beard Foundation welcomes unique opportunities to celebrate the chefs, writers and restaurateurs who advance both American and international culinary arts," noted James Beard Foundation President Susan Ungaro. "This Windstar partnership's emphasis on innovation, superior service, intimate ambiance and the unique style of small ship cruising offers distinctive epicurean experiences while enjoying the cultures of France, Spain and Portugal."
One hallmark of the deal is the food and wine cruise hosted by chef, restaurateur, and author Hugh Acheson. Other major components include the James Beard Foundation Culinary Cruise Collection, a series of cruises throughout 2017 featuring James Beard award winners and nominees. Additionally, cruise guests on every single sailing enjoy culinary demonstrations by Windstar chefs of James Beard Award-winning chef recipes, and the addition of James Beard Foundation Signature Recipes aboard all Windstar sailings.