Virgin Australia has upped the ante when it comes to Business Class flights from Australia to the USA. Dubbed 'The Business', the new seats are now appearing on the Boeing 777 aircrafts and by mid-late 2016 you should be seeing these seats not only on the trans-Pacific routes but also on 777's between Sydney and Abu Dhabi.
The Seat
The new Business Class seat is 21 inches wide (28 inches when you lower your armrest) and extends to a very comfortable 203 cm when flat – that's as long as a queen sized bed!
With a 1-2-1 layout everyone can enjoy direct aisle access (no more awkwardly stepping over your seatmate) and the new feel of roominess doesn't stop there – the seats offer plenty of room to store your travel gear so it's out of the way, but still accessible. If you need to attend to business while in the sky, or simply want to enjoy your own devices you can utilise the AC and USB power outlets to keep you going through the whole flight.
Virgin Australia has really thought of everything when it comes to making your flight as comfortable as possible, as well as the fully-adjustable flat-bed seat, you can even adjust your armrest to suit your preferred height. Even your lighting can be adjusted to the ideal angle and ambience.
And when it's time to rest a crew member will offer to make your bed as you watch as your seat is transformed to be complete with two pillows, a comfortable mattress, a blanket and even personal pyjamas.
On Board Experience
But the Virgin Australia Business Class experience doesn't end at your seat. If you feel like stretching your legs then take a short stroll to the revamped inflight bar, a great place to enjoy a coffee (or a cheeky cocktail).
While that's drinks sorted, what about the food? After your choice of drink pre-departure and your optional cocktail with some choice snacks after take-off, when and how you eat is really up to you. You can enjoy your meal immediately, ask for your meal to arrive later in the flight or take your pick of an assortment of light bites when you feel peckish.
Your main meal starts with a choice of entrees such as toasted garlic bread; fresh king prawns with carrot, daikon and coriander topped with a miso and yuzu dressing; pumpkin soup with quinoa and chives; or a pear, pecan, witlof, parmesan and rocket salad dressed in a mustard vinaigrette.
The options for the main are just as seductive; Moroccan spiced lamb and sweet potato on a bed of date couscous; pork fillet (with surprise crackling) atop parsnip puree with roast eschalot, caramelised apple and broad beans; barramundi fillet with a black bean sauce and a side of rice, snow peas and spring onions; or even an eggplant, zucchini and blue cheese lasagne with basil and toasted pine nuts. Both your entrée and main come paired with the perfect wine accompaniment to complete your meal.
And finally there is a range of dessert options (or a cheese board for the more savoury-favoured). The dessert options are light and include a lamington with poached blueberries and crème fraiche; coconut and kaffir lime sorbet; or mango and cream ice cream.
For those who get peckish on long flights, the light bites menu is sure to please. If you're feeling like something more substantial than some mixed nuts, chocolate, chips or olives your choices expand to include perfectly sized snacks such as a chicken and leek toasted sandwich; ham, paprika and cheese croquettes with a corn and capsicum salsa; a mezze plate; or an delicious cheese platter.
But what about breakfast? Well, as your bed is made you will be offered the choice to be woken for a meal before landing or to continue to sleep in. If you choose the former then you have the choice to select from a variety of breakfast options including a selection of juices, fruits, cereals, hot beverages and baked goods as well as a choice of mains such as fig and apricot Bircher muesli; spiced plum on tasted banana bread with almonds and coconut yoghurt; scrambled eggs and a tomato relish and optional sides of bacon, celeriac potato cake, smoked salmon, mushrooms, wilted spinach and marinated feta. And you don't have to eat at your seat, breakfast is also served at the bar for a welcome change of pace.
In between meals you have to find some way to keep yourself entertained and Virgin Australia has delivered on this front as well. At your fingertips is an 18-inch HD touchscreen panel with a variety of entertainment selections that are kept fresh with a monthly update. If you're travelling with a companion you can enjoy a flick in tandem and discuss your thoughts via a private chat system.
Then there is the all-important amenity kits – designed by Mandarina Duck and personalised for each gender. The men receive a stylish black bag with a REN skincare pack, a dental kit, socks, an eye-mask, ear plugs and a pen. Women receive the same in addition to cotton buds and pads, and a packet of tissues in a white silken bag.
The crew too make the Virgin Australia Business Class experience all the more refined, addressing all travellers by their name whilst being personable and engaging yet professional.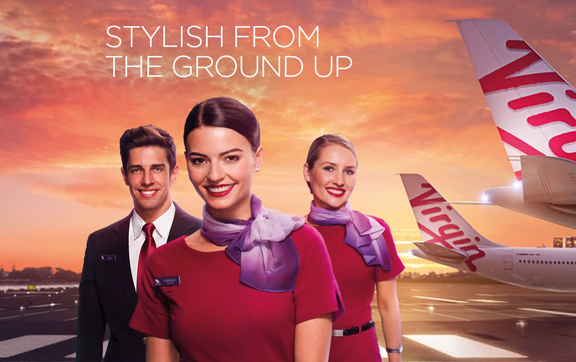 The Business Class Experience to Beat
Virgin Australia has taken the trans-Pacific Business Class product to a new level, now outstripping its competitors in all areas from the seat to the service to the food. If you're looking for the best, then look no further.