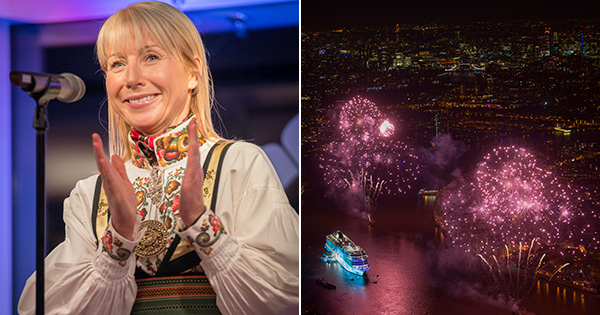 With the crack of a bottle of Aquavit, Viking Sea, the newest oceangoing ship from Viking Cruises, was christened Thursday night in Greenwich, U.K.
Surrounded by family, passengers, media and invited guests, the ship's godmother, Karine Hagen, daughter of Viking Chairman Torstein Hagen and also Viking's Senior Vice President, named Viking Sea and then cut the rope attached to the Aquavit bottle, which successfully smashed on the ship's bow. (Aquavit, a flavored Scandinavian spirit, is a favorite of Chairman Hagen's and was used for the ceremony rather than Champagne, which is traditionally used for ship christening ceremonies.)
The ceremony was an understated affair, where family and tradition trumped glitz and showmanship.
Karine Hagen spoke from the heart in thanking everyone involved in bringing the ship to life.
"I think we all feel very, very proud of her," she said, adding, "I hope you're enjoying this cruise on my big baby."
Dressed in traditional Norwegian garb, called bunad, (the Hagens are from Norway) for the ceremony, Karine Hagen was joined by her goddaughter Maya and her yellow Labrador Finse to celebrate.
In a touching moment, Hagen thanked her grandmother, "Mamsen," whom she said was attending "in spirit."
"She was a great lady, she was my best friend and she had great values," Hagen said. "She would be incredibly proud of the company you have built, Papa."
Hagen and her goddaughter cut the rope attached to the bottle of Aquavit using a Viking axe, speaking in unison: "I name you Viking Sea. May God bless you and all who sail upon you."
As part of the ceremony, the Greenwich harbor master and Viking Sea's captain exchanged plaques, commemorating the ship's first call to the port. Viking Sea is the largest ship ever to be christened in London, according to the harbor master.
The event was capped by a brilliant fireworks display over the ship, anchored on the Thames River.
Viking Sea debuted in April and is halfway through its 50-day inaugural journey, which began in Istanbul.
Viking, a longtime leader in river cruises, introduced its first ocean ship, Viking Star, to passengers in 2015. Both ocean vessels hold 930 passengers and are designed with the destination in mind, according to Torstein Hagen. Viking will add two more ocean cruise ships in 2017 and another two by 2020, bringing its total passenger capacity to 5,580.