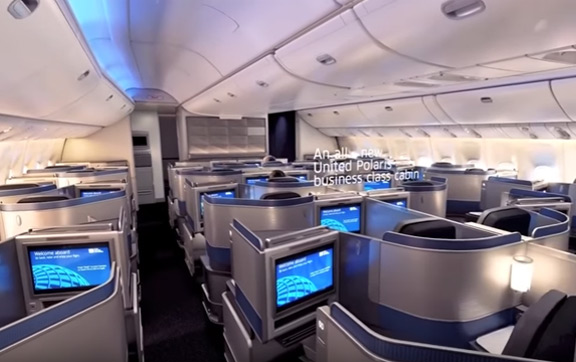 The United Airlines new business product, United Polaris , was named a finalist in the prestigious Crystal Cabin Awards held in Hamburg on the 4th of April. The international award is the only one of its kind that recognises excellence in aircraft interior innovation and design.
United Polaris is the airline's most dramatic product overhaul in more than a decade which places a great emphasis on the sleep-enhancing aspects of the travel experience. The Star Alliance member conducted more than 12,000 hours of research to conclude that its customers valued sleep as the most important facet of business class travel.
With this in mind United Polaris, currently available on the B777-300ER fleet, features sleep-promoting elements such as LED mood lighting and noise-absorbing materials. But perhaps its most transformative addition is the custom-designed seat that's exclusive only to United.
The new seat is designed in partnership with Acumen Design Associates and PriestmanGoode and manufactured by Zodiac Seats United Kingdom. Direct-aisle access and fully flat 6 foot 6 inch beds are highlights of the new seats.
Vice president of marketing for United, Mark Krolick ascertained, "We had one goal when we began the process of re-envisioning our intercontinental business class experience – to give customers the most cutting-edge, sleep-conducive flight. Since our debut of United Polaris last December, we have achieved our highest-ever satisfaction scores in sleep comfort among business class passengers. When I think back on the comprehensive research and development that went into United Polaris, it's rewarding to see that the industry and customers have taken notice. On behalf of everyone at United, I extend my appreciation to the Crystal Cabin Award Association for considering us."
United Airlines was one of three finalists in the Cabin Concepts category. This year marked the 11th Crystal Cabin Awards, a Hamburg Aviation event, and saw a record 85 submissions from 21 countries.