One of the largest metropolises in the world with a population of over 24 million, Shanghai is an exciting fusion of the East and West. Once deemed the 'Paris of the East' for its unsurpassed glamour and elegance, the city is now well on its way to becoming one of the world's largest financial centre.
From its humble beginnings as a walled enclave, the urban dwelling transformed into what we know it today: an eclectic blend of old and new. Some of the world's highest skyscrapers call Shanghai home, with more mushrooming all over the city at a fast rate. The city is also a popular location for a string of ultra-luxurious hotels.
The best hotels in Shanghai are situated mainly along the Bund – arguably the most beautiful place in Shanghai with amazing light shows every evening on both sides of the Huangpu River. Once a British settlement in the 1840s, a building boom towards the 19th Century leading into the 20th century transformed the waterfront into the financial hub of East Asia. The most famous attraction along the Bund is the 26 various buildings of different architectural styles including Gothic, Baroque, Romanesque, Classicism and Renaissance. This architectural collection came to be more than a hundred years ago when consulates of many countries, banks, businesses and newspaper offices settled here.
If you're travelling for business, chances are your company will base you at Pudong, on the East side of the river, which is convenient for corporate travellers as many transnational companies are stationed here. Meanwhile Puxi, on the West side of the river, with its world-class shops, restaurants, bars and nightclubs is where you can go when you're off the clock or if you're simply travelling for leisure. 
These are our recommended top 5 best hotels in Shanghai
Waldorf Astoria Shanghai on the Bund
The Waldorf Astoria Shanghai on the Bund brings together the history and culture of the famed Shanghai Bund and modern day sophistication, resulting in an ambiance that has a traditional flavour. Converted from an exquisite English Renaissance style building which was constructed in 1910, the restored structure (restoration completed in 2010) is one of the finest architectural gems along Shanghai's waterfront promenade. Together with its legendary service and classic amenities, this is a stay you're not likely to forget for a long time.
The property is a short walk from Yu Garden, set in a palatial 2-building complex that comprises of a hundred year old wing adjacent to a brand new tower. The 260 well-appointed rooms and suites feature marble bathrooms and some are colonial-style that offer four-poster beds and claw-foot tubs – perfect for a romantic escape.
Stunning views, stylish lounging and dining facilities, gym and banquet facilities provide all that you could need from your time in Shanghai, all fitted into a postcard-like setting that speaks grandeur and finesse. But it's nothing less of what's expected from a Waldorf Astoria hotel of course, and why it is easily one of the top hotels Shanghai.

The Peninsula Shanghai
The Peninsula Shanghai was built in 2009 but you'd be forgiven for thinking it far older due to its classic design which was done so that it would blend with other architectural masterpieces on the Bund. Within, you will find everything synonymous with a Peninsula property: spacious rooms, exceptional cuisine, a rooftop bar overlooking the Bund high-end boutiques. 
From intuitive iPad room controls to a fleet of BMWs and Rolls-Royce Phantoms to transfer you between hotel and airport, The Peninsula Shanghai is built to the exacting standards of The Peninsula Hotel Group. Its Art Deco era-styled rooms and suites will take you back to 1920s Shanghai. It's glamourous and refined – think exotic woods, black lacquer, carved glass and polished chrome – but the intimate spaces and attentive service will make you feel right at home.
Pill-hatted bellboys can run your errands for you and concierge staff can summon experts on tours and excursions at short notice. With five restaurants, banquet facilities, a retail gallery made up of luxury shops, a stunning indoor pool and spa that provides a peaceful oasis beneath a glass roof, and faultless service – you'll find it hard to leave the hotel. It's no wonder The Peninsula Shanghai is one of the best hotels in Shanghai.

Fairmont Peace Hotel
The revitalised Fairmont Peace Hotel has prime location; a stone's throw from the Bund waterside promenade at the start of the famous shopping strip on Nanjing Road. It was once known just as 'Peace Hotel' from 1956 and is one of the oldest hotels in Shanghai, becoming the Fairmont Peace Hotel in 2010. Its 270 elegant rooms and suites offer all the modern-day creature comforts that you've come to expect from an upscale property; espresso machines, minibars and flat screens. Some rooms feature claw-foot or whirlpool tubs as well as river views.
If you're wondering how to spend your Shanghai evenings, the Fairmont Peace Hotel offers a variety of options. If you're into 'all that jazz', you can find it every evening at the endeared Jazz Bar which features Shanghai's most famous jazz band aptly named the 'Shanghai Old Jazz Band'. Or perhaps quaint high tea is more your style of which you can indulge in at the Jasmine Lounge – a heritage destination for all visitors to Shanghai, offering the finest tea.
For a nostalgic and quintessential Shanghainese and Cantonese dining experience be sure to visit Dragon Phoenix whilst the Cathay Room offers modern European cuisine and unrivalled views overlooking the Bund. If you're looking for somewhere to host your next big event, from a wedding to a business conference, its enormous rooftop terrace is an ideal venue for multi-purpose functions. 
The Fairmont Peace Hotel has long been a famous landmark and an epicentre for the elite where galas and fashion shows were common place. Now with the Peace Hotel restored to its formal grandeur, you can relive the glamour of old-world Shanghai. You can find everything essential to indulge in a luxury stay at one of the best hotels in Shanghai – The Fairmont Peace Hotel.

The PuLi Hotel & Spa
Shanghai can be fast and furious, so if you like to be away from it all but still be in the heart of the city, then the PuLi Hotel & Spa is the abode for you. Its unique design sets it apart from other hotels in its category, winning many accolades including 'China's 25 most luxurious Hotel Awards 2016′ (Cat Passers Eagle World Travellers' Choice) and 'The most preferred design China/Boutique Hotel 2015 (Fashion Tourism).
The newest luxury hotel of its kind, it combines proximity and convenience with peaceful indulgences in a luxurious resort, and the result is a unique new experience that you wouldn't ordinarily expect from a large establishment despite its prime location in the heart of Jing'An. But this duality is what you will frequently experience throughout the duration of your stay at the PuLi. You'll appreciate the authentic historic and cultural touches in the décor which is complemented by innovative, cutting edge technology and design.
The hotel's amenities are of superior quality, as is the service, priding itself in a genuine, tailored guest care that traditional Shanghai hospitality is famous for. And with Nespresso machines and complimentary minibars, 24-hour butler service and executive club (for upgraded suites), the PuLi Hotel & Spa is naturally one of the best hotels Shanghai.

Jing An Shangri-La
Set in the heart of the Jing'an district, the Jing An Shangri-La departs from its classical mould with a more modern take on what we've come to know as traditional Shangri-La properties. But if you're worried that any of the brand's signature opulence is compromised, your concerns will immediately be quashed the moment you step foot in the lobby and behold the 'crystal rain' feature. This of course, is just a taster of things to come.
The newest Shangri-La hotel in Shanghai, the chic rooms feature floor-to-ceiling windows and marble bathrooms with magnificent views of the Western Shanghai skyline. Nespresso machines and free Wi-Fi in every room as well as butler service (for upgraded rooms) are just some additional perks. Head to the top floor to the Horizon Club Lounge to enjoy stunning panoramic city views and marvel at how the glamourous malls and skyscrapers proudly stand alongside quaint shops and lane houses.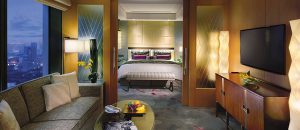 The Waldorf, Peninsula and Fairmont are located on the Bund while the PuLi and Shangri-La Jing-An are located opposite from each other on West Nanjing Road in the lively neighbourhood of the Jing-An district.  If you're a first timer to Shanghai, staying at the Bund is a good start but of course no one will question you for sacrificing location for the finery of the PuLi and Shangri-La Jing-An.