I went to South Africa for the Worldcup, but I fell in love with this country and shall definitely return! Its scenery, diversity, wildlife experience, hotels and hospitality are world class! There is no highlights of my trip, every day is a OMG day!
Suncity
My first port of call was Suncity in South Africa, close to Rustenburg where I was to watch first worldcup match – Australia vs Ghana!
I would highly recommend to any of our clients to stay in The Palace of the Lost City, a stunning hotel, the very best in Suncity! You get absolutely spoilt for choices there and it claims to have 101 things while staying at Suncity! Safaris, golfing, the man-made beach and wave pool, casinos to name a few.. The best time of year to visit when it's warm (but not too hot) is in Spring (August to mid-October) and Autumn (mid-February to May). During April and September Suncity also hosts two of the biggest music festivals in South Africa.
For traveller on a tighter budget, Cascades and Suncity Hotel are 4 star and great alternatives. While not as glamarous as Palace, the rooms are quite nice, especially the suites..beautiful! A tip is to choose corner suites if staying at Cascade, the best room on each floor – the higher, the better the view!
We were lucky enough to have some of the Suncity staff take us to the match in Rustenburg, even though we were the only two people supporting aussies among the locals who were are Ghana's side. The match and atmosphere were awesome! The Aussies played well and managed to hold the 1-1 score although we were down one man from early on!
Nelspruit/Kruger
We then headed to Nelspruit for the Australia vs Serbia match. And as it turned we were staying in the same hotel as the Socceroos!! And we ran into them in the foyer of our hotel, we couldn't believe our luck! We had photos with the boys and their security guys offered us the best seats in the stadium, among many Aussies. What an absolute ball! The Australian soccer team was unbelievable! Aussie fans occupied almost a quarter of the stadium and gave the best support to the socceroos who put on an outstanding performance! Unfortunately we didn't score enough to march to the next round, hopefully in Brazil!
Game Drives


After the Nelspruit match, we traveled to Sabi Sand for Game Drives, first time in my life! Singita has won numerous awards, I can honestly say that they deserve it! It's easy for me to fault any hotel, but at Sigita, I was constantly met with nice surprises.. heated plunge pools, electric blankets, evening sweets in your room.. sunset cocktails in the bush before finishing evening game drives.. romantic tent dinner (not that I needed it as I travelled with a girlfriend!) .. the meals were fantastic, more than 3 times a day.. you couldn't but help and overindulge every day, the temptation of so much good food was irresistable!


Some of the locals..
We stayed at Singita Sabi Sand Reserve as wel as Kruger National Park. There are two lodges at the Sabi Sand Reserve, Ebony Lodge and Boulders Lodge. I personally preferred Boulders, the layout was just a bit wider and brighter than Ebony and also features Infinity pool. That said, Ebony was also beautiful! Both of the Lodges have a heated plunge pool in each villa and Ebony has more traditional African furnishing.
Singita has two properties south of Kruger National Park,
Singita Sweni
and
Singita Lebombo Lodges
. Both of these lodges have contmporary designs,
Singita Lebombo
has a white/blue tone and
Singita Sweni
has more of a brown/green earthy tone.
Lebombo
has a more open view. Neither
Sweni
nor
Lebombo
have private pools as water supply is limited in this area. Both do have communal pools however; the pool in lebombo is in front of dining area, so I prefered the pool in Sweni, as it is more private.
It's easy to fly between the Sabi Sand Reserve and the Kruger National Park with Federal Air (a loca carrier). Alternatively you can transfer between the two by road, it takes about 3 hours and part of the road is bumpy.
I personally felt the safari experence was better in Sabi Sand, as we saw everything in the short 2 days we were there; lions, lepoard, cheetah, hyena.. We were told we were extremely lucky however, we had 11 lions around us on the first night and witness a leopard kill; also there are only about 100 cheetah left in Kruger and I met a local who's gone on game drives many times and never seen a cheetah or leopard kill… On our second day at Ebony, a leopard actually came on to the deck next door when we were at breakfast! Apparently last time a leopard visited the lodge was about 2 years ago. The lodge does have 24 hr camera monitoring system, and staff would alert all guests not to return to the rooms till it leaves the property… During our close encounter with the dangerous animals, I didn't at any given time feel unsafe, we were told animals usually don't attack unless feel threatened, these animals have become customed to the safari vehicles and visitors, and carried on their business as if we were not even there…
After Sabi Sand and Kruger, I was actually planning to visit Tanzania, cos I heard from other guests there that Migration already started there, and its amazing to watch, with lots of actions! Sigita has two lodges built on the migration route. Another recommendation for accommodation was to stay in &Beyond's (another premium lodge operator) Ngorongoro Crater Lodge… Unfortunately the flights from South Africa to Arusha were a nightmare, you have to go Johannesburg, Nairobi, Dar es salaam or Kilamounjara airport, finally arriving in Arusha, then followed by a couple of hours by road !! And then of course the same route back!! It is not recommended to combine South Africa with Tanzania, its better to go direct from say Dubai to Nairobi as a seperate trip, next time!

Livingstone, Zambia
My next stop is Livingstone, Zambia, for Victoria Falls, one of the Greatest Wonders of the World!!

While Niagra Falls has a wider span; on a grand scale, Victoria Falls is more mind blowing, the water falls into a much deeper gauge. It's impossible for you to see the bottom of the gauge unless it is during Nov/Dec when the river dries out. During that period, I was told it is an amazing experience to swim in the devil's pool on Livingstone Island, a natural rock pool right on the edge of the fall!
If the water level is low, you get a better view on the Zimbabwe side, however if there're sufficient water flow, easier to take better pictures on Zambia side. The best view of the fall is when you get double rainbows! Happens on almost any sunny days, it's absolutely stunning!

The overall best expereience of Vic Falls would have to be helicoter tour or Microlight flights which I experienced, it has an open cockpit for the ultimate adrenaline ride and best aerial view of the fall, Zambezi River; and down stream over the Batoka Gorge or upstream over the Mosi-Oa-Tunya National Park providing an excellent game spotting opportunity, various wildlife in the park or river..
I rested at
Royal Livingstone
, the best 5 star hotel on Zambia side, river front, right before the falls, with unlimited access to the falls entrance. It's also part of a national park, wildlife on premises I saw included zebras, giraffes, baboons, and sometimes elephants may float along the river bank in front of the property! Don't forget to experience The Royal Livingstone Express – a unique dining experience on train through local villages and the national park. And for those wanting to soak up the serenity, a waterfront spa treatment should not to be missed!
I would recommend a min. of 3 nights there to get a full experience!
Cape Town
I headed over to Cape Town on the 30th June, hoping to get ticket to the quarter final Argentina vs Germany on 3rd July. Luck continued to be on my side as I met a group of Argetinians on the plane over — my ticket was secured!
The next five days in Cape Town was nothing short of extraordinary experiences! I heard that it is a similar city to Sydney, however I think the view is more stunning! The weather is blessingly beautiful, sunny, warmer than its usual winter and no wind (CT is known to be windy).
I stayed at the
Table Bay Hotel
, a member of world's Leading Hotels; it has best location and best view in town. It's in the trendy waterfront area (a bit like Darling Harbour in Sydney), with both Ocean views and Table Mountain view. It's also connected to the Vitorial Waterfront Mall where you have everything within walking distance, and right next door to the soccer fan park! This hotel is frequently visited by the South African Oscar winner Charlize Theron and she was apparently there during the quarter final period.
There're so much to see and do in Cape Town. I did a day tour to the Winelands, and also a day tour along the coast, both equally impressive! I found a georgous newly opened boutique hotel, on the crest of the panoramic Helshoogte Mountain Pass, noted for its high altitude vineyards,
Delaire Graff Lodges & Spa
. With beautiful rooms, plunge pool, stunning view, it's well known
Delaire Graff Estate
wine and restaurant is the perfect place for weekend getaways, weddings & honeymoons. It's a short distance to Stellenbosch, the oldest town in South Africa, with rich histoic roots and home to one of the most prestigious old Wine Regions in the world, very popular with locals and tourists.
Cape Town's beautiful seaside Green Point stadium was scorching on Sat 2 July; Exuberant Argentine fans drowned out the vuvuzelas at the beginning of match, but lasted all of three minutes, shattered by a German squad that was extroadinary in every way. It was German fans who left the match celebrating after a 4-0 goal fest. Every team I supported since last worldcup got defeated before the semi final. I must support whoever is against Brazil in next cup, in order to follow them all the way through 🙂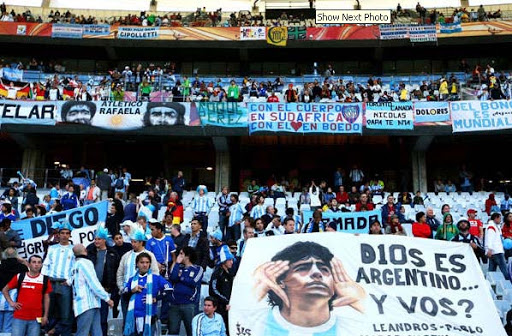 I didn't get to experience much of the Cape Town restaurants, night life, but was fortunately enough to join Sol's Worldcup Bash At The One & Only (Sol Kerzner is the founder of Suncity and now Chairman of Kerzner International, managing One & Only Resorts, Atlantis Bahamas, Atlantis Palm in Dubai, etc…), thanks to Jaco in Singita, and partied at Fez club with international guests like Mick Jagger, Paris Hilton & Leonardo Dicaprio thanks to my friend Paul Livingstone! Fez Club is the place to be in Cape Town, top DJ, great shows and amazing atmosphere!