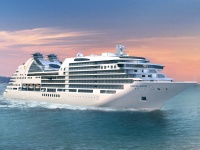 The 40,350-ton Seabourn Encore will be delivered later this year, marking a natural evolution of the brand, said John Delaney, senior vice president of marketing and sales.
Building on the three-ship Odyssey class, the Encore will trend bigger at 600 passengers, but still offer a Seabourn vibe. A sister ship, the Ovation, will follow from Fincantieri in 2018.
"When guests walk on the ships for the first time they will feel familiar," said Delaney. "We did not want to create another class of ships. We had two completely different products and we do not ever want to go back to that again. The new ships are a natural progression in design, the key public areas are in the same locations with the key difference being another deck."
The trio of Odyssey-class ships are 450 passengers, meaning the two new vessels will be a bump up at 600 guests.
"Six hundred is a good number for us," Delaney said. "It's still a small ship when you think about a newbuild today. They work well on high-demand itineraries in the Mediterranean or Australia/New Zealand, and we are also adding two dining locations. They will still feel very spacious."
Part of Seabourn's edge in the luxury space comes from the European hospitality crew, Delaney said.
"The level of interaction that can occur is just different," he said. "It's a different level of service that can't be replaced by manning from other parts of the world."
The cruise line is continuing to target affluent retirees, but is also seeing a trend in the so-called working wealthy onboard.
"That is an on-the-go CEO," said Delaney. "People who are very busy but want a six-star luxury experience. I can name a couple of guests running their businesses from the decks of our ships."
Keeping up in a competitive market place, Delaney said it was important to keep the product innovative with destination authenticity.
"It is important that we are delivering the destination with the same level of expertise and strength that we deliver the onboard product," he said.