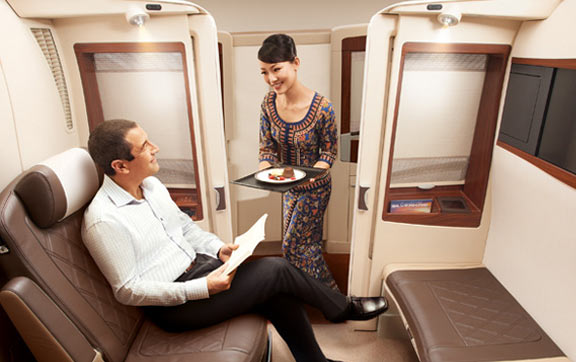 Singapore Airlines is planning to reveal details of its new A380 First Class suites mid-year. The move comes ahead of the arrival of its latest batch of superjumbo fleet, deliveries of which are due to begin in the second half of this year.
While the airline hasn't released any information on what exactly the new product will look like, Australian Business Traveller reported that customers can at least look forward to flying in the new suites by October. This is when Singapore Airlines is expected to take delivery of a new A380 aircraft to celebrate the 10th anniversary of the superjumbo of which Singapore Airlines was the launch carrier.  
There are plans for a large-scale unveil event to be held in Singapore early in the year, but again, dates have not been confirmed.
On board, customers can expect bigger suites as the airline will reduce the number from the current 12 to just six to eight suites. No showers are planned for the new cabin.
It is also believed that the Star Alliance member may move the Suites Class product to the upper deck along with Business Class creating a premium upper deck, whilst keeping premium economy and economy classes on the lower deck. This is a view that Airbus themselves agree with as it can fit more economy seats on the wider lower deck.
The idea of having a single aisle, as adopted by Etihad Airways on its A380 First Apartments, is also being discussed.
A new offering Singapore Airlines guests can definitely look forward to, and which will be offered on the new A380 Suites and First Class cabins, is Lalique products. The flag-carrier has teamed up with the French crystal maker to offer Singapore Airlines premium customers co-branded items such as amenity kits, toiletries, glassware, loungewear, and beddings.