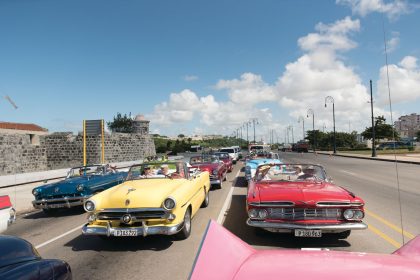 Silversea has unveiled a range of 34 shore excursions designed for its new 16-voyage Cuba Collection in 2019 and 2020.
The prominent ultra-luxury cruise liner aims to provide guests with an authentic experience, bringing them closer to the cultural and historical gems of the country that was, until recently, politically and economically cut off from most of the world. Customers will be able to take a closer look at Santiago de Cuba, Cienfuegos, and the Caribbean island's capital, Havana.
The bespoke shore excursions are designed to enrich the cruise itinerary by including the most important landmarks and attractions at each destination. Director of Shore Excursions for Silversea, Adria Bono said,
"We are pleased to launch a diverse array of tailor-made experiences that will enable our guests to travel deeper to discover and appreciate a land seemingly frozen in time, yet filled with awe-inspiring scenery, extraordinary people, and a vibrant culture."
Guests can look forward to visiting World Heritage-listed sites, musical performances, checking out art galleries, and exploring Cuba's natural landscapes. Each destination has something unique and exciting for travellers to look forward to.
In Havana there will be the Havana by Classic American Car and Hemingway-inspired shore excursion. Here, guests will ride in an authentic 1950s vintage American car that Havana is famous for with a private driver and guide, whilst Hemingway's Havana tour is a nature exploration to the writer's favourite places including his former home, Finca Vigia.
Also, in Havana, guests will also an exclusive live performance by one of Cuba's most famous exports, the Grammy-award winning Buena Vista Social Club. At a Cabaret-style venue, cruise-goers will be transported to 1950s Havana whilst enjoying cocktails and will also have the opportunity to meet some band members.
In Santiago de Cuba the Birthplace of the Revolution excursion, the renowned sites of the Cuban Revolution and the Spanish-American war are highlights of the itinerary, whilst a visit to the old mining centre of El Cobre will give participants and insight into Cuba's music, cuisine, history and religious heritage. Here, important historic sites include the Basilica de Nuestra Señora, Plaza de Revolucion, and San Juan Hill.
In Cienfuegos, the Colonial Trinidad tour customers will journey through the Old Town and the city's past, whilst the Natural Beauty of El Nicho excursion is a guided trek through the forests of El Nicho, its waterfalls, and towering mountains.
Silver Wind will be the vessel to inaugurate Silversea's new range of Shore excursions on February 14, 2019 when it will embark on a 7-day voyage from San Juan to Fort Lauderdale, stopping at Havana, Santiago De Cuba, and Bimini in the Bahamas.