As if we needed an excuse to sample the sumptuous luxury that awaits aboard the most celebrated ships of all time. But alas, Crystal gives one anyway – make that two – lavish excuses to get us booking our next seafaring adventures on the decks of what Crystal CEO, Edie Rodriguez, calls 'the foundation of Crystal'. We speak, of course, of the planned transformations of Crystal Symphony and Crystal Serenity in what the company has coined the 'Evolution of Crystal Luxury.' In September of this year and October next year (respectively), Crystal Symphony and Crystal Serenity will undergo multi-million dollar upgrades as part of a remarkable brand expansion that is the Crystal evolution .
The refurbishments will bring the two vessels to new heights of extravagance. You can look forward to more space as staterooms are made over into penthouses, new dining experiences are created, and technological innovations are added. Here, we take you through what you can expect as the Crystal evolution sets to redefine ultra-luxury cruising.
The Suite Life
Space, space, and more space! Two new categories of accommodations will be installed on Crystal Symphony, reducing guest capacity by replacing existing staterooms with new suites and penthouses. Occupying Deck 9, 12 Seabreeze Penthouse Suite with Veranda rooms, and 28 Seabreeze Penthouse with Veranda rooms will be installed. The new total guest capacity is brought down to 848 with a 63% increase in total suite capacity. Meanwhile, aboard the Crystal Serenity, Penthouse Deck 10 will welcome 36 additional Penthouses and two additional Penthouse Suites. Here, the new guest capacity will be reduced to 980, consequently increasing the total suite capacity by 6%.
In all the Penthouse rooms, guests will enjoy upgraded amenities including large showers, with the bathtubs replaced with body jets, and a unique interconnecting entryway for two Seabreeze Penthouses for those travelling with a group, and families.  In addition, all suites and penthouses will be butler serviced.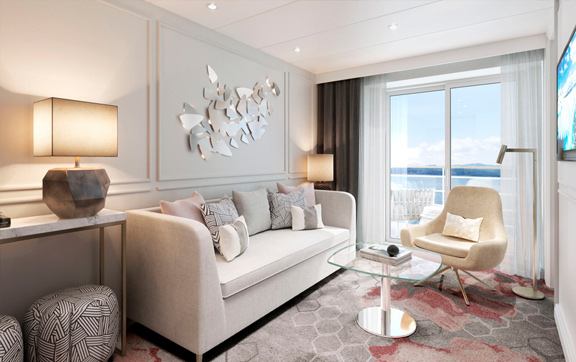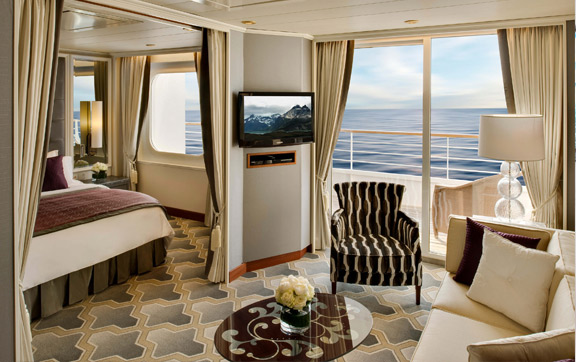 Dining with a Difference
Foodies prepare your palates for exhilarating taste sensations and new gastronomical experiences, as the Crystal evolution revolutionises its already world-class, Michelin-level culinary offerings on board Crystal Symphony and Crystal Serenity.

Setting the scene, the Crystal Dining Room will be transformed into a space reminiscent of the sophisticated elegance found on-board Crystal River Cruises' Crystal Mozart, with tables for two or four guests offered should you desire a more intimate dining setting. Furthermore, the new open seating concept means you can dine at your leisure between the hours of 6pm – 9.30pm, departing from the traditional format of assigned seating and reservations.
Then, providing a completely different dining dynamic on board, the Lido Café will take on two personas. The Marketplace by day will offer the casual style breakfast and lunch buffet already in place. Then Churrascaria, from 6 – 9pm at night, will welcome you with a Caipirinha cocktail then allows you choose to from 'gaucho'-served Brazilian-inspired tapas, ceviche, salads, and barbecued seafood and meats.

And as if that wasn't enough, the Crystal evolution will add a brand-new style of cuisine with the addition of Silk. Plating up family-style, Chinese-inspired sharing food, the contemporary environment will be open-seating throughout the day and from 6-9 pm (although reservations are still recommended for dinner). Breakfast and lunch will be a self-service affair where you can anticipate dishes such as dumplings, Chinois salad, soups, and noodles, as well as other Asian favourites. If you fancy casual burgers and sandwiches however, head to the Trident Bar and Grill next door which will remain as it is.

The other major overhaul in the dining arena is the renaming of the only Nobu restaurants at sea – Silk Road and The Sushi Bar. These will now be known as Umi Uma, meaning ocean horse, and reflecting Crystal Cruises' logo. Meals at Umi Uma will be created by chefs personally trained by world renowned Master Chef, Nobu Matsuhisa. As a Penthouse guest, reservations at Umi Uma is complimentary, and if you're booked on other types of accommodation, you receive one complimentary specialty dining. This applies to all the specialty dining options on board both ships.
Connection on all levels
You will have no problems digitally sharing the wonderful moments you create on board Crystal Symphony or Symphony Serenity, or on any Crystal vessel for that matter. This is because once phase one of the Crystal evolution on Crystal Symphony is completed in November this year, unlimited complimentary Wi-Fi will be provided throughout any Crystal voyage, on any Crystal ship.
In the centre of this exciting technological enhancement is the new guest portal, Crystal Connect. By logging in, guests can access the internet, daily restaurant menus, the daily newsletter Reflect, newspapers, daily activities, shore excursions via Crystal Adventures, book spa appointments, and daily port maps. Some International newspapers and a selection of box office hit movies will also be available. Powered by state-of-the-art technology that includes SpeedNet accelerators, Crystal Connect will also be available as an app to be accessed on all mobile devices.

Planning to 'switch off' whilst on your incredible Crystal Cruise experience? No problems. Your ultra-thin, 42-inch, flat TV will also provide you with all this information. As well as the above, you can view your account, view the Connoisseur Wine Selection, make on-board reservations, as well as order room service. You can, of course, also use the TV for what TVs were originally made for – watching films! Of which the latest Hollywood and hit TV series will be available.

And more…
The public spaces will also be touched by the Crystal evolution, as they receive re-imagined designs. These include the Palm Court lounge on Crystal Serenity, which will be completely redesigned to incorporate more intimate seating. Also getting a facelift will be Crystal Symphony's hot spot for evening dancing and cocktails, Starlite Club.
The liner is also looking to enhance its entertainment offerings with ideas that include a partnership with award-winning Broadway producer, Kevin McCollum, writers-in-residence, and early play rehearsals on Crystal Ships.
The brand's main goal for this monumental investment is to ensure guests feel at home on board their ships out at sea, as Mr Rodriguez commented, "Throughout this tremendous expansion, our commitment to setting an unprecedented standard of luxury travel experiences is unwavering. We will continue to place the quality of our guests' experience above all other priorities, and our exquisitely designed vessels are integral to that experience."
* the Seabreeze Penthouse Suite with Verandah image is the artist's concept/renderings and are subject to change, at any time, at the discretion of Crystal Cruises.