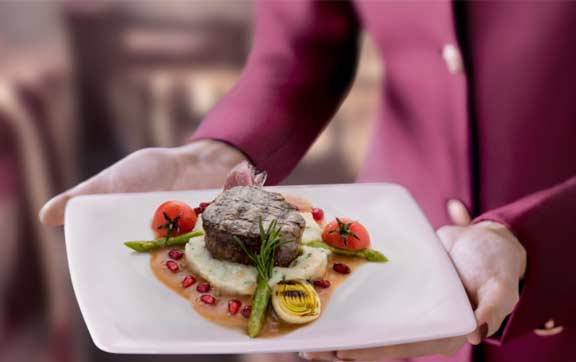 Qatar Airways has launched Pre-Select Dining – a tailored dining service for its premium class travellers where customers can order their main course ahead of their scheduled departure.
The new Pre-Select Dining service is available on selected long-haul flights from Doha to Australia, New Zealand, North and South America, and Europe.
First and business class passengers can pre-select one main course from the onboard a la carte menu as far as 14 days ahead of their flight, and up to 24 hours before take-off. The new service runs complementary to the existing Dining-on-Demand service available also for first and business class customers.
To use the Pre-Select Dining service, passengers visit the Qatar Airways website and login into 'My Trips', or via the Qatar Airways mobile App. Here, customers can pre-order their meals from the seasonal menu that's available on their flight.
Commenting on the new Pre-Select Dining service, Group Chief Executive for Qatar Airways, Mr Akbar Al Baker said, "We are constantly looking for innovative ways to refine and enhance our products and services. Giving our premium passengers the opportunity to pre-select their meals before they fly is another example of our unrivalled on-board experience.
"Our new Pre-Select Dining service follows the introduction of our groundbreaking Business Class seat, Qsuite, earlier this year, which reinforces why Qatar Airways was recognised as the World's Best Business Class at this year's 2017 Skytrax awards. We were also delighted to be named Airline of the Year for the fourth time, encouraging us to continue innovating to offer our unparalleled five-star service."
The new Pre-Select Dining option comes as part of Qatar Airways' newly launched business class experience. It's available now on flights from Doha but the airline has plans to make it available to other regions later in the year.