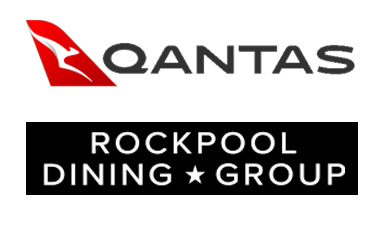 Qantas and head of the Rockpool Group, Neil Perry, are marking 20 years of partnership this month. It's the lengthiest alliance of its kind in the airline industry.
In celebration of the occasion, in the coming months  Qantas will revisit some of the most popular dishes customers have enjoyed over the past two decades on both its inflight and lounge menus . Some of these favourites include:
• Stir fried crab omelette with oyster sauce
• Korean style yellowfin tuna tartare with sesame dressing
• Lobster with XO sauce, lo mein noodles, bok choy and sesame seeds
• Grilled salmon with chilli, garlic, cherry tomatoes and squid ink noodles
• Chermoula lamb rack with vegetable tagine, couscous, harissa and coriander yoghurt
• Rockpool Bar & Grill style beef fillet with "mac and cheese" and green beans
• Spice Temple inspired caramel, chocolate and sesame ice cream sandwiches
As Creative Director, Food, Service and Beverage for Qantas, Mr Perry and his team of chefs, sommeliers, mixologists and hospitality specialists design the domestic and international inflight menu as well as First and Business Class food and beverages.
Qantas CEO, Mr Alan Joyce said of the continued collaboration, "It's impossible to imagine food and wine on Qantas without Neil's influence, which shows you the way he's made it his own over the past two decades," Mr Joyce. "We say that when you step on a Qantas flight overseas you're already in Australia – and a Neil Perry meal is part of that experience."
"We love the passion and perfectionism that he brings to the job, but also the way he challenges us to experiment and evolve. Qantas has always worked with brilliant Australians, and Neil is well and truly part of the hall of fame."
Conversely, Mr Perry said of his role of providing creative cuisine for the Australia's national airline, "Australians today are also incredibly food savvy – they understand what's in season and love exploring food and wine regions around Australia and overseas. They expect to see great produce grown by passionate locals both inflight and in our lounges.
"Twenty years ago, we put tagine on the menu and had to call it Moroccan braised lamb, but now we use terms like baba ganoush and garam masala without thinking twice.
"Listening to customer feedback, engaging with the crew who prepare the menu inflight and being sure to create dishes that use the best seasonal produce across each destination that Qantas flies to, are the three vital components to creating a successful menu each season."
Mr Perry and his team are currently designing the inflight menus for the Qantas' new Boeing 787-9 Dreamliner aircraft that's due to commence operation later this year.