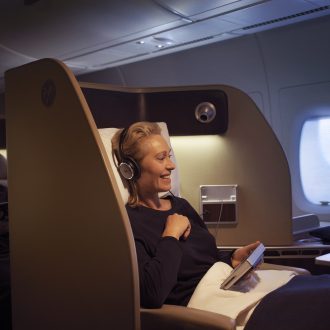 Qantas is bringing back first class on the Sydney-Singapore route using its flagship A380.
The move comes as the national carrier drops Dubai as the stopover point en route to London on Qantas flights QF1/QF2 in a bid to renew its alliance partnership agreement with Emirates for five more years. The changeover will apply as of March 25, the day after Qantas commences its direct flights between Perth and London with its Boeing 787 Dreamliner.
In the interim, the first class suites aboard the A380 will continue on the daily QF81/QF82 flights which service the Sydney-Singapore route.  The reintroduction of the A380 means every flight on the route will have 14 'open suites' on board.
Qantas is also upgrading its Melbourne to Singapore route from an A330 to the superjumbo and increasing frequency from ten times per week to double daily. The airline has already announced the termination of its Melbourne-Dubai-Heathrow service which has been replaced by Melbourne-Perth-Heathrow.
However, due to traffic rights restrictions, there will not be a codeshare with Emirates on the Singapore-London and Perth-London services.
Commenting on the network changes, Qantas chief executive said in a statement, "Emirates has given Qantas customers an unbeatable network into Europe that is still growing. We want to keep leveraging this strength and offer additional travel options on Qantas, particularly through Asia," Joyce said in a statement on Thursday.
"Our partnership has evolved to a point where Qantas no longer needs to fly its own aircraft through Dubai, and that means we can redirect some of our A380 flying into Singapore and meet the strong demand we're seeing in Asia."
He also added, "Improvements in aircraft technology mean the Qantas network will eventually feature a handful of direct routes between Australia and Europe, but this will never overtake the sheer number of destinations served by Emirates and that's why Dubai will remain an important hub for our customers."