News Update: 25 July 2019
Qantas has announced non-stop flights to Chicago from Brisbane which will commence 3:30pm Monday April 20, 2020. Frequent flyers to the US have been waiting for this announcement and the flights go on sale today 25th July 2019. Direct flights to San Francisco will go on sale February 9, 2020. Qantas will be using their 797-9 Dreamliner's for the routes. They will be the world's fourth longest passenger flight. 16 hours and 20 minutes to cover 14,326km which will save passengers travelling return to Chicago six hours on today's shortest possible route. Initially they will run four days a week although Qantas CEO Alan Joyce says "we'll want to get to daily flights as fast as we can".
The Brisbane-Chicago is the first and only non-stop flight to Chicago from Australia. Like the Perth-London Boeing 787 flights, Qantas will encourage travellers from other capital cities to make a domestic hop to Brisbane to then embark on the long trans-Pacific leg. The Boeing 787 Dreamliner has 42 well-appointed Business Suites each with direct aisle access – which transform into a fully-flat bed. The new flight to Chicago can also be booked using frequent flyer points. Expect to pay 224,000 Qantas Points for a return business class flight between Brisbane and Chicago.
The new flights are expected to draw an increasing number of tourists to Queensland and could pump $150 million into the economy over the next three years. "As the world's largest economy, the United States offers enormous potential for inbound tourism to Queensland", Queensland Premier Annastacia Palaszczuk said.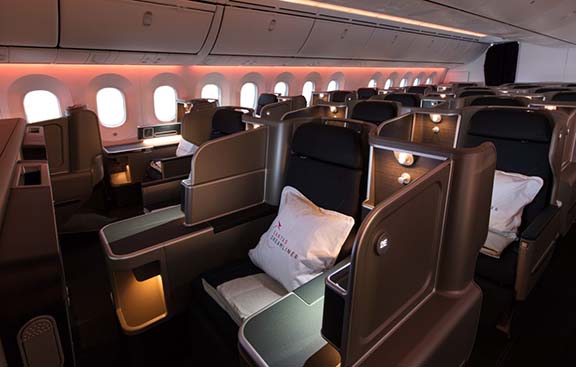 13 June 2019
Qantas is waiting for approval for its joint venture with American Airlines. This approval will allow the airline flights between Brisbane and Chicago on the new Boeing 787 Dreamliner.
Qantas said "Qantas and American flagged an intention to launch several new routes within the first two years of the proposed joint business," The approval would allow cooperation on pricing, sales, lounges and frequent flyer activities between the US and Australia. It will expand the codeshare relationship.
Qantas chief executive Alan Joyce said both airlines had submitted a compelling proposal for the joint venture, which "would bring significant benefits to millions of travellers and boost to tourism". "Qantas expects to announce details of two new routes – Brisbane to Chicago and Brisbane to San Francisco – once final approval is received". Mr Joyce said Qantas had asked manufacturers Airbus and Boeing to present their "best and final offer" by August for planes capable of the 21-hour trip.
"Chicago is a big American Airlines hub and you do need a partnership to make it effective, we've shown clearly how that happens in Dallas," Joyce told Australian Business Traveller in Aug 2018. Joyce also said, "We've made it fairly clear that we are ambitious to grow North American with more destinations". Qantas will take delivery of six new Boeing 787-9 jets from late 2019 through to late 2020, bringing the total red-tailed Dreamliner fleet to 14 in number.